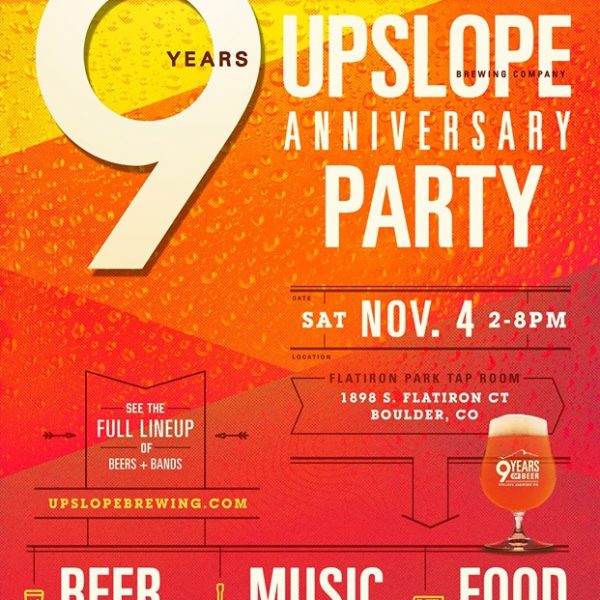 Upslope Announces 9th Anniversary Party
Another year down and another reason to party – come celebrate 9 Years of Upslope Beer with us!
Join us on Saturday, November 4th (2-8 pm) at our Flatiron Park brewery to raise a glass (or a few…) to many more years of doin' what we love at our FREE anniversary party!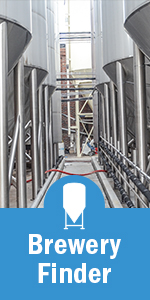 We're taking over our back parking lot, tap room and patio for the party. Get ready for some serious beer bust-outs, live music, games and food trucks!
BEER // 50+ beers on tap! (Get 'em while you can, as supply will be limited on each style. *Full beer list coming soon!) — We'll be bringing out vintage favorites, collaboration brews, specialty styles, and, of course, our core beer classics + our 9th Anniversary Ale!
LIVE MUSIC // Upslope Super Group Featuring Members of Eminence Ensemble, Mayhem Gulch, Zen Mustache, Blind Alley Troubadours
FOOD TRUCKS // Lazo Empanadas, Rollin' Bones BBQ, Rocky Mountain Slices, Sancho's Authentic Mexican Restaurant, Schnibs Pretzels
OTHER FUN // Games and Hammocks by our friends at Boulder-based Trek Light Gear
See ya there. CHEERS!
BEER LIST:
– 2013 Barleywine (15%)
– 2015 Barrel Aged Imperial Stout (Lee Hill Series Volume 3) (10%)
– 2015 Belgian Dark Strong Aged in Dulce Vida Tequila Barrels (11.3%)
– 2015 Belgian Style Quadrupel Ale (Lee Hill Series Volume 5) (12.8%)
– 2015 Old Ale (8.5%)
– 2015 Tequila Barrel Aged Barleywine (10.6%)
– 2015 Whiskey Barrel Aged Pumpkin Barleywine (11.6%)
– 2015 Wild Christmas Ale (Lee Hill Series Volume 6) (9.2%)
– 2016 Barrel Aged Doppelbock (Lee Hill Series Volume 9) (9%)
– 2016 Barrel Aged Imperial Milk Stout (Lee Hill Series Volume 7) (9.1%)
– 2016 Lee Hill Series Volume 10: Wild Christmas w/ Cranberries (9.%)
– 2016 Old Ale (8.5%)
– 2017 Barrel Aged Imperial Stout with Coffee (Lee Hill Series: Volume 12) (10.8%)
-2017 Tequila Barrel Aged Barleywine (Lee Hill Series Volume 11) (14.6%)
– 2017 Tequila Barrel Aged Quadrupel (Lee Hill Series Volume 13) (11.2%)
– 9th Anniversary Double IPA (9%)
– Barrel Aged Cookie Beer (7.8%)
– Barrel Aged English Porter (7%)
– Barrel Aged Imperial Stout with Chocolate & Bananas (10.8%)
– Barrel Aged Old Ale (2016) (8.5%)
– Belgian Blonde Ale with Guava (4%)
– Belgian Style Pale Ale (7.5%)
– Belgian Wit (4.6%)
– Blackberry Lemon Kettle Sour (4.5%)
– Blood Orange Saison (6%)
– Brown Ale (6.7%)
– Champagne Saison w/ Nelson Sauvin (7%)
– Citra Pale Ale (5.8%)
– Craft Lager (4.8%)
– Cucumber Saison (5.3%)
– Denali IPA (6.5%)
– Dry Hopped Brett Ale (8%)
– Fresh Hop Red IPA (6%)
– Imperial India Pale Ale (10%)
– Imperial Saison Aged in Pinot Noir Barrels (8th Anniversary Ale) (8.6%)
– India Pale Ale (7.2%)
– Key Lime Juniper Lager (4.5%)
– Oud Bruin (7.6%)
– Passionfruit Kettle Sour w/ Galaxy (5%)
– Pilot IPA 6.2 (7%)
– Premium Malt Liquor (Freshcraft Collaboration) (6.2%)
– Pumpkin Ale (7.7%)
– S'mores Porter (Hops and Pie Collaboration) (6.3%)
– Southern Hemisphere Pale Ale (Falling Rock Collaboration) (4.6%)
– Thai Style White IPA (6.5%)
– Whisky Barrel Aged Scotch Ale (Spirit Hound Collaboration) (10%)
– Yirgacheffe Coffee Dubbel (7.4%)
– Yumberry Boysenberry Kuit (Call To Arms Collaboration) (5.2%)
Contact Info
Company: Upslope Brewing Company
Contact: Laura Greaney
Email: events@upslopebrewing.com