On January 3, 2008, the Cicerone® Certification Program's online Certified Beer Server exam became available for the first time. That day, ten people bought and took the program's first level exam, pioneering a path that has since been followed by more than 90,000 individuals at breweries, wholesalers, and retailers throughout the US and in more than 50 countries around the world.
The program was developed and founded by industry veteran Ray Daniels as an effort to improve the quality of beer reaching consumers.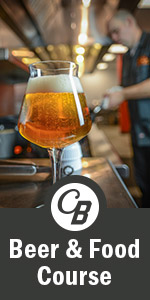 "In the late 1990s and early 2000s, a lot of places were pouring beer ruined by poor handling," says Daniels. "Additionally, they often knew nothing about the beers themselves.
"I wanted to motivate servers and retailers to 'up their game' by learning more about proper beer service as well as beer styles so that they could talk to their customers about their offerings."
Daniels' approach was unique: rather than founding a school that offered classes, he established a set of certifications based on what beer professionals should know when working in various jobs. To help people assess what they needed to know, he published a lengthy syllabus for each exam that detailed all of the topics that would be tested and made them freely available online.
"One of the great needs in the industry at that time was to let people know that beer service involved more than just pulling on a tap handle," says Daniels. The syllabi showed people what there was to know and the exams gave them a way of assessing whether they had mastered the necessary knowledge and skills.
In order to ensure that people could earn a unique credential, he selected the word "Cicerone" and trademarked its use when related to hospitality or beer.
The first level focused on beer service and basic beer styles. It was designed for bartenders and waitstaff as well as anyone in a role where they would talk to customers about beer. A second level, called Certified Cicerone®, launched in April of 2008 and was designed for beverage managers, salespeople, and others who worked full time with beer. It moved beyond the basics of service to draft system operation and maintenance, beer and food pairing, and the ability to detect and identify common beer off flavors.
A Long Road to Acceptance
Daniels launched the Cicerone program from his home office in Chicago at a time when he still worked part-time for the Brewers Association as the publisher for Brewers Publications.
"After that first day, it was a long time before we sold ten exams on the same day again," says Daniels.
By mid-2008 he quit his position with the BA to devote himself full time to the development of Cicerone. What he didn't count on was the disastrous economic downturn that struck in the fall of 2008. Even the explosive growth of craft beer was hampered by that downturn. By August of 2009, Daniels felt that the program had earned some respect and sales were slowly edging upward but his ability to continue funding it was reaching a limit.
"I remember looking at the calendar and seeing the page for January 2010 and thinking, 'I wonder who I'm going to work for next year?'"
Fortunately, things changed for the better in the fall of 2009. Sales started to climb quickly and when January arrived, Daniels actually found himself able to hire some part-time help. "We were still hand-to-mouth, but at least we could stay afloat."
Over the next few years, Daniels says he began to think less and less about keeping his résumé up to date as the program continued to grow and expand. Then in 2012, Cicerone reached an important milestone. In February of that year, the program awarded its 10,000th Certified Beer Server certificate. "Once we hit that benchmark, I stopped worrying that the whole thing might just fall apart at some point–I figured we were going to be around for a good while," says Daniels.
Cicerone Today
While the program initially consisted of three levels (Certified Beer Server, Certified Cicerone, and Master Cicerone®), it was expanded in 2016 to include a fourth, known as Advanced Cicerone®, which was inserted between the Certified and Master levels.
Over the years the program has expanded its training offerings to include everything from flashcards to week-long classroom courses, but teaching has always been secondary to the certification exams. "We have always sought to be THE certification program and AN educator," says Daniels. "A part of our routine sales process is to let people know that they don't have to take training from us–that there are many options available."
As the popularity of American craft beer has spread to other areas of the globe, interest in the Cicerone program has grown outside the US as well. "International development is a key activity for us currently," says Daniels. "We now offer the first two exams in Spanish and have a representative in Latin America. In addition, we give exams in the UK, Canada, Australia and several places in Asia as well. The Certified Beer Server exam is available in French and Korean in addition to Spanish and English, with Portuguese coming soon."
As the international presence has grown, so has the company's trademark protection for its brand. They currently hold nine Cicerone-related trademarks in the US and nearly 100 in other parts of the world.
The program continues to be based in Chicago where it employs the equivalent of 12 full-time staff. As of mid-December 2017, the number of certifications at each level was:
Certified Beer Servers 94,880
Certified Cicerones 3,305
Advanced Cicerones 68
Master Cicerones 16
To learn more about the Certified Beer Server exam, please visit: https://www.cicerone.org/certifications/certified-beer-server.
# # #
ABOUT THE CICERONE CERTIFICATION PROGRAM
Founded in 2007 by brewer, author, and beer educator Ray Daniels, the Cicerone Certification Program seeks to ensure that consumers receive the best quality beer at every service occasion. To facilitate this, those who sell and serve beer are encouraged to acquire knowledge in five areas: 1) Keeping and Serving Beer, 2) Beer Styles, 3) Beer Flavor and Evaluation, 4) Beer Ingredients and Brewing Processes, and 5) Pairing Beer with Food.