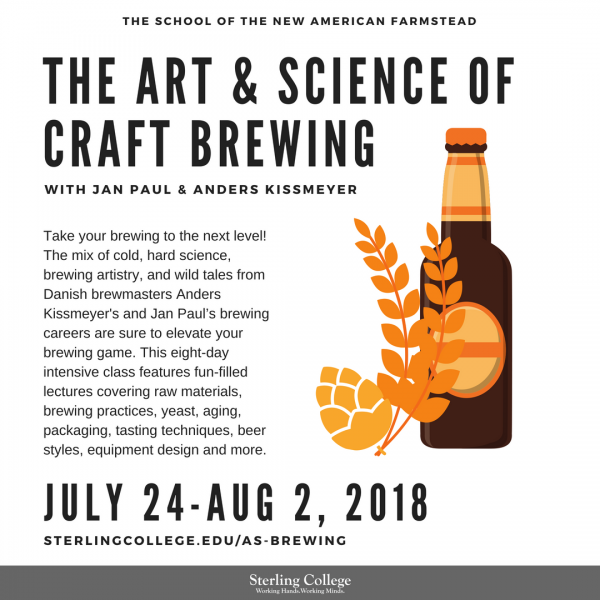 Study "The Art and Science of Craft Brewing" at The School of the New American Farmstead at Sterling College
Craftsbury Common, VT • The School of the New American Farmstead at Sterling College is offering a new session of its popular course "The Art and Science of Craft Brewing" with visiting instructors Anders Kissmeyer of Royal Unibrew/Anders Kissmeyer Master Brewer and Jan Paul of Svaneke Bryghus.
Kissmeyer and Paul, acclaimed brewing experts, will lead students in an eight day intensive course in the heart of Vermont, home to over 50 craft breweries. During the class, held July 24–August 2, 2018 at the Sterling College campus, the instructors will cover raw materials, brewing practices, yeast, aging, packaging, tasting techniques, beer styles, equipment design and more. Students will participate in a number of hands-on activities including basic microscopy, malting and fermentation. The class will visit Vermont's award winning Hill Farmstead Brewery, The Alchemist Brewery and Lost Nation Brewing for a tour and conversation with the founders of each.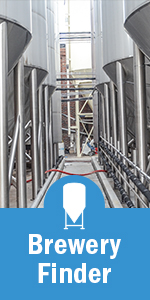 "We are delighted to have Anders and Jan back on campus to share their knowledge and experience about what makes an exceptional beer," said Heather Jerrett, Dean of Continuing Education at Sterling College.
This class is appropriate for experienced homebrewers as well as those with some work experience related to brewing. The course provides the theory, knowledge, and skills needed to hone the student's craft, troubleshoot brews, and take brewing to the next level. "The education I received from Anders Kissmeyer and Jan Paul has proven invaluable to my work," said Tom Peters, co-founder of Monk's Cafe in Philadelphia, PA. "The experience was fulfilling on both an academic & spiritual level."
The deadline to register is July 10. For more information on this course and to register, visit https://sterlingcollege.edu/course/the-art-science-of-brewing-2/
—##—
MEDIA CONTACT
Katie Lavin, Director of Media Relations, Sterling College
802.586.7711 x120 • klavin@sterlingcollege.edu
ABOUT STERLING COLLEGE Founded in 1958 in Craftsbury Common, Vermont, Sterling College is the leading voice in higher education for environmental stewardship and rural place-based education. The College was among the first colleges in the United States to focus on sustainability through academic majors in Ecology, Environmental Humanities, Sustainable Agriculture & Food Systems, and Outdoor Education. Sterling is home to the School of the New American Farmstead and the Wendell Berry Farming Program, is accredited by the New England Association of Schools and Colleges, and is one of only nine federally recognized Work Colleges in the nation.
The School of the New American Farmstead at Sterling College is generously underwritten by the following Vermont businesses: Chelsea Green Publishing, the preeminent publisher of books on the politics and practice of sustainable living; Vermont Creamery, an award winning creamery offering fresh and aged goat cheeses, cultured butter, and créme fraîche that combine the European tradition of cheesemaking with Vermont's terroir: the Cellars at Jasper Hill, Vermont's award winning cheesemakers and affineurs. Partner businesses share a deep commitment to the environmental stewardship mission of Sterling College.
CraftBeer.com is fully dedicated to small and independent U.S. breweries. We are published by the Brewers Association, the not-for-profit trade group dedicated to promoting and protecting America's small and independent craft brewers. Stories and opinions shared on CraftBeer.com do not imply endorsement by or positions taken by the Brewers Association or its members.