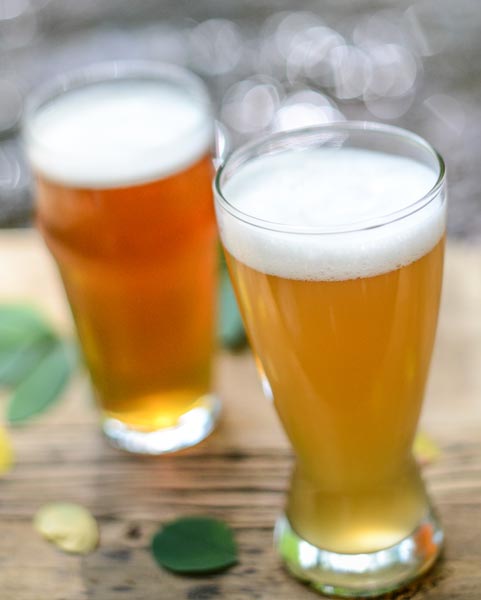 Your Pumpkin-free Beer Guide to 2016 Fall Seasonals
Pumpkin beers. We love them — lots of beer lovers do. But when you're staring down the gauntlet of new releases at the craft beer store, sometimes you want to reach for something different. (That's why we love craft beer, right? Discovering all those flavors!)
That's exactly why we're putting a spin on CraftBeer.com's annual fall seasonal picks. On our list you'll find plenty of hops and harvest ales, along with saisons full of barnyard funk. Sweet potatoes are another big trend we're seeing with beers this season.
The list covers the whole gamut of small and independent breweries, from widely-distributed names you recognize to the smaller taprooms that you haven't heard yet (but should make a point to seek out).
But our lists makes it clear that 2016 is the year breweries have grown beyond the gourd.
Beer Mutt | Moo-Duck Brewery | Elizabethtown, PA
Moo-Duck Brewery's Beer Mutt Belgian-style wheat gets its name because it's part beer, part cider. The wheat-based beer has cider, a small amount of cinnamon and cloves, and is fermented with an Abbaye yeast strain.
"We wanted a fall seasonal that could be made before our pumpkin beer is ready," explains brewer and owner Mike Brubaker. "We are fortunate to have a local farmers market that has a large orchard and makes its own fresh cider without any preservatives, so we are able to take 5-gallon buckets to the market and they fill them up directly. We add the cider in the tanks three days after the base is made. This preserves a little of the cider sweetness as the yeast has slowed down by that point."
---
Fall Saison | Blackberry Farm Brewery | Walland, TN
Blackberry Farm Brewery's Fall Saison puts a spin on harvest ales while still celebrating the fall harvest tradition. The farmhouse ale is crafted with spelt, rye and oats for a smooth, silky body, rich copper color, and notes of earthy spice.
---
Falling Down Brown Ale | Old Forge Brewing Co. | Danville, PA
Old Forge Brewing says Falling Down is a cross between a brown ale and an IPA, with dark caramel and chocolate malts, brown sugar and plenty of hops. Damien Malaria, owner and brewer at Old Forge Brewing Company, tells CraftBeer.com he wanted a fall beer that stands apart from the rest.
"We were tired of all the pumpkin beers and Oktoberfest beers hitting the market, but brown ales don't get a lot of love," he said. "We increased the gravity, hopped it up, and it's a much-anticipated release in our local market."
---
Feuer und Wasser | Wolf's Ridge Brewing Co. | Columbus, OH
Chris Davidson, head brewer at the Columbus, Ohio's Wolf's Ridge Brewing says, "We love smoke and lagers. Our kitchen smokes meat, butter, salt, and more almost daily for our new American cuisine menu." That's why you'll find Feuer und Wasser, a smoked Helles Lager — named after a Rammstein song — on tap there this season.
When you go in for your first sip of Feuer and Wasser, Davidson says, "Robust but clean smoke aromas leap forth from the glass. Crisp and dry, this beer, literally 'fire and water,' is unexpectedly refreshing. Perfect for the transition months from summer to winter."
---
Gameday IPA | Tin Roof Brewing Co. | Baton Rouge, LA
The only thing that matters in Baton Rouge, Louisiana, in the fall is the LSU Tigers, so it won't surprise you that Tin Roof Brewing Co. wants its fall release to be in your hands as you tailgate. The session IPA is made with Amarillo, Simcoe, Mosaic and Warrior hops which lends a full range of citrus, lemon, grapefruit, mango, pineapple, peach, passion fruit and piney flavors.
---
Gingerbread Brown | Triton Brewing Co. | Indianapolis, IN
You can skip the pumpkin-palooza and go straight for the colder holidays with Triton Brewing Co.'s Gingerbread Brown. The brewery says, "from the mind of brewer Jon, this sweet, spicy, earthy delicious beer is here to help you enjoy the family and hearth."
---
Harvester | Green Man Brewery | Asheville, NC
An hour east of the Great Smoky Mountain National Park, and mere miles off the Blue Ridge Parkway, fall is the time of year when Asheville, North Carolina, shines. While parts of the nearly 20-year-old Green Man Brewery are shiny new — the brewery opened its expansion earlier this year — tradition stands strong here. Harvester is the brewery's interpretation of the classic German Marzen style, made with Magnum and Palisade hops.
---
Home Sweet Home | Fifty West Brewing Co. | Cincinnati, OH
Fifty West Brewing is located east of downtown Cincinnati, along the bend of the Little Miami River in a former speakeasy along Route 50. As the brewery celebrates its four year anniversary this season, don't miss the release of Home Sweet Home, a brown ale made with sweet potatoes. Marketing Director Thomas Hemmer tells CraftBeer.com Home Sweet Home will "taste just like mom's sweet potato pie." We're sold.
---
Hopzeit Autumn IPA | Deschutes Brewery | Bend, OR
Hopzeit Autumn IPA will be a small release, so you'll want to keep a keen eye out. In this beer, Deschutes says they worked to find that perfect mix of where the past meets the present to create an Oktoberfest all their own.
"We've combined the latest hop varietals from Germany with classic malts to create an herbal and balanced Autumn IPA unlike anything before it."
---
Marooned on Hog Island | 21st Amendment Brewery | San Leandro, CA
21st Amendment Brewery isn't just shoving pumpkin out the window with its fall release: it's shoving it right out over the water. Marooned on Hog Island is a collaboration with San Francisco's Hog Island Oyster Company. The brewery says it's a rich, chewy stout made with Hog Island Sweetwater oyster shells for a silky, salty finish. You'll be able to find it in limited edition 4-packs and on draught.
---
Miss Betty | Mispillion River Brewing | Milford, DE
Sweet potatoes appear to be the trend of the 2016 fall season (because why wait for Thanksgiving?!). Mispillion River Brewing out of Delaware is excited to release Miss Betty, an 8 percent ABV sweet potato ale.
If you're in Mispillion's distribution area (Delaware, New Jersey and Pennsylvania), you'll have to be a smidge patient for the beer. The sweet potatoes used in the beer come straight from the brewer's family farm.
---
Mop Water | Cape May Brewing Co. | Cape May, NJ
If you're in Jersey and know Cape May Brewing, or read CraftBeer.com's article on epic employee nicknames, you'll know "Mop Man" is Bob Krill, and the fall release is named after him. He wanted a beer perfect for drinking during New Jersey's cool autumn nights, so Mop Man was born. The farmhouse beer combines cinnamon, nutmeg, ginger, allspice, and a whole bunch of whole-bean vanilla.
"Don't over-think it — just drink it!" is Mop Man's motto.
---
Oktillion | Ale Asylum | Madison, WI
This fall brings a first for Madison's Ale Asylum. Oktillion is the brewery's first bottled lager. If you're in Illinois and Wisconsin, grab this 6 percent Oktoberfest made with American and European malt.
---
Overgrown APA | Otter Creek Brewing Co.| Middlebury, VT
Vermont's Otter Creek is trading in its traditional Oktoberfest in favor of Overgrown APA in 2016.
"We wanted to celebrate what's going on with the hops in the United States," says brewmaster Mike Gerhart. Overgrown APA makes no apologies for its big hop flavor.
"I guarantee you will smell what the brewers smelled in the brewery as we were dry hopping this thing. We packed as much in there as we could," Gerhart assures.
---
Pickers Saison | Old Redwood Brewing Co. | Windsor, CA
In Wine Country, fall isn't for pumpkins — it's for harvesting grapes. The tradition is the inspiration for Old Redwood Brewing's Pickers Saison, a saison brewed with Russian River Valley chardonnay. You'll find flavors of fresh apple and pear that play off the barnyard funk.
"Our brewery tries to brew with fresh local ingredients on a regular basis, and fall in wine country means it's time to harvest grapes," head brewer Manuel Mussen tells CraftBeer.com. "We try to do three beers a year with freshly harvested grapes from vineyards in Sonoma county."
---
Pursuit of Hoppiness | Grand Teton Brewing | Victor, ID
Grand Teton Brewing in Idaho goes big with its Pursuit of Hoppiness Imperial Red Ale fall release. The 8.5 percent, 100 IBU brew is meant to show off the big, beautiful flavor of American hops.
"The hops grown in the United States are considered to be some of the best in the world," the brewery says. "Compared to their more traditionally subdued, elegant European counterparts, American hops are bold, bright, piney and zesty."
Grand Teton encourages you to pair this bold-flavored imperial red with other bold foods: grilled meat, pizza, robust pasta dishes, apricots or Camembert cheese.
---
Racer X® | Bear Republic Brewing Co. | Cloverdale, CA
Bear Republic Brewing Co. out of Cloverdale, California, releases its big double IPA Racer X® in the fall. The brewery says the beer "puts a California twist on English brewing traditions by adding an assertive hop aroma and bitterness that compliments the firm malt backbone."
Bear Republic says your best bet for pairing this 8.3 percent, 100 IBU tongue tingler are spicy foods, bold cheeses and barbeque.
---
Sasquash Sweet Potato Porter | MKE Brewing Co. | Milwaukee
The brewers at Milwaukee Brewing Co. start working on Sasquash Sweet Potato Porter in the middle of July in order to get it ready for fall release. The result is Thanksgiving in a glass, and according to Mike Christensen, VP of Sales, brew day is quite a production.
"We roast over 800 lbs of sweet potatoes on an outdoor grill and add them right to the mash along with a variety of roasted malts and specialty grains. It takes us two full days," Christensen tells CraftBeer.com. "Inevitably, grill day always falls on the hottest two days in July. Tending to the grill is a tough job in that weather, but the roasted smell of those sweet potatoes makes the whole neighborhood smell like Thanksgiving dinner.
---
Super Saison | pFriem Family Brewers | Hood River, OR
No sign of pumpkin in Super Saison from pFriem Family Brewers in Hood River, Oregon. Instead, the brewery follows the tradition of Belgian farmers who would brew strong beers to enjoy during the colder months. This big beer is laced with notes of pineapple, papaya and kiwi and comes in at 9.5 percent ABV.
---
Sweet Potato Ale | Piney River Brewing Co. | Bucyrus, MO
Sweet potatoes are a staple of gardening in America (and apparently our fall seasonal list, too). Piney River Brewing Co. in Bucyrus, Missouri, uses roasted sweet potatoes in its Sweet Potato Ale. The brewery says you'll pick up a "subtle vanilla and spice aroma and smooth finish." Find it in cans this fall.
---
The Carrot Conspiracy | Jailbreak Brewing Company | Laurel, MD
If you like pumpkin but are eager for something a tad different, then hunt for the Carrot Conspiracy from Jailbreak Brewing Co. in Laurel, Maryland.
"This beer might not be a far departure from the pumpkin beer style but its roots are based on a beer inspired by carrot cake," lead brewer Clay Baines tells CraftBeer.com. "With an amber ale base, we've added an ample amount of real and traditional carrot cake ingredients, such as roasted carrots, raisins, brown sugar and spices. We conspired to create an ale that will help you escape the pumpkin parade."
You can find Jailbreak Brewing Co. in Maryland, Virginia and D.C.
---
Wake Up Porter | Birdsong Brewing | Charlotte, NC
As sunlight hours dwindle in the fall and you trade tanks for hoodies, Charlotte's Bird Song Brewing Co. releases its Wake Up Porter. Brewed with Sumatra Lintong coffee from Charlotte's Central Coffee, an addition of Madagascar vanilla beans adds sweetness for what the brewery describes as a velvety smooth experience.
CraftBeer.com is fully dedicated to small and independent U.S. breweries. We are published by the Brewers Association, the not-for-profit trade group dedicated to promoting and protecting America's small and independent craft brewers. Stories and opinions shared on CraftBeer.com do not imply endorsement by or positions taken by the Brewers Association or its members.