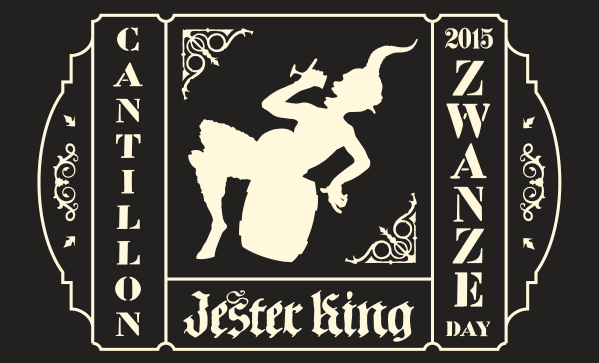 2015 Zwanze Day at Jester King Brewery
Brasserie Cantillon has been a tremendous source of inspiration to all of us at Jester King, perhaps more so than any other brewery in the world. When we began refermenting our mature barrel-aged beers with fruit, and when we started our spontaneous fermentation program two and a half years ago, we looked to Cantillon for guidance. Jean Van Roy of Cantillon provided us with valuable insight that continues to serve as the foundation for much of what we do.
In 2013, we were immensely honored to have been chosen as one of the host sites for Zwanze Day, a day on which a small number of venues around the world each simultaneously tap a single keg of a special beer brewed and released by Cantillon just for the occasion. That year, it was Cantillon's take on a spontaneously fermented, strong abbey-style ale. Last year, when we were once again selected, it was a a special Grand Cru edition of Cantillon Iris, refermented with a small amount of cherries and delicately dry-hopped with Bramling Cross.
Of course, because Cantillon does not have a Texas license, we could not legally sell their beer. In most states, licensing to sell beers from overseas breweries is held by their U.S. importer, and for a relatively modest licensing fee, that importer is able to sell its entire portfolio into the state. This is also how it works in Texas when it comes to wine and spirits. However, any overseas brewery that wants to sell its beer in Texas, even for a single, one-time event, is required to obtain its own licensing, costing over $4,000, and in many cases, over $6,000 every two years. For small breweries like Cantillon, which can't even come close to meeting the demand in the markets they're already in, and which simply wouldn't be able to supply enough beer to recover this cost, selling beer in Texas doesn't make practical sense, which is why we tend not to see much beer from truly small, artisan brewers outside the state.
Because we couldn't legally sell Zwanze, we decided to give it away for free each of the last two years. We had planned to do the same this year when we were once again honored to have been selected, but as it turns out, that's not what we will be doing. In fact, Zwanze Day will not take place in Texas on September 19th when it's taking place throughout the rest of the world. Instead, with the permission of Cantillon, we will be holding our celebration sometime in October, when their Texas license has been approved.
Yes, that's correct, Cantillon has applied for a Texas license, which, based on current processing times, we expect to be issued sometime in early October. At our suggestion, in order to cover the cost of this license, Shelton Brothers Importers, the company responsible for Cantillon's U.S. distribution, will be selling the keg of 2015 Zwanze to their Texas distributor, Flood Distribution, for approximately $2,000 more than they would ordinarily charge, and we will be paying Flood Distribution roughly $2,000 more than we would otherwise pay. This money will then be applied directly to the licensing fee, covering a bit less than half of what Shelton Brothers and/or Cantillon will have to pay every other year, for as long as they maintain the license or until we're able to change the law.
For our 2015 Zwanze Celebration, which should occur at Jester King this October, we will be selling 200 tickets for $50 each. Each ticket includes a 4 oz. sample of 2015 Zwanze (a spontaneously fermented stout), a cheese pairing, a souvenir glass, and the first opportunity to purchase Cantillon bottles and draught legally sold in Texas. Please note, all net proceeds from ticket sales will be donated to the Texas Craft Brewers Guild Legislative Committee and Open the Taps, so that we can change the laws in order to give Texas consumers better access to small, artisan breweries like Cantillon. The licensing of Cantillon in Texas creates a unique opportunity to help fund the movement to build a better beer landscape in our state, and we're grateful to Cantillon, Shelton Brothers, and Flood Distribution for the opportunity.
Additional details, including the new October date for Zwanze Day at Jester King, will be announced once Cantillon's license has been approved.
Contact Info
Company: Jester King Brewery
Contact: Jeffrey Stuffings
Email: info@jesterkingbrewery.com