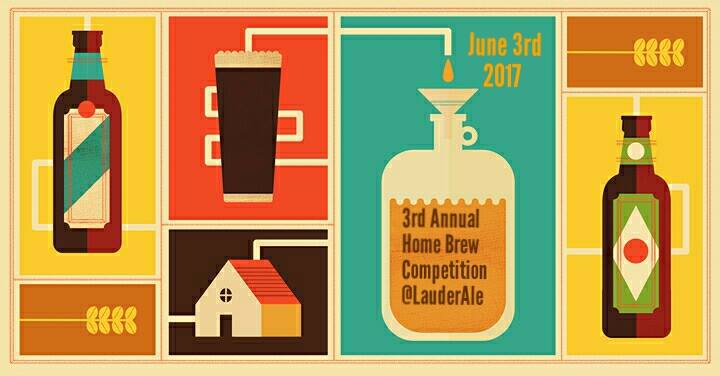 LauderAle's 3nd Annual Home Brew Competition
$10 to taste $25 to participate
-Home Brewers Check in Starts at NOON. (Event Opens to the public at 2 pm)
***Contest Details*** – All participates must be 21 years of age or older – Each Home Brewer Competing must be registered by April 30th – Registration Fee is $25 – Beer must be homebrewed locally. No commercial entries or entries brewed at a commercial establishment. – You may NOT sell any product on the property – Brewers can bring a maximum of 5 gallons per style – All beer brought to the event must be donated – Categories are open to any style – Contest will end at 5:00 pm – Winners will be announced at 6:00 pm – Winners must be present to claim their prize – We will provide sample cups for each table. – Our space is limited so first come first serve. – Please bring you own refrigeration for your brew (ice, coolers, etc)
Rules -Must be 21 years or older to participate -Cannot sell beer on the property -Must provide 3-5oz samples of each brew for judging -Must be locally brewed. No commercial entries.
Judging Beers will be judged by local brewers, beer tenders, certified beer judges.
Prizes Judged across all categories (best in show)
1st place determined by judges $300*GC(must be at least 10 participates) * Plus winning beer will be brewed here at LauderAle and put on tap
2nd place determined by people choice $200*GC(must be at least 10 participates)
For registration email manager@lauderale.co with Home Brew Competition in the subject line
About
Established in January 2013, LauderAle is a small batch, electric fired brewery located just outside of Port Everglades in Fort Lauderdale, Florida. Founded by natives, LauderAle is the first and only Nano Brewery in Southeast Florida. We pride ourselves in cultivating authentic ales centered around local culture and influence. Our beers range in a wide variety of rotating styles from Blondes to Imperial Stouts, along with seasonals and special releases. We also serve several guest taps from local Florida breweries.
Contact Info
Company: LauderAle Brewery & Tap Room
Contact: LauderAle
Email: manager@lauderale.co