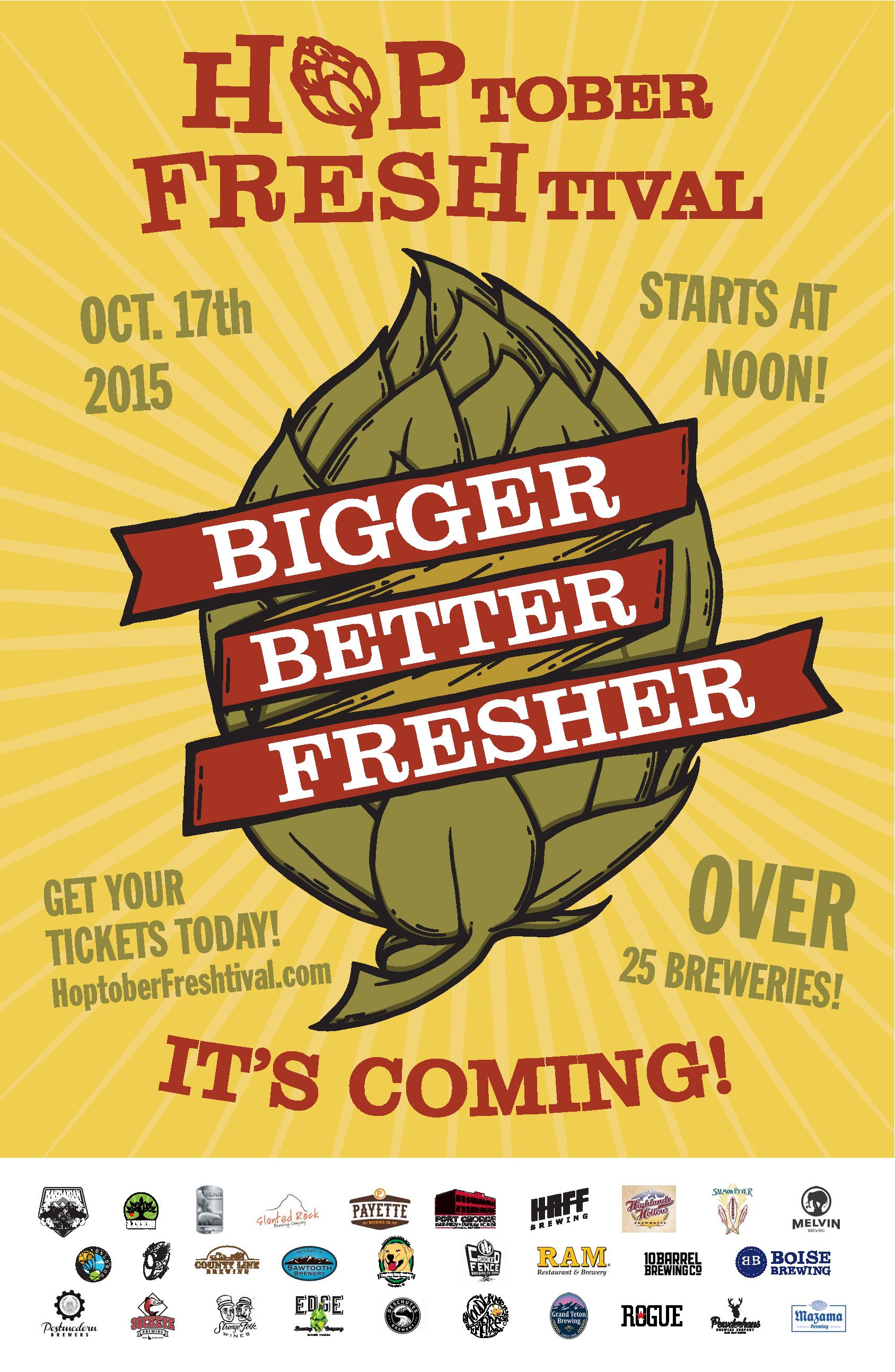 Boise Brewing hosts 2nd annual "Hoptober Freshtival" Fresh Hop Beer Festival
Boise, ID – Boise Brewing announces the return of Hoptober Freshtival, Idaho's largest fresh hop beer festival happening on Saturday, October 17, 2015. The brewery will be hosting a block party-style festival on the street in front of their building. On tap will be 50+ different beers from 26 different breweries, with a focus on seasonal fresh-hopped beers. Participants can play festival games, while rubbing elbows with the hop farmers that make the beer possible. Meals will be provided by B-town Bistro, Boise Fry Company, Mosiac Crepes, and Genki Takoyaki. DJs will be spinning tunes all day.
Participating breweries include Boise Brewing, Highlands Hollow, Laughing Dog, Barbarian Brewing, Sawtooth Brewery, 10 Barrel, Melvin Brewing, Bear Island, Deschutes, Woodland Empire, Postmodern, Fort George, Mazama, The Ram, Powderhaus, Grand Teton, Payette, Sockeye, Salmon River, Haff, County Line, Edge, Crooked Fence, Rogue Ales & Spirits, Cloud 9 Brewery, and Slanted Rock Brewing Company. The festival will also feature dry-hopped ciders and wines from Longdrop Cider Company, 2 Towns Ciderhouse, and Split Rail Winery.
Tickets cost $30 at the door, or can be purchased in advance for $25 at Boise Brewing's tasting room or online at http://www.hoptoberfreshtival.com. Participants will receive a commemorative sample cup along with 20 drink tickets they can use to fill to their tongue's delight. There will also be additional tickets available for purchase for just $1. The festival will run from noon to 8:00 PM. It is a 21 and over event.
"This year's festival will be even bigger and "fresher" than last year," said Boise Brewing's event coordinator, Hannah Barnett. "We've doubled the amount of breweries that will be here and have brought in some of the best local and regional breweries to really showcase the incredible fresh hop beers we have in this region."
The festival focuses on specialty "once a year" fresh hop beers. The beer style involves using hops straight from the farm during the harvest and then using them immediately in the brewing process. Idaho is one of the top hop-producing countries in the state which allows brewers easy access to fresh, locally sourced hops for their beers.
"The festival is a great chance to showcase the great beer being made here in Idaho and beyond. We hope to continue to expand the festival in years to come and create what could be the largest festival of its kind in the Northwest." Hannah states
If you would like more information about this topic, please contact Hannah Barnett at 208-342-7655, email at hannah@boisebrewing.com or visit the taproom at 521 W. Broad St. Boise, ID 83702.
Contact Info
Company: Boise Brewing
Contact: Hannah Barnett
Email: hannah@boisebrewing.com