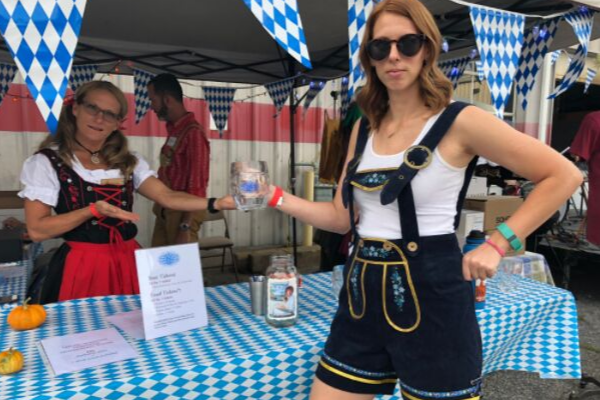 Fireforge's 2nd Annual Oktoberfest Weekend
Guten Tag! Join us for seasonal brews, live oompah bands, food trucks, games and feats of strength, dirndl & lederhosen costume contests, and more at our family-friendly Oktoberfest extravaganza! We'll welcome back our Oktoberfest beer along with some new brews for the fall.
Hours & Location: Oktoberfest will be held during our regular taproom and biergarden hours: -Friday, Sept 27, 2 to 10 pm -Saturday, Sept 28, 12 to 10 pm -Sunday, Sept 29, 2 to 8 pm
We're located at 311 E. Washington Street, Greenville, SC 29601. This is a non-smoking and non-vaping event.
Parking: On Friday, parking is available after 5 p.m. in the private lot on the corner of Church & Washington Streets, and in the small lot on the opposite side of our building (marked for Bank of Traveler's Rest). On Saturday & Sunday, these lots are available to Fireforge customers throughout the day. Additional parking is available along side streets. The nearest parking garages are Spring Street and Richardson Street.
Beer & Food: Upon entry into the biergarden, drink tickets will be available for purchase. No matter what age you are, you must bring your ID for check-in. [No ID? No Entry.] Ticket prices and details will be released closer to the event.
We'll be serving your favorite toasted soft pretzels from the Fireforge Kitchen. Local food trucks will be serving throughout the weekend (more details to come!). Food purchases will be made directly from each truck.
Live Music:  We're excited to welcome to the following bands on our outdoor stage: Friday – Foothills Oompah Band (6-9 pm) Saturday – Identikit (6-8 pm) Sunday – Mountain Top Polka Band (2-5 pm)
Games:  Festival games, feats of strength like stein hoisting, and costume contests will be held throughout the weekend.
No Pets:  Due to the possibility of large crowds in the biergarden, please leave your pets at home for their safety and the safety of our other guests.
No Flights, Crowlers & Growler Fills:  To ensure a swift and steady beer service for all of you, flights, crowlers or growler fills will not be available during Oktoberfest.
Contact Info
Company: Fireforge Crafted Beer
Contact: Nicole Cendrowski
Email: nicole@fireforge.beer