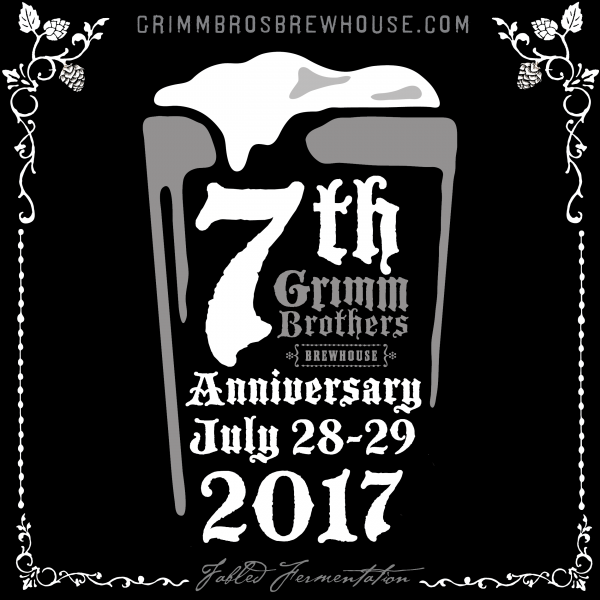 Grimm Brothers Turns 7 and Brings you Snow Drop and Her 7 Dwarfs
To celebrate 7 years of brewing German-inspired beers, Grimm Brothers is turning their parking lot into our German bier garden featuring live music, games for the kids, face painting, Blood Orange Griffin Ice Cream, food by The Loveland Kiwanis Club, and specialty beer tappings all weekend long. The festivities start at 4 pm on Friday, July 28th and continue on Saturday the 29th starting at 12 noon.
Snow Drop is making a big appearance as we introduce her 7 Dwarfs with 7 fruited versions of Snow Drop to be tapped throughout the day, along with Session Snow Drop, a lower abv version with an extra kiss of honey.
Friday night we've extended our hours to 10 pm,  with special tappings for the cellar including Bourbon Barrel Aged Master Thief, and a mystery barrel aged sour. Live music from Blind Alley Troubadours starts at 7. 
Live music continues on Saturday with Rosario West, Crunchy and the Sogs, and Last Call Romance to close out the night. Loveland Kiwanis Club will be grilling burgers and Fearless Youth brats while hosting our favorite German drinking game, hammer-schlagen and running the dunk tank. We're hoping to get some city officials and your favorite Grimm employees to help Kiwanis raise money by getting dunked.
Contact Info
Company: Grimm Brothers Brewhouse
Contact: Scott Smith
Email: scott@grimmbrosbrewhouse.com