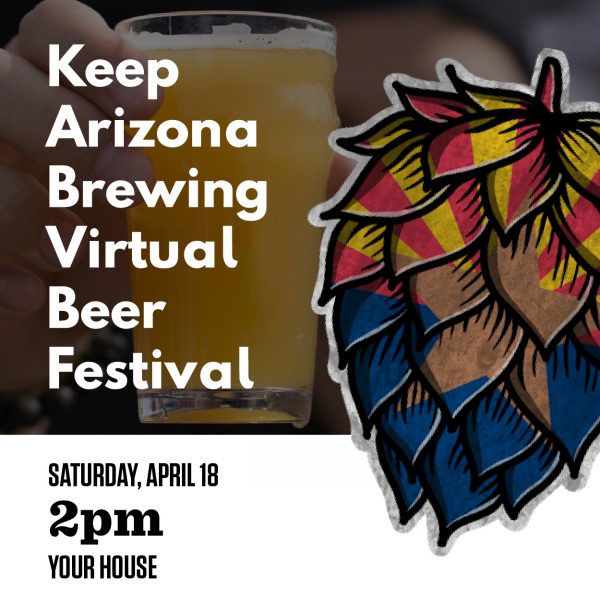 'Keep Arizona Brewing' Virtual Beer Festival Set for April 18 at 2 p.m.
The Arizona Craft Brewers Guild will host its first ever 'Keep Arizona Brewing' Virtual Beer Festival on Saturday, April 18, beginning at 2 p.m. It's a benefit for brewery and beer industry employees.
Participants are encouraged to pick up or order a delivery of beers from a local brewery, turn their cameras on at home, and enjoy Arizona brews virtually with other enthusiasts.
The Virtual Beer Fest, which will take place through Zoom, Facebook Live and YouTube Live, will include chats with brewers, virtual tours of local breweries, a Make Your Own Wristband competition, Best Pretzel Necklace contest and even a live music stream called Couchella.
"Beer enthusiasts are some of the most friendly and social people you will meet. It's been tough on all of us not to be able to connect at beer bars, brewery taprooms or festivals," says Rob Fullmer, Executive Director of the Arizona Craft Brewers Guild. "But, even when we're apart, we can still spend time together celebrating craft beer and showing our support for Arizona's craft brewers. Help us keep Arizona brewing!"
Participants are encouraged to post photos and videos of their virtual beer fest activities with the hashtag #azvirtualbeerfest.
Tickets to participate start at just $5 and will support the Arizona Craft Brewers Guild and Arizona Craft Brewing community.
A limited number of VIP tickets are available starting at $50. These tickets provide the ticket holder with the opportunity to become part of the beer fest programming by being on the webcast with the brewers, asking questions and chatting between segments.
T-shirts are also available. Participants who purchase a shirt on or before April 15 will receive free admission to the Virtual Beer Festival.
For more information or to purchase tickets or t-shirts, visit AZVirtualBeerFest.com.
About the Arizona Craft Brewers Guild The Arizona Craft Brewers Guild was established in 1998 and represents nearly 100 breweries, breweries in the planning stages, craft beer bars, partners and distributors across the state of Arizona. The Guild promotes the craft brewing industry in Arizona by providing educational opportunities to brewers, distributors and consumers and promotes quality craft beers and the responsible consumption of those products. Visit chooseazbrews.com for more information. Proceeds also benefit the Arizona Craft Brewers Foundation, a 501(c)(3) charitable organization. The Foundation supports medical hardships and educational challenges of brewing industry employees that live and work in Arizona. For more information on the Foundation visit chooseazbrews.com/foundation.
# # #
Contact Info
Company: Arizona Craft Brewers Guild
Contact: Jessica Gonzalez
Email: jessica@anderson-adv.com