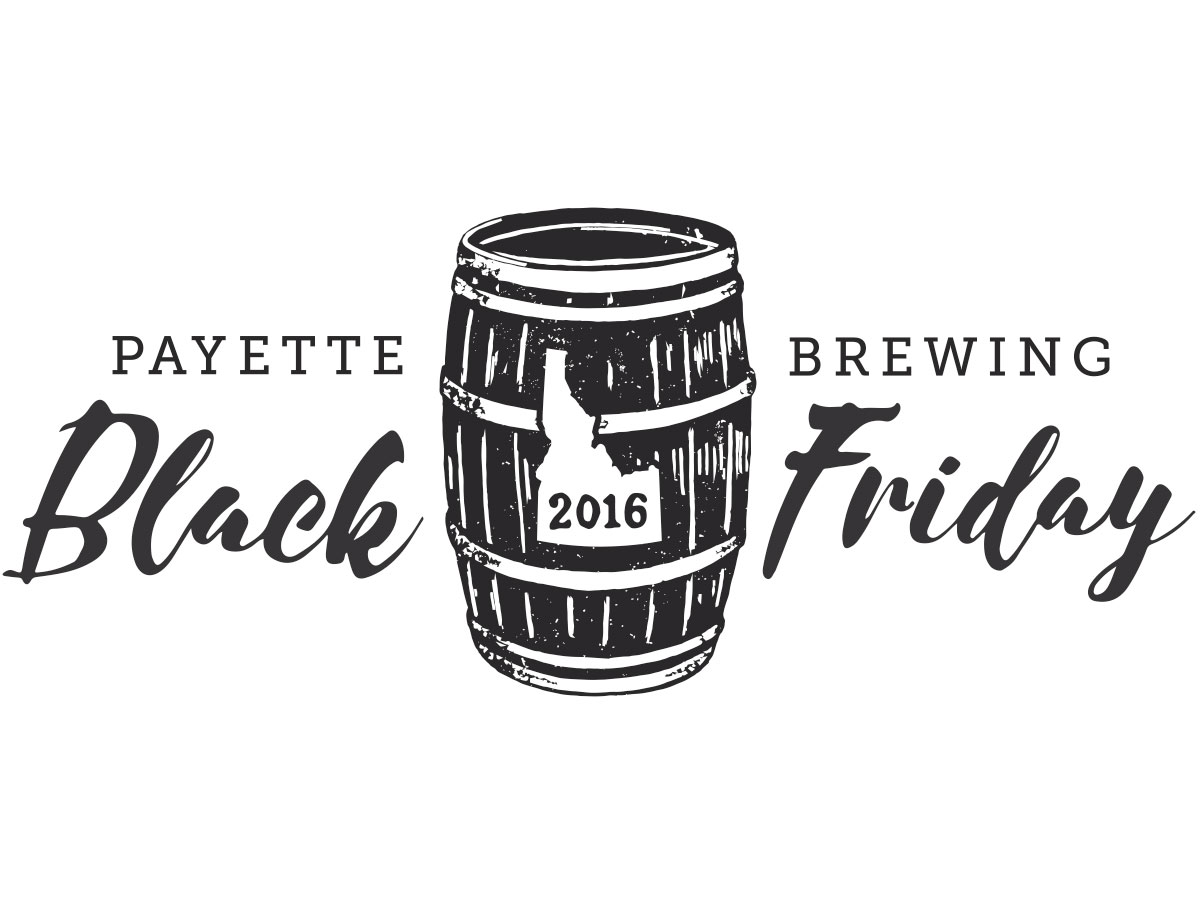 Payette Brewing Black Friday
Payette Brewing Company's biggest event is back! Black Friday, a celebration of dark beer, will be held at their brewery located at 733 South Pioneer Street, Boise, ID 83702 from 1:00 pm – 10:00 pm on November 25th, 2016.
Black Friday features imperial stouts and porters by Payette and craft breweries from around the country. This annual event also serves as the release of their 2016 Bourbon Barrel Aged Twelve Gauge Imperial Stout in twenty-two ounce bottles, which will be available for sale.
For the event's fifth year, Payette is taking it not only inside their new Tap Room, but in to the brew house. The production area will be transformed in to a festival-like setting and beer will be served alongside the brewing system and 240 barrel fermenters. Also enjoy live music, food truck fare, watch Boise State play Air Force and mingle while tasting incredible (hefty) imperial stouts and porters from notable breweries, many that have been aged or infused. Payette will also have their merchandise available at a special Black Friday discounted price.
Admission to Black Friday is for those 21+ only and is free with $4 drink tokens available for sale, which includes a Black Friday commemorative glass. Buy tokens at the door or skip the line and save money with the advance purchase packages online at www.payetteblackfriday.com. Tokens can be used towards imperial stout and porter pours, select non-imperial Payette beer options, special Black Friday priced merchandise and Twelve Gauge bottles. Tokens can not be used towards food purchases.
Payette has local partners that stand by their side every year and make unique items specifically for this event: Big City Coffee and Café, City Peanut Shop, Bucksnort Soda Company and the featured non-profit, Joe Cans. Buy delicious treats including City Peanut's Twelve Gauge Imperial Stout Peanut Brittle and enter a raffle to win a Big City decorated Christmas tree, benefitting Joe Cans.
Black Friday would not be possible without the hard work and generosity of volunteers. If you are interested in learning more information or signing up to be a volunteer to pour beer at Black Friday, please contact Payette at info@payettebrewing.com or visit www.payetteblackfriday.com.
There is no doubt this will be Payette Brewing's biggest Black Friday to date. Head to their brewery as they tap incredible and exclusive beers, release 2016 Bourbon Barrel Aged Twelve Gauge in twenty-two ounce bottles and have one hell of a time.
Contact Info
Company: Payette Brewing Company
Contact: Paige Coyle
Email: paige@payettebrewing.com