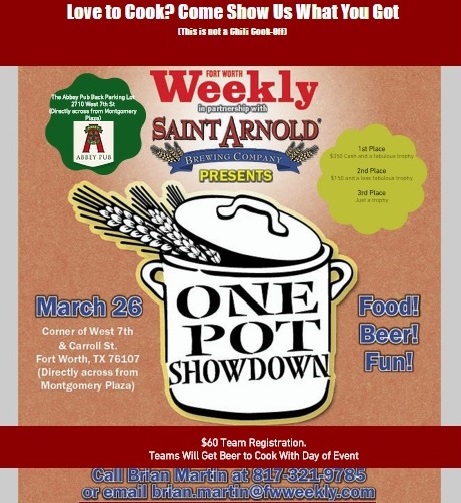 Registration Closing Soon for First Ever Fort Worth One Pot Showdown
Saint Arnold Brewing Company partners with Fort Worth Weekly to host unique beer-focused cooking competition in North Texas
FORT WORTH, Texas, March 16, 2016 – Saint Arnold Brewing Company (www.saintarnold.com), the oldest craft brewery in Texas, is inviting North Texas amateur chefs and foodies to show off their creativity and culinary skills. Saint Arnold is teaming with Fort Worth Weekly to host the first ever Fort Worth One Pot Showdown on Saturday, March 26, 2016. The rules require dishes to feature at least one Saint Arnold beer and be prepared in a single pot onsite, which is no easy feat.
"This is a great opportunity to celebrate culinary creativity and showcase the wonderful flavors beer can contribute when used an ingredient and as a beverage," said Saint Arnold Founder/Brewer Brock Wagner. "It's exciting to see what the teams come up with. Winning recipes from our main event in Houston have included Guajillo Pork Soup made with Saint Arnold Winter Stout and pancakes made with Saint Arnold Ale Wagger, which were both surprising and terrific."
Modeled after the Saint Arnold One Pot Showdown held annually in Houston – the brewery's biggest event of the year – the Fort Worth One Pot Showdown is expected to attract more than two dozen teams and approximately 300 attendees. This is the first time the One Pot Showdown will expand beyond Houston.
When: 10:30 a.m., Saturday, March 26, 2016 – Cooking competition starts Noon – Doors open for fans to watch and sample the One Pot Showdown creations 2:00 p.m. – Judging starts 3:15 p.m. – Winners announced
Where: The Abbey Pub Back Parking Lot 2710 West 7th St. Fort Worth, Texas (Corner of West 7th and Carroll Street – across from Montgomery Plaza)
How: Registration is open now To register, email Brian.Martin@fwweekly.com Cost to participate is $60, and includes a case of the Saint Arnold beer of your choice Organizers are limiting the number of teams, so early registration is required For complete rules, visit http://fwweekly.wix.com/onepotcookoff2
Judges will evaluate entries on their overall taste, the use and distinction of the Saint Arnold beer in the recipe and the creativity exhibited in the dish. Prizes totaling $500 will be awarded to the top two teams.
The Fort Worth One Pot Showdown offers great visuals, such as: • Creative tents with themed decorations • Enthusiastic cooking teams and their entries • The judging process and announcement of awards • A sold-out crowd of 800 people enjoying the event
Follow Saint Arnold: – On Twitter, follow @saintarnold – On Facebook, like www.facebook.com/saintarnold – On Instagram, follow @saintarnoldbrewing
About Saint Arnold Brewing Company
Saint Arnold Brewing's 19 brews are made and sold by the company's staff of 80 dedicated employees. Ranked 46th on the Brewers Association list of top craft breweries, Saint Arnold was listed by Thrillist among the best breweries in America for eating, and Smart Meetings magazine named it among the top breweries to host an event. Saint Arnold is located at 2000 Lyons Avenue and its brewery tour and tasting is offered every weekday at 3:00 P.M. and Saturdays starting at 11 A.M. For more information on Saint Arnold's eight year-round and five seasonal beers as well as root beer, log on to www.saintarnold.com.
Contact Info
Company: DPK Public Relations for Saint Arnold Brewing Co.
Contact: Daniel Keeney
Email: dan@dpkpr.com