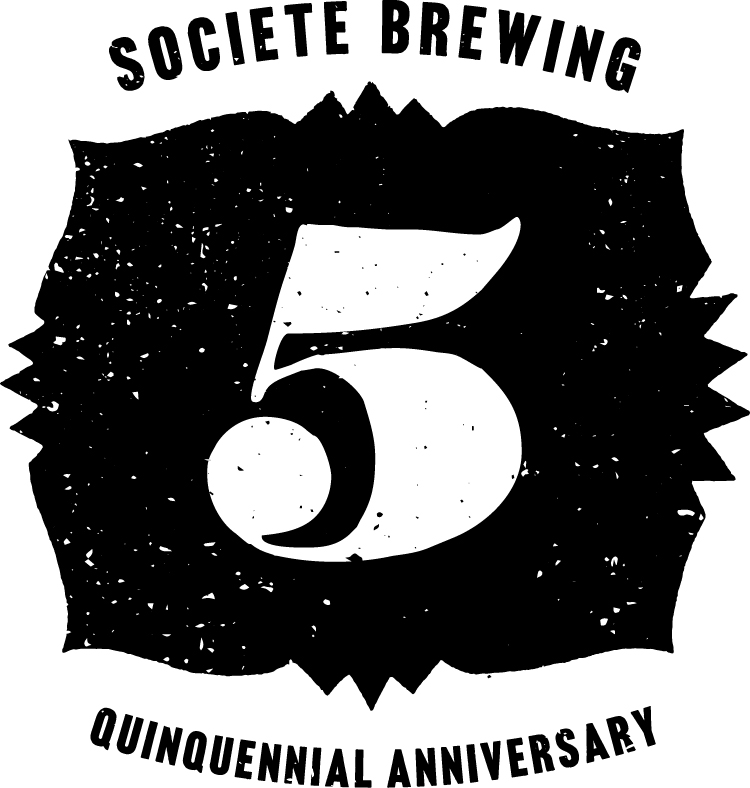 Societe Brewing to Hold Over-the-Top 5-Year Anniversary on June 24
Award-winning San Diego brewery announces SOCIETE 5, a two-part quinquennial anniversary celebration totaling 9 hours, 10 courses and (at least) 12 beers
SAN DIEGO, CA —Beginning Wednesday, February 22, tickets will go on-sale for SOCIETE 5, an anniversary celebration steeped in equal parts decadence and gluttony. Taking place Saturday, June 24, this multi-faceted fete will celebrate Kearny Mesa-based Societe Brewing Company's first five years in business behind an abundance of unlimited beer offerings bolstered by dishes from a dozen guest chefs designed specifically to pair with those liquid assets. The festivities will take place as follows: 
FIVE-YEAR FEST | June 24, 1-5 p.m.: Societe will hold a food-and-beer festival featuring unique dishes developed by members of foodie fraternity, the "5-Chef Societe". Tickets include: Entrance to the event, commemorative SOCIETE 5 festival glass and unlimited servings of beer (including all beers in Societe's tasting room) and unlimited food (while supplies last). 
FIVE-YEAR FEAST | June 24, 5-10 p.m.: Societe's tasting room will house a beer-paired feast commencing with a one-hour beer-and-charcuterie reception, followed by a five-course, seated dinner featuring more 5-Chef Societe dishes paired with rare ales as well as beer and truffles for guests to take home. Tickets include: Entrance to the Five-Year Fest and Five-Year Feast, commemorative SOCIETE 5 festival glass and limited-edition SOCIETE 5 stemware, and all the food and beer at both events (including all beers on-tap in Societe's tasting room, plus beer and truffles to-go).
The aforementioned 5-Chef Societe is made up of Anthony Sinsay (Jsix), Hanis Cavin (Carnitas' Snack Shack), Rich Sweeney (Waypoint Public), Daniel Barron (Bull & Grain), Jeff Bonilla (AToN Center), Lety Gonzalez (Uptown Tavern),  Matt Richman (Table 1888), Karl Prohaska (Kitchens for Good), Eric Sarkisian (Pacific Beach AleHouse), Karen Barnett (Small Bar), Tyson Blake (O'Brien's Pub) and Ashley Drake (The Chocolate Lush). Each has participated in annual 5-Chef Societe dinners at San Diego restaurants over the past five years, making this a grand-scale gastronome reunion of sorts.
Tickets for SOCIETE 5 will go on-sale online beginning at 10 a.m. on Wednesday, February 22. Early-bird rates equating to discounts of 15-25% (depending on ticket-type) will be in effect prior to April 20. Only 100 tickets will be made available for the Five-Year Feast, and they must be purchased prior to June 23. To receive updates on these events as well as the beers and menus being served at them, fans are encouraged to follow Societe Brewing on Facebook, Twitter and Instagram (@SocieteBrewing).
ABOUT SOCIETE BREWING COMPANY: A production brewery founded by a pair of professional brewers in 2012, Societe Brewing Company produces an array of almost-exclusively draught offerings ranging from hoppy "Out West" ales, to Belgian-inspired and continental "Old World" ales and lagers, and dark "Stygian" ales. The brewery also features a 1,500-square-foot temperature-controlled room housing used wine barrels filled with a maturing stock of "Feral" (barrel-aged sour) ales, which are bottled and sold in Societe's tasting room. Proud to be part of the hotbed of brewing innovation that is San Diego, California, Societe distributes its beers to finer bars and beer-centric restaurants and retailers throughout its home-county. The brewery has earned medals in multiple style-categories at the Great American Beer Festival and World Beer Cup competitions, and its multifarious portfolio of year-round beers includes The Pupil and The Apprentice IPAs, The Coachman Really Small IPA, The Harlot Belgian Extra, The Pugilist Dry Stout and The Butcher Imperial Stout. For more information, visit the company's official website—www.societebrewing.com—or follow Societe via social-media on Facebook, Twitter or Instagram (@societebrewing).
Contact Info
Company: Societe Brewing Company
Contact: Brandon Hernández, Chief Marketing Officer
Email: brandon@societebrewing.com