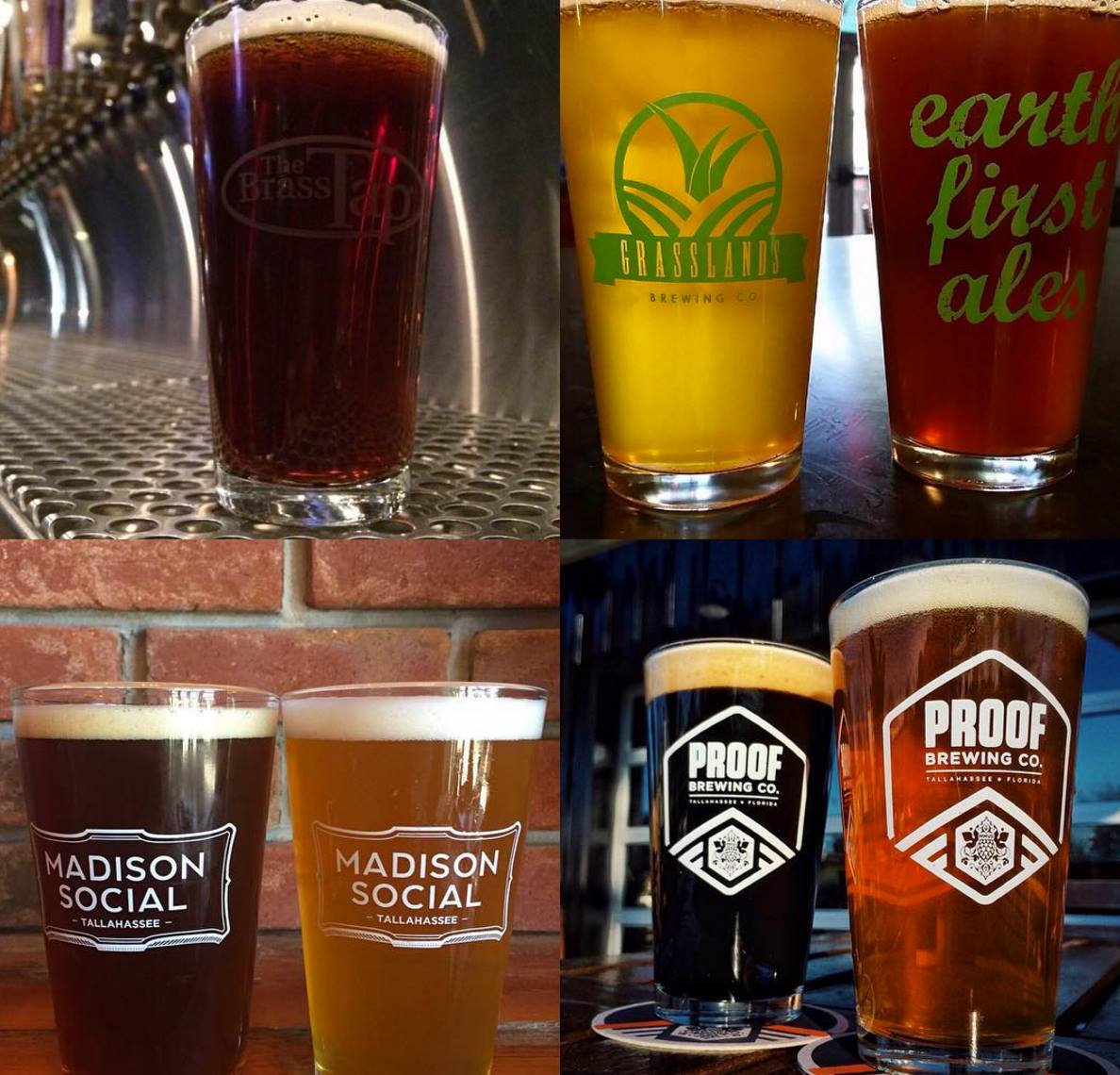 Tallahassee Brew District Established
Innovative craft partnership launches pub crawl with a purpose
GrassLands Brewing Company, Proof Brewing Company, Brass Tap Downtown Tallahassee and Madison Social have created the Tallahassee Brew District: an innovative partnership that celebrates local Tallahassee businesses, a growing corridor of the Florida capital, collaboration and a love of craft beer. The newly-formed district welcome a partnership with the Tallahassee Network of Young Professionals to launch the The Tallahassee Brew District Holiday Hop and The NYP 5th Annual Santa Shuffle.
On December 12 at 5:00PM a coordinated bar crawl will stop at each of the four Tallahassee Brew District locations: Madison Social, The Brass Tap, GrassLands Brewery and Proof Brewing Company, with a beer included at each location for registered participants only. With so many in need during the holidays, proceeds from the Santa Shuffle will benefit each participant's choice of either Guardian Ad Litem, PACE Center for Girls or Last Hope Rescue.
Registration starts at 5:00PM at Madison Social. The $25 registration fee includes a 16oz holiday boot with a fun holiday themed laynard and one beer at each location. If participants bring an unwrapped toy (approximate value of $5 or higher) to Madison Social when upon registering, they will receive one additional beer at Proof Brewing Company.
To further get into the holiday spirit, the Tallahassee Brew District encourages participants to dress up in their most festive holiday costume. A costume contest will take place at Proof Brewing Company at 11:00pm. The winners will be determined by representatives from Guardian Ad Litem, PACE Center for Girls and Last Hope Rescue.
The Santa Shuffle also kicks of the Tallahassee Brew District's week long toy drive where every person who brings an unwrapped toy to any brew district location from Sunday December 13 – Sunday December 20 will receive a complimentary beer from that establishment (choices vary by location).
Thanks to Yellow Cab and Uber, the Tallahassee Brew District has also worked out the following:
1. Yellow Cab will have a booth set up at both the start and finish for this event and will be offering free cab ride vouchers.
2. Uber is offering a promotional code TLHBREWDISTRICT which is $20 off first trip for new riders.
Tickets: http://www.eventbrite.com/e/2015-holiday-hop-and-santa-shuffle-tickets-19302014846
Contact Info
Company: GrassLands Brewing Company
Contact: Saralyn Grass
Email: saralyn@grasslandsbrewery.com