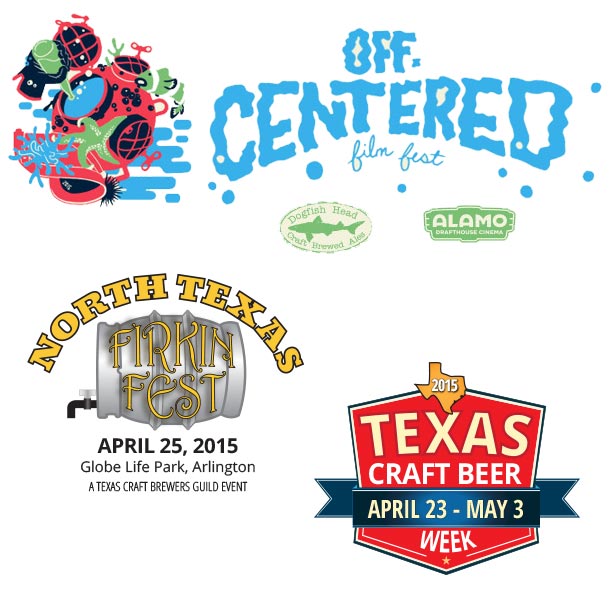 Texas Craft Beer Week lands 4/23-5/3/2015, featuring Alamo Drafthouse & Dogfish Head's Off-Centered Film Festival and North Texas Firkin Fest
Texas Craft Beer Week debuts April 23-May 3, 2015, delivering a Texas-sized lead up to the Brewers Association's American Craft Beer Week later in May. Launched in partnership with the Texas Craft Brewers Guild and Alamo Drafthouse, Texas Craft Beer Week joins Colorado and other states in taking the 'beer week' phenomenon to its logical next step: statewide promotion of marquee craft beer events, held in venues from craft beer bars to restaurants to tasting rooms to retail, and hosted by pillars of the craft beer community, all in support of independent craft beer.
Headlining TxCBW are two amazing festivals, a multi-day affair in Central Texas and the inaugural North Texas Firkin Fest: 
2015 Off-Centered Film Festival & Rolling Roadshow Beer Party
Produced by the Alamo Drafthouse and Dogfish Head Brewery, the 8th Annual Off-Centered Film Fest is an epic multi-day celebration of craft beer, delicious food and off-centered films. Providing the perfect kick off for TxCBW is day one of the festival, which features the Rolling Roadshow Beer Party on April 23, which includes a Master Pancake screening of the epic 'Titanic.' Held in Austin at South Shore, this event will serve up a sunset soiree featuring local and regional Texas craft brews alongside select Dogfish Head favorites.
The heart of OCFF is the short film competition, with 12 of the top-rated shorts screened and a grand prize winner chosen at the Alamo during the fest. Each year's competition centers on a theme. What's this year's theme? Yacht Rock! — a celebration of warm 'n' salty summer breezes, mellow jams and chill surfers hanging ten while a crisp, cold brew awaits back at the beach. Take us away…
Dogfish Head and Alamo Drafthouse launched OCFF in 2007, and were at the forefront of marrying craft beer to the film festival format. Throughout, each has supported local and regional craft brewers, showcasing Texas craft beer and benefitting the Texas Craft Brewers Guild as part of OCFF. This event is all about craft beer community — and a 'pitcher' perfect kick-off to Texas Craft Beer Week.
DETAILS Off-Centered Film Festival  April 23-25 Visit the official OCFF site for details on all OCFF events
Master Pancake Presents: TITANIC Rolling Roadshow Beer Party Thursday, April 23, 6-10pm South Shore Austin, TX Get tickets
North Texas Firkin Fest, featuring RARE one-off cask ales
The North Texas Firkin Fest launches under the able hand of the Texas Craft Brewers Guild in collaboration with Texas craft brewers themselves, and features rare cask-conditioned ales (it's alive!). Many of the brews showing up at this event you will NEVER see again, let alone be able to try someplace else. In showcasing the super-hot North Texas craft beer region, this inaugural event is a perfect follow on to the Houston Firkin Fest on March 28, a companion festival also held by the brewers. The North Texas Firkin Fest will take residence at Globe Life Park in Arlington, home of the Texas Rangers and conveniently located between Dallas and Fort Worth to bring together the amazingly talented craft brewers across this fast-growing region.
DETAILS North Texas Firkin Fest  April 25 Globe Life Park Arlington, TX Get tickets
Interested in hosting an event? Sign up is still open.
Brewers, venues, retailers and distributors may host an event or participate at no cost. Events must comply with the TxCBW Event Guidelines.  
ABOUT TxCBW PARTNERS
Alamo Drafthouse
It's not called the "Drafthouse" for nothing. The Alamo Drafthouse's obsession for movies is paralleled only by their obsession for beer. From the beginning, the Alamo has prided itself in serving only the finest craft beers and supporting the best microbreweries. From beer-centric film and food screenings, to meet-the-brewer events, to their expansive craft beer tap selections at each and every location, Alamo has uniquely married its passion for beer and movies since its humble beginnings on Austin's Colorado Street in 1997. 
Naturally, promoting craft beer also means active involvement in Texas' beer weeks, starting with the very first one in Austin in 2010. (Live Oak Brewing meets Quentin Tarantino's INGLOURIOUS BASTERDS being just one highlight that year.) Alamo Drafthouse is proud to take part in Texas Craft Beer Week, spreading the craft beer gospel throughout its network of theaters in each of the state's metro regions. 
Check out these Alamo Drafthouse events during TxCBW: Texas Craft Brewers Guild
The Texas Craft Brewers Guild is a nonprofit trade association representing Texas craft brewers. The Guild exists for the purpose of promoting Texas craft beer, educating the public about the qualities and attributes of craft beer, and advancing the common interest of Texas craft brewers. In collaboration with the brewers and local charities, the Texas Craft Brewers Guild produces various festivals and events, including the Houston Firkin Fest, the North Texas Firkin Fest and the Texas Craft Brewers Festival.  Dogfish Head Craft Brewery
A leader of the craft beer movement nationwide, Dogfish Head Brewery has helped push the entire industry forward since its founding in 1994, delivering "off centered" beer styles and flavors that pushed the boundaries of people's perceptions of what beer should be. Giving back to local and regional brewers has been a Dogfish Head hallmark, epitomized by their collaboration on the OCFF and ongoing contributions to the state's brewers through the Texas Craft Brewers Guild.
Questions? Contact us: info AT txcraftbeerweek.com
Contact Info
Company: Texas Craft Beer Week
Contact: Joanne Marino
Email: info@txcraftbeerweek.com