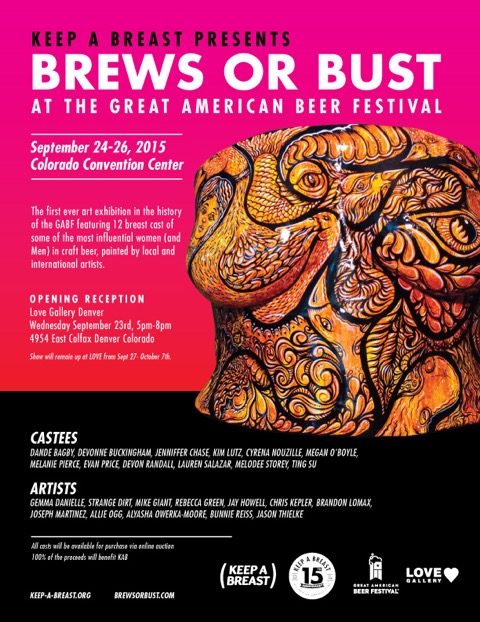 The First-Ever "Brews or Bust" Art Exhibition at The Great American Beer Festival®
2015 — This fall, the global non-profit organization The Keep A Breast Foundation
(KAB) is celebrating their 15th anniversary by teaming up with The Great American Beer Festival
for the first ever "Brews or Bust" art exhibition, in Denver, CO, from September 24-26.  On display will be 12 breast casts of female brewers from the beer industry (with the exception of one male). Internationally known artists Mike Giant, Jay Howell,and Alyasha Owerka-Moore, as well as local talents Gemma Danielle, Strange Dirt, Rebecca Green, Chris Kepler, Brandon Lomax, Joseph Martinez, Allie Ogg, Bunnie Reiss, and Jason Thielke, will be painting the breast casts. The theme is happiness, which showcases KAB's commitment to creating a relationship between themselves, art, breast cancer prevention, and the craft brewing industry. The casts will be available through an online auction on brewsorbust.com from September 24-October 4.
The artist's and castee's opening reception will take place at the LOVE Gallery in Denver, CO on September 23rd from 5:00PM-8:00PM. Post-GABF, the casts will remain on display at LOVE Gallery through October 7th. 100% of the proceeds will benefit KAB's ongoing work.
The 12 castee's include:
●      Cyrena Nouzille – Ladyface Ale Companie
●      Dande Bagby – Bagby Beer Company
●      Devon Randall – Arts District Brewing
●      DeVonne Buckingham –  Drake's Brewing
●      Evan Price – Noble Ale Works
●      Jenniffer Chase –  Automatic Brewing Co.
●      Kim Lutz – Saint Archer Brewery
●      Lauren Salazar – New Belgium Brewing Co.
●      Megan O'Boyle – Cigar City Brewing
●      Melanie Pierce –  Brewbies Festival
●      Melodee Storey – Boneyard Beer
●      Ting Su – Eagle Rock Brewery
The Great American Beer Festival (GABF) is the largest festival in the country, featuring over 1,300 breweries and 49,000 attendees. The "Brews or Bust" event is the first time in their 33 year history that they have ever had an art component tied to a social cause.
"When Melanie from Brewbies and Cyrena from Ladyface Ale Companie asked me about having a Brews or Bust exhibit at the Great American Beer Festival®, I was thrilled. Promoting breast cancer awareness and the importance of early detection in such a fun and artistic way is a fantastic addition to the festival." said Nancy Johnson, Event Director, Great American Beer Festival.
The Keep A Breast Casts
The story of the The Keep A Breast Casts™ is the story of KAB itself. Over a decade ago, KAB's founders, then involved in their own arts organization, rallied to support a friend with breast cancer. They developed an idea to express the female experience of breast cancer by reimagining the traditional canvas as a participatory sculpture. After some experimentation and partnerships with the right people, they developed and tested a technique for capturing the female bust in a plaster. The result was a white cast that was then customized by artists. The success of these breast casts as conversation starters, awareness builders and fundraising tools ultimately led the creation of the non-profit The Keep A Breast Foundation.
"We're incredibly excited to bring The Keep A Breast Casts to The Great American Beer Festival. This is a fantastic platform to get the word out about breast cancer prevention and a great opportunity to try an amazing selection of beer!" said Shaney jo Darden, CCO & Founder, The Keep A Breast Foundation.
For more information on KAB's Breast Cast Art please visit www.keep-a-breast.org. For more information on The Great American Beer Festival, visit www.greatamericanbeerfestival.com.
About The Keep A Breast Foundation:
Now entering their 15th year, The Keep A Breast Foundation™ is a nonprofit organization with a mission to empower young people around the world with breast health education and support. Since its inception in 2000, KAB has worked with young people to remove the shame associated with breasts and breast cancer health. Through various initiatives such as breast cast art exhibitions, the "Non Toxic Revolution" and "I love boobies!" campaign, KAB has opened up the dialogue about breast cancer, and has proven to be a doorway to breast self-awareness and education. Keep A Breast has grown into the leading global youth-based breast cancer prevention organization, with global affiliates in Japan, Canada, France, UK and Chile. Constantly pushing the boundaries of the pink ribbon status quo, Keep A Breast has always encouraged young people to love their boobies, get to know their bodies and be aware of changes. http://www.keep-a-breast.org/  Twitter/Instagram: @keepabreast
About The Great American Beer Festival
The Great American Beer Festival is the premier U.S. beer festival and competition. Each year, GABF represents the largest collection of U.S. beer ever served, in a public tasting event plus a private competition. GABF brings together the brewers and diverse beers that make the U.S. the world's greatest brewing nation. GABF was founded in 1982, and has been growing and evolving along with the American craft brewing industry ever since.
For more information please contact:
Jessica Paugh/ Left Left Right
M: 386-383-2625
Contact Info
Company: LLR Consulting
Contact: Jessica Paugh
Email: jessica@llrconsulting.com