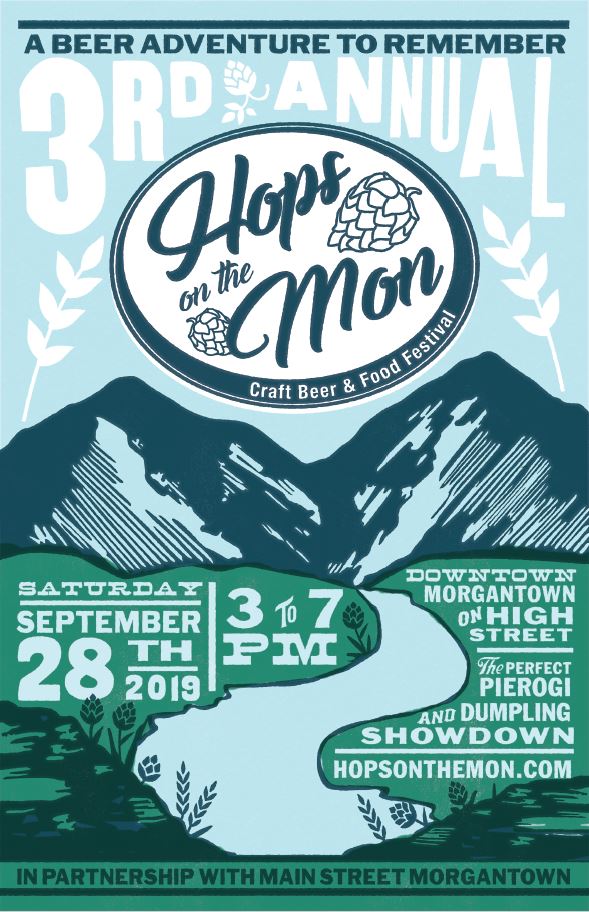 Third Annual Hops on the Mon Takes to the Street in Morgantown, WV
Get ready for a beer adventure to remember at the 2019 Hops on the Mon Craft Beer & Food Festival. It's your chance to sample 'the best of the best' beer available from down the street, across the country, and around the world!
We're taking High Street in the heart of historic downtown Morgantown, West Virginia, and turning it into a mecca of beer greatness where you can savor the highest quality and most distinctive local, American, and European craft beer—all rigorously selected using our decades of experience in the craft beer industry. To top it off visit our inflatable 'Top Tier Pub' for the rarest of rare, and make your choice for the festival's top brewery and recipient of the coveted 'Hops Cup' for 2019.
But Hops on the Mon isn't just about beer. There's food, music and more. Have a bite and cast your vote for the winner of the 'Perfect Pierogi & Dumpling Showdown' featuring Morgantown's best restaurants. Listen to some cool tunes from space rock funk foursome Optimus Riff and indie rock powerhouse Hello June. Or try your luck at our festival arcade. Whatever you choose it's sure to be a day of festival fun!
So, go for the best. Get your tickets today for the 2019 Hops on the Mon Craft Beer & Food Festival, Saturday, September 28 in downtown Morgantown, presented by Main Street Morgantown.
But don't delay. Only 1,000 tickets will be sold for this exclusive event!
Contact Info
Company: Top Tier Beer Group LLC
Contact: James Redmond
Email: theredmonds@comcast.net