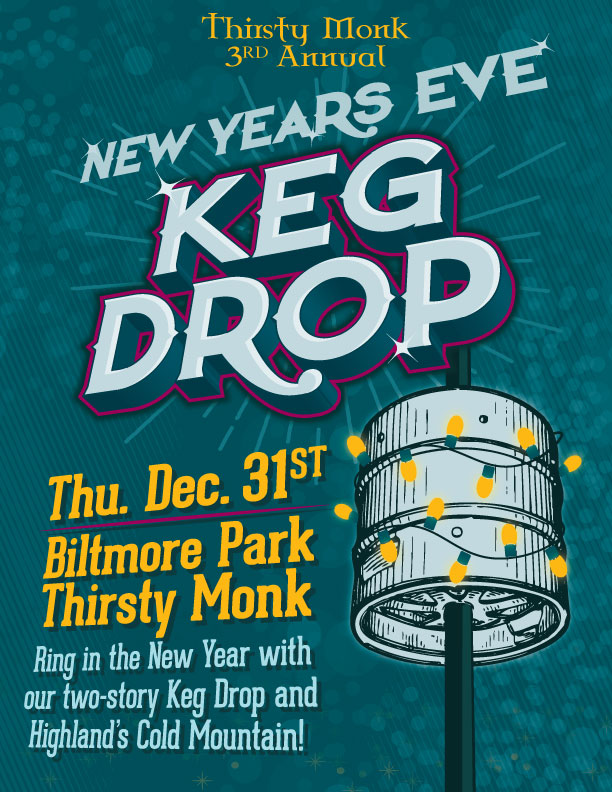 Thirsty Monk Biltmore Park Hosts South Asheville's New Year's Eve Celebration With 3rd Annual Keg Drop
Thirsty Monk Biltmore Park will welcome the New Year with a 2-story keg drop with special midnight tapping of Highland Brewing's Cold Mountain.
ASHEVILLE, NC – Last year saw a festive crowd of hundreds ring in the New Year in Biltmore Park, and for a third year, Thirsty Monk is excited to announce its popular Keg Drop Celebration once more. The golden keg will be lit up and glowing on New Year's Eve, and easily visible from the traffic circle as visitors enter Biltmore Park. At midnight the keg will descend, and the bar will tap a fresh keg of Highland Brewing Cold Mountain Winter Ale to ring in the new year.
"We've seen this event grow each year, and we're really excited to do it again," says Thirsty Monk VP, Chall Gray. In the past two years, the keg drop celebration has garnered local and national attention from multiple media outlets."New York City drops a ball, Atlanta drops a peach, Miami drops an orange, and in Asheville, we drop a keg! Come join us!" Gray adds.
The Keg Drop Celebration is free to attend, and ample parking is available for guests. There will also be menu specials for the occasion.
As Asheville's immense craft brewing reputation has continued to grow in 2015, with opening of Sierra Nevada in Mills River and New Belgium beginning its brewing operations in the River Arts District, Thirsty Monk's keg drop is a beacon for the beginning of yet another exciting year for the growing prestige of its local brewing industry, and the city of Asheville.
Thirsty Monk, one of the top beer bars on the east coast, looks forward to a 2016 calendar year full of exciting beer events, and expansion of their own brewing operations to continue to bring their award-winning Belgian-style beers to Asheville. Visit www.monkpub.com for directions, event details, live tap lists and more. Keep up with breaking news, beer and brewery tap features on Facebook and Twitter @monkpub.
####
Contact Info
Company: Thirsty Monk
Contact: Joanna Postlethwaite
Email: joanna@monkpub.com