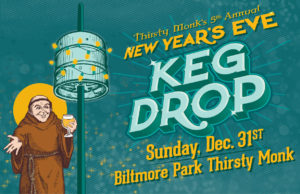 Thirsty Monk's 5th Annual NYE Keg Drop
New York City drops a ball, Atlanta drops a peach and Miami drops an orange. In Asheville, Thirsty Monk drop a keg! Ring in the New Year at the Biltmore Park Monk as we welcome 2018 with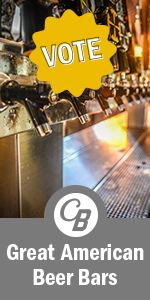 our 5th Annual New Year's Eve Keg Drop Celebration. Our two-story golden keg will be lit up and glowing on New Year's Eve, descending at midnight as we tap a keg of Must Love Coconut IPA, and toast to the New Year! The Keg Drop Celebration is free to attend and ample parking is available for guests.
If you like Piña Coladas and getting caught in the rain, or if you're just in the mood for an escape from the typical IPA, the Must Love Coconut IPA is for you. Brewed with 100 pounds of toasted coconut and a blast of Citra, Centennial and Amarillo hops, this Belgian-style IPA is a totally tropical experience. Flavors of stone fruit, tropical fruit and–you guessed it–coconut whisk you away to an island oasis, with hints of spice and citrus peaking through the palm trees. This special release is making an appearance on tap after many requests from its fans.
About Thirsty Monk
Thirsty Monk, founded in 2008, brews Belgian-Rooted Modern Ales in Asheville, NC, and is considered a world-recognized craft beer destination. Thirsty Monk currently operates Thirsty Monk Downtown, Thirsty Monk Biltmore Park, Top of the Monk craft cocktail bar, and Brother Joe's Coffee Pub, all located in Asheville. We are proud to have played a part in the growth of Asheville's vibrant craft beer community, with an expertly brewed lineup of beers designed to have depth of character, and create a memorable experience as you sit down and raise a glass with your favorite people. As a top craft beer destination in Asheville, NC, we strive to provide the area's most expansive, unique and rare craft beer selection. To that end, we are constantly rotating our taps, so you always have the best choice of beers, with carefully balanced tap standards to maintain a variety of styles. We also host events each year, ranging from releases of super-rare and exclusive beers to tap takeovers to full-scale festivals. Check out our events page for what's coming up soon! We take our beer seriously, and are committed to creating a relaxed and welcoming atmosphere with excellent tap choices, great pub grub and fun beer-related events. We look forward to enjoying a great beer with you.
Contact Info
Company: RadCraft
Contact: Emily Hutto
Email: coop@radcraftbeer.com