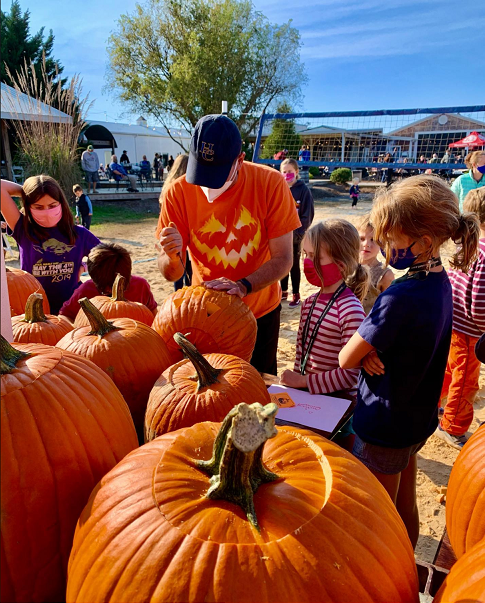 World's Fastest Pumpkin Carver Shatters Guinness World Record For Speed Carving A Single Pumpkin At Stable Craft Brewing's Fall Harvest Party
WAYNESBORO, VA – (October 20, 2020) – Central Virginia's Stable Craft Brewery at Hermitage Hill, an authentic working farm brewery and winery, was the site of a World Record record-shattering performance by Stephen Clarke, the World's Fastest Pumpkin Carver on Saturday, October 17.  Clarke broke his Guinness World Record of 16.47 seconds for speed carving a single pumpkin by carving a Jack O' Lantern in 9.4 seconds in front of an enthusiastic outdoor audience at Stable Craft Brewing's Fall Harvest party.
According to Clarke, a Philadelphia school teacher who also holds the Guinness World Record-holder for speed carving a ton of pumpkins, "I didn't grow up wanting to be a pumpkin-carver, but it's something I've always loved and was good at, so I tell my students to make the most of the things you're good at.  I've more than exceeded my 15 minutes of fame appearing on national television and traveling the world, carving pumpkins, setting world records and doing what I love."
Immediately following his record-setting performance, Clarke carved Jack O' Lanterns for the families in attendance to take home.  With Stable Craft's rural location and acres of open farmland with multiple covered and uncovered outdoor locations, masked guests were able to keep safe and socially distant while enjoying craft, beer, cider, wine and food including festival favorites cotton candy and funnel cakes. Several other safety measures have been implemented to provide guests with a safe and fun experience while complying with Virginia's Governor Northam's guidelines. 
For hours of operation and directions, visit www.stablecraftbrewing.com or follow on Facebook at https://www.facebook.com/stablecraftbrewing/.  For more information, call 540-490-2609.
Contact Info
Company: Mark Glickman PR
Contact: Mark Glickman
Email: markglickman@gmail.com