Nashville, Tennessee — Metro Nashville Public Works recently installed a historical marker recognizing the four breweries that operated in Germantown (North Nashville) in the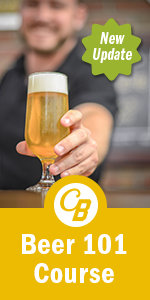 1860s. Scott Mertie had this marker approved by the Metro Nashville Historical Commission as a way to memorialize the brewing trade that the German immigrants brought to Nashville in the mid-1800s. "We are fortunate to have a local beer authority like Scott Mertie to put forth the research and expense for these historical markers recognizing Nashville's rich brewing heritage", stated Jessica Reeves of the Historical Commission.
One side of the marker outlines the four breweries, which were: North Nashville Brewery, Rock City Brewery, Cumberland Brewery, and Nashville City Brewery. The other side depicts a period map with the locations of breweries, which were just blocks from each other on Cherry and Summer Streets (now 4th Ave N and 5th Ave N, respectively). The Germantown Brewery District historical marker is located on the corner of 5th Ave N. and Madison.
This is the second brewery related historical marker commissioned by the Mertie family. The first marker was installed in 2011 on 6th Ave S at the original location of the Nashville Brewing Company (1859-1890) and the Gerst Brewing Company (1890-1954). Mertie is the author of Nashville Brewing (Arcadia Publishing 2006) and owner of the Nashville Brewing Company, which recently won awards at the World Beer Cup and Great American Beer Festival.
Contact: Scott R. Mertie | 615-943-8855 | scott@nashvillebrewing.com | www.nashvillebrewing.com