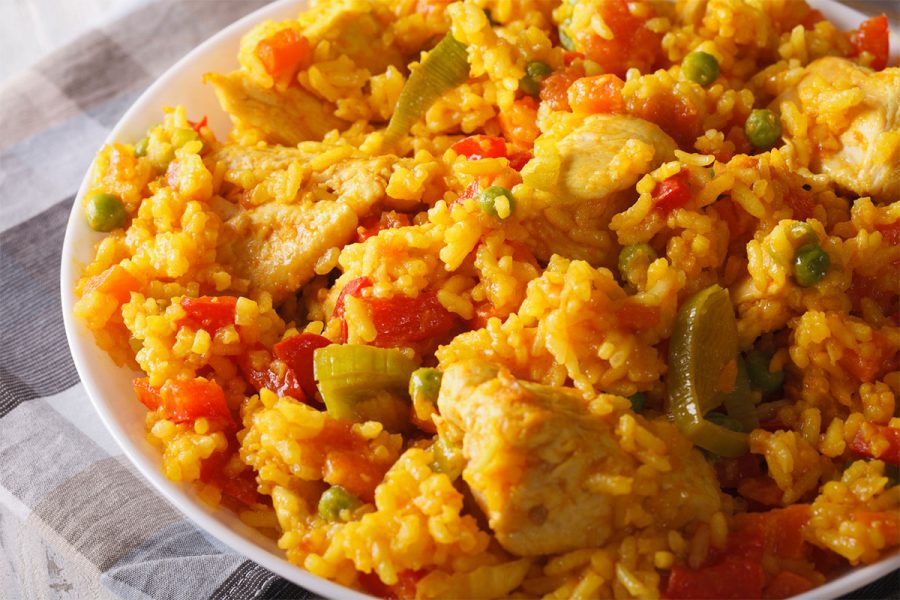 A new spin on the classic Cuban dish arroz con pollo made with your favorite amber ale. Rice is layered with flavor provided by spices, chicken and chorizo.
Ingredients
Marinade 3 large garlic cloves, chopped
2 Tbsp white vinegar
2 tsp dried oregano
4 chicken drumsticks
4 chicken thighs   Rice 3 oz chorizo cut into 1/4-inch-thick slices
1 Tbsp olive oil
1 medium onion, diced
1/2 green bell pepper, diced
3 garlic cloves, chopped
2 tsp ground cumin
2 tsp dried oregano
1 1/2 tsp paprika
2 bay leaves
1 pound tomatoes, seeded and chopped
1 (12-oz) Twisted Pine Amber Ale
1 1/2 cups chicken broth
2 cups long-grain white rice
¼ cup cilantro, chopped (garnish)
---
Directions
Finely chop garlic with 2 teaspoons salt, then transfer to a bowl. Whisk in vinegar and oregano.
Remove skin and excess fat from chicken, then toss chicken with marinade until coated and marinate, covered and chilled, at least 1 hour but no longer than 2.
Render chorizo by cooking in a large pot over medium-high heat, stirring, until some fat has been released, 2 to 3 minutes. Add olive oil, onions and bell pepper and cook, stirring, until softened, about 5 minutes then add garlic and cook until fragrant.
Add cumin, oregano, paprika, 1 1/4 teaspoons salt, and bay leaves and cook, stirring, 1 minute.
Reduce heat to medium then add chicken and marinade to the pan and cook while stirring, uncovered for 10 minutes.
Stir in rice and cook for another minute.  Then add tomatoes, beer and chicken broth.  Bring to a boil, making sure rice is submerged.
Then cover and reduce heat to medium-low. Cook, stirring halfway through, until rice is tender, 20 to 25 minutes.
Remove from heat and let stand, covered, 5 minutes. Fluff rice, remove bay leaves, garnish with chopped cilantro and serve.
Note:  Our malty Red Mountain Ale or our crisp Blonde Kölsh Ale would also make a nice choice for this recipe.