Oakland is a city in transition, one that began when then Mayor Jerry Brown, whose term ended in 2009, committed to bringing 10,000 new residents to the city. No longer a tough-guy town with the usual suspects doing "town biz" on street corners, the influx of new residents continues as tech industry types are now finding Oakland attractive.
The presence of independent breweries is helping to re-generate the community as new residents seek social opportunities close to home. A walking tour that includes Independent Brewing in the Jack London District, the Pacific Coast brewpub in Downtown and Woods Bar & Brewery in Uptown is a way to check out changes in the cityscape with plenty of refreshment along the way.
(WALK THIS WAY: Portland's Buckman Neighborhood | Long Island City)
Independent Brewing Company
444 Harrison St.
Jack London, the well-traveled author, grew up in Oakland in the late 1800s. One of his early jobs of setting pins at a bowling alley introduced the young teen to steam beer – cheap, popular and locally brewed. But the city's once-burgeoning breweries were shut down first by Prohibition and later by the consolidation of big beer. Steve McDaniel, the founder of Independent Brewing, decided to go into brewing to help revive Oakland's beer town tradition. He started with five years of contract brewing at Oakland Brewing Company and then launched Independent in early 2014. With the help of an Indiegogo campaign, his goal was to further promote the city's beer revival.
A taproom with a three-barrel brewing system and six-barrel fermenters, Independent is located in a former warehouse and slightly off the beaten path due to the bend at the corner of 5th and Harrison Streets. But a corner sign on 4th St. and the call of fresh beer – if not London's signature novel "Call of the Wild" – has increased foot traffic significantly. "Over the last two or three years we've developed more foot traffic where we're at and it's known where to find us," said McDaniel, whose wife Justine also works at the brewery.
McDaniel had an advantage when he opened because his Sticky Zipper, a West Coast-style IPA, was already popular when contract brewed at Oakland Beer Company. Two other regulars in the rotation are A Bitter Pils to Swallow and Town Biz, an American premium lager. Another regular at the taps – 'Chu need? Lager! – is named after one of Oakland's graffiti artists.
The entrance to Independent is a large warehouse door that has been modified and painted by local artists. The building was most recently the home of punk rock club Hazmat and the band theme plays on. "We're trying to support the community and provide a venue to people who don't have other venues available to them," said McDaniel. The bands are often comprised of students from the Oakland School for the Arts. Each month, a local visual or craft artist has works presented in a reception at the brewery and their work remains on display for purchase for 30 days. In many respects, Independent sustains an emphasis on inclusiveness that has always been a theme in Oakland.
Pacific Coast Brewing Company
906 Washington St
From 4th St., it's a four-block walk to Washington St. and another five blocks north to the Pacific Coast Brewing Company pub, where owner Steve Wolff has seen the transition in Oakland first-hand from his Downtown location.
After being inspired by Buffalo Bill's, the first brewpub in California that opened in Heyward in 1982, Wolff co-founded Pacific Coast with former partner Don Gortemiller, opening the doors in a Victorian-era building in 1988. The bar and most of the seating are below street level, which gives the brewpub an old-world feel, as do the stain-glass windows and the handsomely wrought wood interior, including the ornate bar, which came from an 1800s Oakland saloon.
The early years before craft beer was a mainstay were a struggle and other brewpubs in the area eventually closed. Pacific Coast had its share of troubles. Within a year of opening, the city was hit by the earthquake that delayed the World Series between the San Francisco Giants and Oakland A's, followed by a wildfire two years later that destroyed 3,000 homes in the Oakland area. But the biggest setback was when a local shipping company decided to move.
"Our best customers worked at the shipping company," said Wolff, whose brewpub is now the longest continuously owned in the state. "They liked drinking beer. They'd come in and drink three beers and then they'd decide to go back to work or stay and drink more beer. They were great customers, but they moved to Phoenix. That was a big hit for us."
Wolff has continued to thrive due to food that is more creative than pub grub and by focusing on darker and hoppier beers; barrel aging, sour beers and saisons having more recently been worked into the rotation. Guest taps fill in other styles, including ciders and hard sodas and well known Northern California craft beers.
The impressive Leviathan Imperial Stout and Grey Whale, an American-style pale ale, are generally in rotation as well as Nelly, a bracing pale ale featuring an emphasis on Nelson Sauvin hops. This fall, a cucumber Kolsch was part of the regularly revolving rotation. The beer also appears on the food in dishes such as the Beer Braised Brisket or the Gray Whale Pale Ale Carnitas Platter.
(MORE: What 'Selling Out' is Actually About)
Woods Bar & Beer Company
1701 Telegraph Ave.
If you've timed the Pacific Coast stop to coincide with lunch, a walk north to Woods Brewery & Bar on Telegraph Ave., which includes a trip through the upscale City Center, has an afternoon pick-me-up awaiting. Woods is home to MateVeza, the world's first caffeinated IPA. Made with yerba mate (pronounced mah-tay) tea, the beer has recently celebrated its tenth anniversary as Woods' flagship brew.
Jim Woods began homebrewing in high school, because, he said, it was the best way for a teenager to get beer. He continued brewing in college and the day he drank some yerba mate tea shortly after a Sierra Nevada Pale Ale was the aha! moment. Woods has gone as far as visiting Argentina to learn more about the plant. Mendicino Brewing company eventually became the contract brewer even after the first nano brewery, Woods Cervecería, opened in San Francisco's Mission District.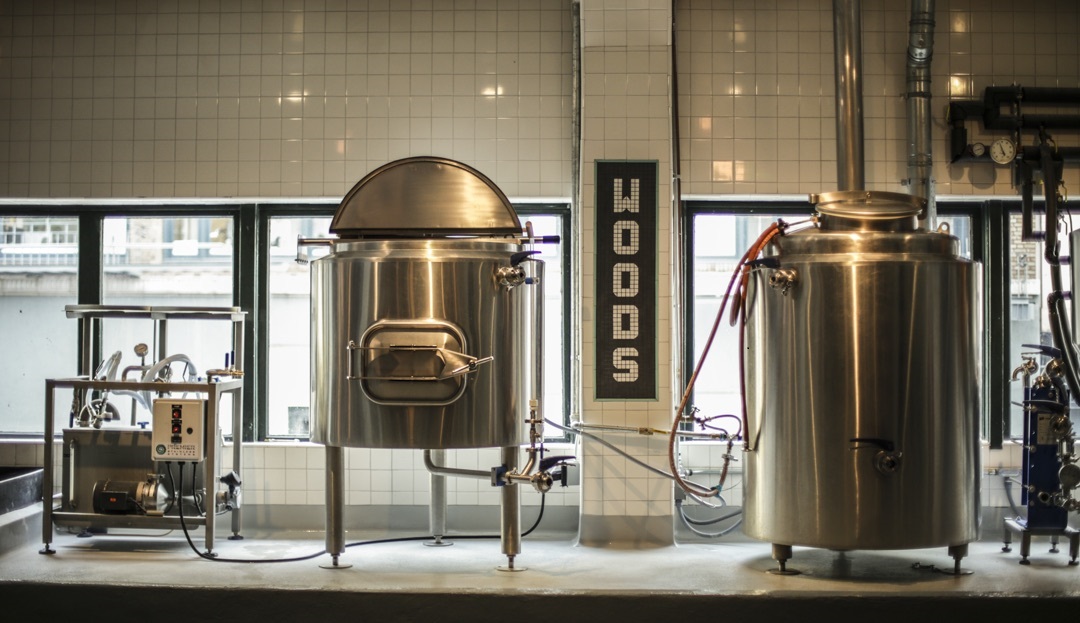 "Having a place to interact with customers was really rewarding personally and really did a lot for our brand," said Woods of his first taproom. "The relationship you have with a customer when you are handing a beer across the counter is a lot more profound than seeing your dusty bottle on a warm shelf in some liquor store."
The Oakland location, which has a seven-barrel system, is one of four Woods taprooms in the Bay Area. The list for "adventurous drinkers" merely begins with the unique and smooth MateVeza, an IPA where any "dank" in the body is replaced by the rather robust tea flavor that complements the minty, herbal hops. "The yerba mate is part of the holly family and the tea is made from the leaves from a shrub," said Woods. "It was only grown wild in Argentina and Brazil until the Jesuits figured out how to cultivate it. The seeds have a protective layer and won't germinate unless they pass through the digestive system of birds."
A second regular beer is Morpho, a tart, gruit-style brew made with yerba mate, hibiscus and bay leaf. Another regular brew known as Local Honey includes Bay Area honey and eucalyptus. There's a hint of lavender in the nose of this unique beer from Woods, which keeps the taps rotating regularly with small batch experimental beers.
The Woods Bar building, just south of the revived Fox Theatre on Telegraph Ave., is as unusual as the beers inside. A former women's shoe store, the architecture remains the same with display windows removed to help accent a free-flowing cutaway entrance. As much indoor as outdoor, which is the style at even the barber shops in Oakland, there's a fire pit up front. Tasty home-made empanadas are a good accompaniment to the beers served at the long, cozy bar in the back.
The tap rotation in the fall included one-offs made from watermelon, a Belgian table-style saison, and a wild yeast beer derived from a beer named Bowie in honor of the rock singer. Speaking of which, the sound track was very engaging at Woods, where barkeeps choose from an eclectic list.
By this point in the walking tour, the variety of beers and breweries is enough to make one ask if this really is Oakland? The answer being yes.
CraftBeer.com is fully dedicated to small and independent U.S. breweries. We are published by the Brewers Association, the not-for-profit trade group dedicated to promoting and protecting America's small and independent craft brewers. Stories and opinions shared on CraftBeer.com do not imply endorsement by or positions taken by the Brewers Association or its members.