Never, in the history of these United States, has there ever been a better time to enjoy beer.
This seems like a bold statement, but it is true. Small and independent craft brewers have ensured that Americans have access to the most expansive variety of beers on the planet. They changed the nation's beer reputation from the perennial butt of jokes into the envy of every other beer-loving nation in the world.
These small businesses have worked tirelessly to not only bring a product to market but to intertwine themselves in the communities that they craft their beers. The United States' over 5,300 small, independent craft brewers have shown us how a simple beverage and pure intentions can shift an entire culture. That is why this American Craft Beer Week, we at CraftBeer.com want you to join us by looking for ways to Beer It Forward (#beeritforward).
(MORE: Find American Craft Beer Week Events Near You)
The idea of Beer It Forward is not new — it's "Pay it Forward," but with craft beer. Many beer lovers use it to highlight good deeds, like covering the cost of a beer as an act of kindness or someone including more beers in a beer trade than were necessary. Beer it Forward promotes doing good, simply, honestly, without an expectation of reciprocation and with the hope that the act will be passed down the line.
Many craft brewers exemplify this ideal every single day. They believe in the value of community and giving back, supporting causes from veterans to homelessness to a cleaner environment. That's why this American Craft Beer Week, the theme #beeritforward is directed to the rest of our fine beer community. How can you brighten the lives of others through craft beer? A random act of kindness could be as simple as buying someone a beer. Not only will you be championing small, authentic craft brewers in celebration of their commitment to us, but you'll be doing so much more.
Why Beer It Forward?
There truly is no more social of a beverage than beer. It is because of this that craft beer is the perfect way to spread positivity in celebration of American Craft Beer Week (ACBW). Beer has a simple ability to unite and get people talking.
Not only will you feel good when you #beeritforward, but the person on the receiving end will appreciate it and in turn want to share that feeling with someone else. As beer fans, we do this all the time when we share a few beers with pals or offer a suggestion or beer knowledge.
The benefit is not just the random kind sharing of our favorite beverage. Countless studies extol of the benefits of random acts of kindness, similar to what we are inviting beer fans to do during ACBW. Not only will participating in Beer It Forward make others happy, the most benefit will come back to you; even your health can improve by being nice to others.
(MORE: 10 Beer Festivals for 2017)
How to #beeritforward
Despite the idea that social media keeps us more connected, in reality, social media also makes it easy for us to be isolated. In many cases we have forgotten how to connect in person; thus #beeritforward might seem uncomfortable, but that awkwardness fades as we connect. Instead of sitting at a craft beer bar engrossed in your phone, use that time to connect with the people around you through the beer you're all there to enjoy.
After all, there has never been a better time to #beeritforward. American Craft Beer Week represents those men and women who #beeritforward every day. Get out and celebrate with the beers you love. It will make you happy.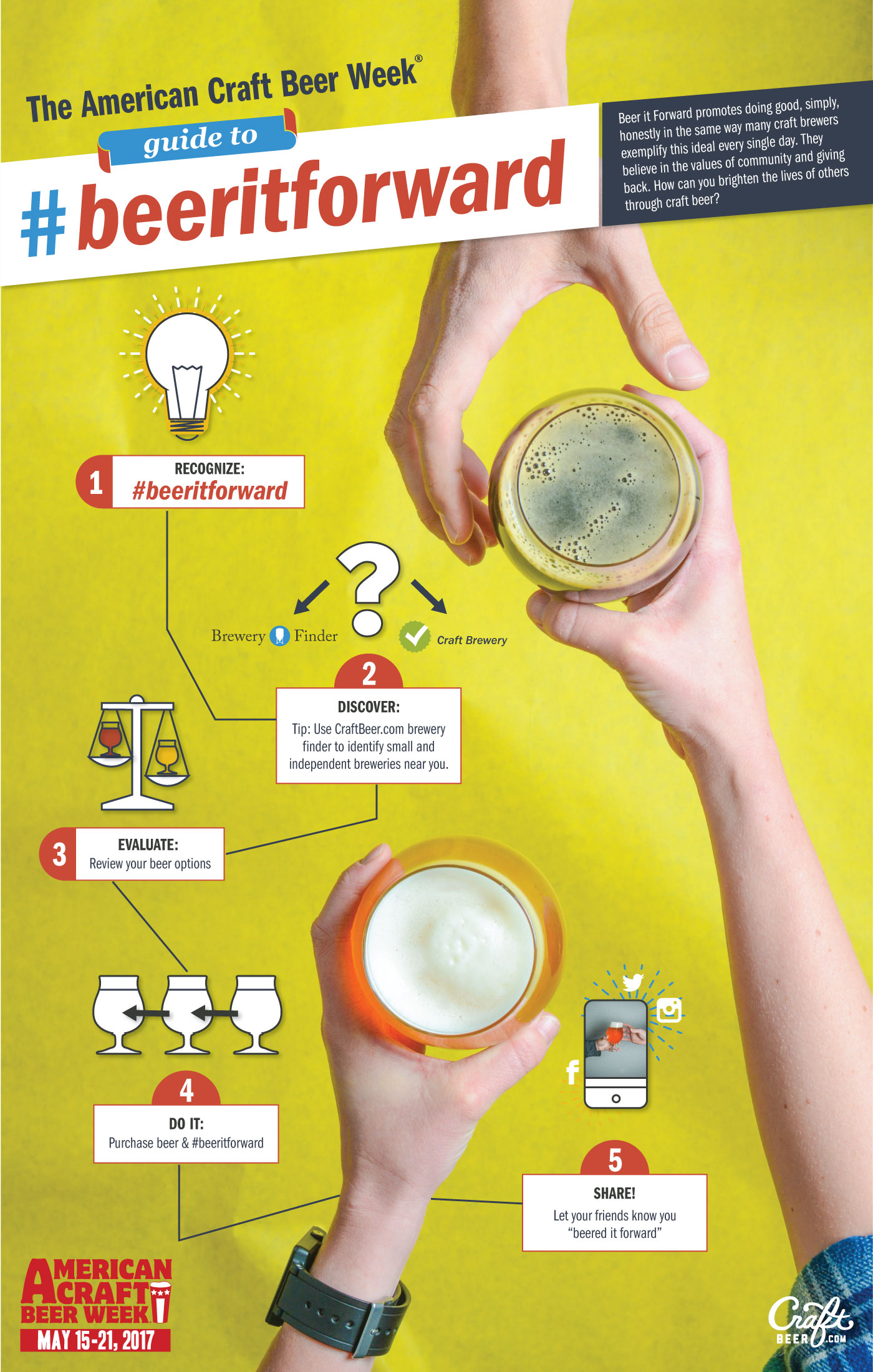 Save
Save
Save