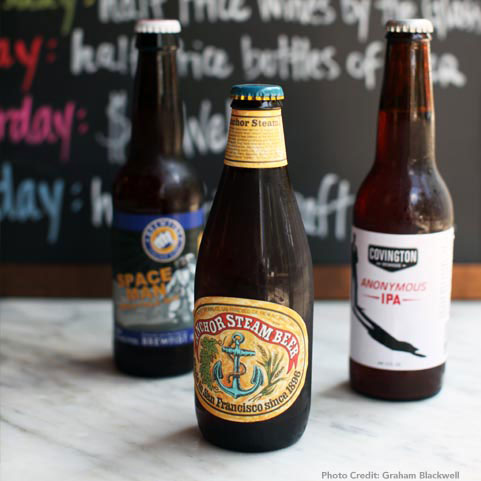 10 of New Orleans' Best Beer Bars & Restaurants
New Orleans, a city known more for its to-go cups than its quality beverages, has had some problems with craft beer. Five years ago, it was assumed that no one in The Big Easy, resident or tourist, wanted to drink craft beer. When this assumption was finally proven wrong, bars with little experience in the craft beer world struggled to keep up with demand—and the result was often a quagmire of untrained staff, questionable draft lines, old beer, frozen glasses, and a selection limited to wheat beers and lagers.
But things are quickly getting better. In recent years, the city's distributors and the state's breweries have stepped up to guide inexperienced bars and restaurants towards best practices in serving beer, and have educated them on a wider variety of styles.
As a local, I've watched with growing pride as the 10 New Orleans beer bars and restaurants below either started strong right out of the gate, or adapted to the demands of craft beer and craft beer consumers.
1. The Avenue Pub | 1732 St. Charles Ave.
The Avenue Pub is the undisputed leader of the New Orleans beer movement. Polly Watts' 24-hour beer bar has close to 50 taps of local, regional, and national craft brands, as well as imports from Belgium, Germany, Italy and the U.K.
When brewery owners roll into town, The Avenue is their first stop. Greg Koch from Stone Brewing Co., Brian Strumke from Stillwater, Steve Hindy from Brooklyn Brewery, Brock Wagner from Saint Arnold, and Patrick Rue from the Bruery are only a few of the craft beer celebrities that have dropped in, either to host events or just to hang out.
Watts is also the first (and so far, the only) bar owner in New Orleans to require and publish "kegged on" dates for every IPA she serves. The Avenue Pub should be at the top of any beer lover's list when visiting New Orleans.
2. The Courtyard Brewery | 1020 Erato Street
Open for just under a year, The Courtyard Brewery has already changed the New Orleans beer game. It provides a very different—but still excellent—craft beer experience from the nearby Avenue Pub.
Co-founder Scott Wood brews and sells his own beers amongst a variety of hand-picked guest taps. The rotating lineup represents what Wood and his wife and co-founder Lindsay Hellwig consider to be the best beers available in the state at any given time.
The space is a rustic renovated warehouse, with folding chairs inside and out, and empty cable spools for tables. Wood and Hellwig have hosted several events with Houston's Saint Arnold Brewery, including an intimate cheese and chocolate pairing. Wood, a San Diego native, also features tap takeovers from his hometown.
3. NOLA Brewing Tap Room | 3001 Tchoupitoulas St.
The city's first production brewery since Dixie left town in 2005, NOLA Brewing has expanded tremendously over the past six years. This summer brought a newly renovated and enlarged tap room, which is the perfect place for locals and visitors to try the brewery's flagships, its new line of sour beers, and the experimental batches made on its pilot system.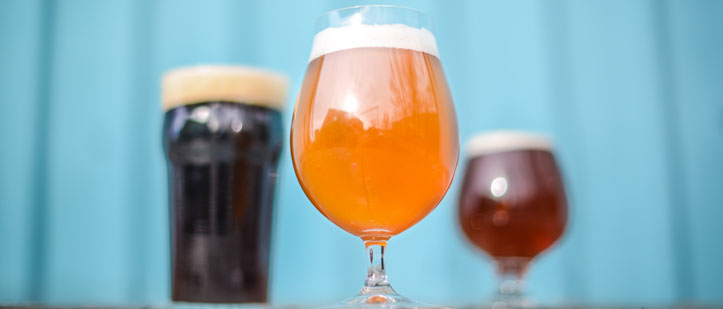 4. Junction | 3021 St. Claude Ave.
Junction is new on the scene, having opened in the Bywater neighborhood at the beginning of 2015. Though Junction is well-known for its delicious burger menu, manager Lloyd Miller says that he runs a beer bar first, and a burger joint second.
Miller and his team are committed to working with local and national craft breweries. Every other Thursday, you can find brewers and representatives from breweries like Chafunkta Brewing, Brooklyn Brewing, Southern Prohibition and Lagunitas on hand to meet customers and share their beers.
The beer list has a few standards that are always on tap, like Southern Tier's Live, an American pale ale that's one of my personal favorites. Junction also cycles through new beers and seasonals regularly. The bar's beer menu is great for educating new beer consumers — it's a flipbook with brand graphics and extended information about each beer.
5. Snooty Cooter | 509 South Carrollton Ave.
The venerable Cooter Brown's Oyster Bar and Tavern has been around for about 40 years, but last year manager Jonathan Junca decided to focus on the booming craft beer trend without disturbing the traditional sports-bar-and-saloon vibe beloved by its many long-time regulars.
He and owner Larry Berestitzky turned Cooter Brown's back bar (already furnished with gorgeous marble-and-brass tables and cozy wood booths) into a craft beer-focused space called the Snooty Cooter. Junca has held several events with breweries like Gnarly Barley, which provided special casks, and New Belgium, which sponsors regular pint nights with new releases.
6. d.b.a. | 618 Frenchman Street
This music club and beer bar has the best selection and best vibe in downtown New Orleans. Just outside the French Quarter on Frenchmen Street in the Marigny, d.b.a. has live music every night — including free early shows most nights — and a great draft list. It was the only place in town where I could find Brooklyn Pennant Ale (before it was discontinued).
d.b.a. often plays host to Bayou Teche Brewing from nearby Arnaudville, a brewery that loves to combine beer and music. When Bayou Teche throws a pint night, expect limited-release beer and a musical act featuring fiddle player Louis Michot (member of the Lost Bayou Ramblers and Soul Creole), who also works part-time at the brewery. If you're lucky, someone from Bayou Teche will also bring some jambalaya or gumbo to share.

7. Boucherie | 1506 S. Carrollton Ave.
Since opening in 2009, Boucherie has been supporting craft beer. Way back in 2010, before most New Orleans restaurants even had craft beer on their menus, Boucherie hosted a truly legendary beer dinner with Brooklyn Brewing—complete with brewmaster Garrett Oliver in attendance and wearing cape!
When chef-owner Nathanial Zimet was shot in 2011 in an attempted robbery, local beer geeks banded together to put on an event to raise money for Zimet's medical expenses. Their contributions served as a small thank-you for all he and his restaurant had done to elevate the profile of craft beer in New Orleans.
8. August | 301 Tchoupitoulas St.
This John Besh flagship restaurant has been upping its craft beer game of late. General manager Robert Wailes has added food-friendly beers from Lazy Magnolia, Parish Brewing, Stillwater and Evil Twin, as well as beer from Belgium, Spain and Montreal.
August hosted its first beer dinner with The Bruery in September, with pairings like venison carpaccio with smoked onion and mole, paired with Gypsy Tart (a Belgian-style Flanders); royal red shrimp creole with tomato butter and stozapretti, paired with Jardinier (a Belgian-style pale ale); and pan-roasted striped bass with turkey necks and rapini, paired with Mischief (a hoppy Belgian-style golden strong ale).

9. Pizza Domenica | 4933 Magazine St.
When Mississippi brewery Yalobusha debuted its beer in New Orleans, this upscale Uptown pizza joint was one of the first places it appeared. The beautiful and rustic Pizza Domenica is the sister restaurant to Domenica Restaurant, downtown in the world-famous Roosevelt Hotel.
When Pizza Domenica opened in 2014, manager Stephen Jeffcoat commissioned a copper glycol-chilled draft system to serve local and Italian craft beers from twelve taps and numerous bottle offerings.
10. Stein's Market and Deli | 2207 Magazine Street
Dan Stein's Philadelphia-style Jewish deli has the best selection of packaged craft beer in the city, as well as some of the best sandwiches. However, due to city zoning laws, you can't enjoy them together.
Stan's Deli has an off-premise permit, so first place an order for the Sam (hot pastrami, swiss cheese and coleslaw on rye bread with Russian dressing), the Kelly (prosciutto, Delice de Bourgogne cheese and apple on house-baked ciabatta) or one of the daily specials (like the Philly cheese steak, roast pork with broccoli rabe, or meatball sub). Then peruse the back room for hard-to-find exports and craft beer rarities.
Stein's carries an amazing variety of beers from across the country, plus all the special releases from the locals. Look for NOLA Brewing's Funk series; Bayou Teche's limited releases of Cop Cop, a French-style biere de garde, and Syrup in the Sky, a smoked beer; and Tin Roof's Smiling Ivan Russian imperial stout. Basically, if it's distributed in New Orleans, Stein's will have it—or will know when it'll be there.
By the time you've chosen a beer or three, your sandwich should be ready. You can dine in if you want, but I recommend taking your goodies back to your home, hotel, or a nearby park to fully enjoy the combination of a tasty sandwich, a fantastic craft beer, and the beautiful city of New Orleans.
CraftBeer.com is fully dedicated to small and independent U.S. breweries. We are published by the Brewers Association, the not-for-profit trade group dedicated to promoting and protecting America's small and independent craft brewers. Stories and opinions shared on CraftBeer.com do not imply endorsement by or positions taken by the Brewers Association or its members.