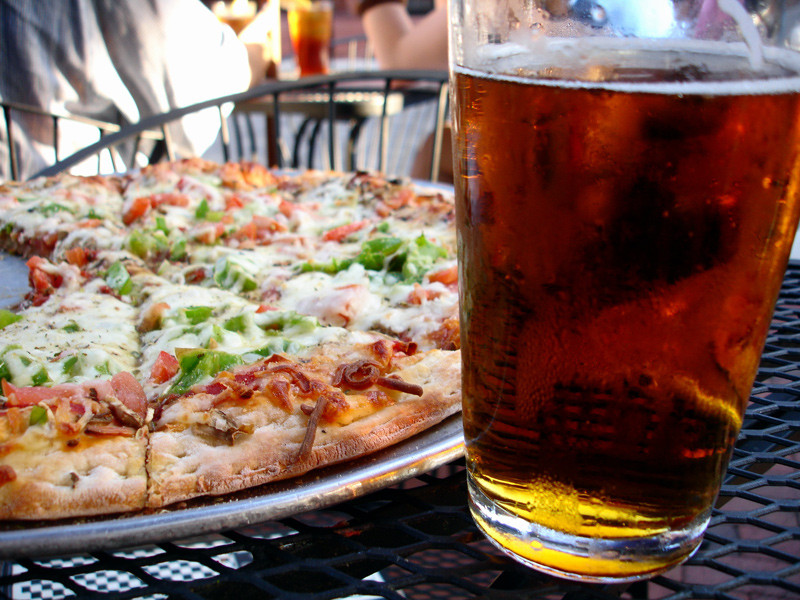 12 Brewpubs Putting the Midwest On the Map
Gone are the days of strolling into a brewpub and expecting the entire menu to be fried. The choices from today's brewpubs rival those of more upscale restaurants. In the Midwest, as is the case across the country, these gastropubs (as they are often lovingly referred to) are beginning to be recognized as food destinations.
There are staple dishes that most brewpubs offer, pulled pork sandwiches, macaroni n' cheese, fish and chips and spinach artichoke dip all might come to mind. While those are tasty, if you're looking to try something new and expand your palate, I encourage you to try some of these delicious dishes from brewpubs across the Midwest.
Arcadia Ales | Battle Creek, Michigan
Arcadia Ales' dishes are each as distinct as their names are bizarre. You might raise an eyebrow at their Devils on Horseback, but they're simply bacon-wrapped dates with a Sriracha cream cheese and Worcestershire honey. Arcadia has many pizzas on the menu, but the Leeeeeroy Jenkins got my attention immediately: sausage, roma tomatoes and gorgonzola cheese, all on a pesto sauce.
Pairing: In order to cut the strong gorgonzola flavor and the slight spice of the sausage on the Leeeeeroy Jenkins, try the Hopmouth, a double IPA with a sweet malt flavor.
Backpocket Brewing | Coralville, Iowa
The pizzas at Backpocket Brewing are one-size-fits-all, but you don't have to limit yourself to just one. Pizza specials change weekly and creativity is present in both the ingredient combinations and the names. Just a couple examples include the Hawaiiowan (BBQ sauce, Canadian bacon, pineapple and provolone cheese) and Yo Adrian! (sausage, pepperoni, meatball, provolone and giardiniera).
Pairing: Backpocket general manager Bob Wagner suggests pairing the Hawaiiowan with Wooden Nickel, a Scottish peaty lager. For Yo Adrian!, he recommends the helles Gold Coin, as the crispness balances the spiciness of the giardiniera.
Blue Heron BrewPub | Marshfield, Wisconsin
I had to reread the description of Blue Heron BrewPub's PB n' JJ Burger to make sure my eyes hadn't deceived me: a burger on ciabatta bun with caramelized onions, bacon, peanut butter and orange-jalapeño jelly! Not to be outdone is their Chuck Norris sandwich, with ingredients that read more like a haphazard shopping list: pulled pork, bacon, ham, onions, jalapeños, banana peppers and sautéed pineapple, all in a Szechuan sauce, topped with cheddar cheese on a whole wheat hoagie.
Pairing: A beer with a bit of backbone is needed to balance these feasts. Look no further than the Chocolate Chipotle Porter, which offers a smooth start, sweet chocolate notes throughout and a chipotle pepper finish.
Front Street Brewery | Davenport, Iowa
Front Street Brewery cooks up some of the best nachos any brewpub has to offer. Their house-made Slow-Roasted Pulled Pork Nachos are topped with a mild limed sour cream, pickled jalapeños, roasted sweet corn and onions and an amazing house salsa. These nachos are one of the best appetizers out there.
Pairing: Front Street kitchen manager John Fredenberg suggests their Raging River English Pale Ale to enhance the spiciness, or the Hefeweizen to turn down the heat.
Great Waters Brewing Co. | St. Paul, Minnesota
Another unique pre-dinner delight is the Black & Blue Pâté from Great Waters Brewing Co. Black bean pâté and hummus is scooped with pita bread and then dipped in Kalamata olives, artichoke hearts, peppers and tomatoes.
Pairing: Try a Joe Moment Mild Ale (an English brown ale that's low in ABV) while you enjoy this healthier option.
Jolly Pumpkin Artisan Ales | Traverse City, Michigan
If there was ever a sandwich guaranteed to bring back memories of being a little kid, it's the sloppy joe. Jolly Pumpkin amps up this classic by making it with lean bison meat, red peppers, caramelized onions, carrots, BBQ sauce and melted cheddar cheese. What more could you ask for? Chef Paul Olson agrees, "Every time we want to change it [the sloppy joe] our customers revolt. One of our regulars who travels all over the world has an addiction to the sandwich. We can't really mess with that loyalty."
Pairing: Olson suggests Bam Biere, a golden farmhouse ale.
Lafayette Brewing Co. | Lafayette, Indiana
Before you dive into your main course at Lafayette Brewing Co., you must try the Bavarian Beer Nuggets. Spicy sausage is rolled together with sauerkraut and cream cheese, surrounded by panko bread crumbs and flash-fried. Dip these fancy hushpuppies in some horseradish and you have perfect appetizer.
Pairing: My favorite match for the Bavarian Beer Nuggets is a medium to light-bodied beer, like their Star City Lager, a German-style lager.
Piece Brewery and Pizzeria | Chicago, Illinois
Piece Brewery and Pizzeria offers one of the best one-two punches of beer and pizza the Midwest has to offer. Their distinctive New Haven style allows for a feeding frenzy of goodness. With no set pizzas, the customer can act as an artist and creatively mold their likes onto the doughy canvas of their choice. If you want anchovies and clams on your pizza, go for it. If you want a meatball and broccoli pie, that's your choice. I'm more of a mashed potatoes, bacon and artichokes kind guy.
Pairing: With pies this unique, I suggest trying the Golden Arm, a tame, well-balanced kölsch that won't outshine your pizza creation.
Square One Brewery and Distillery | St. Louis, Missouri
Fine dining meets brewpub can best be exemplified with Square One Brewery's Rabbit Pot-au-Feu special. Who would believe that a brewpub would offer slow-stewed rabbit with fennel, celery, onions and pork sausage? Definitely not I.
Pairing: You don't want to pick a beer that's going to overpower such a magnificent entrée, so your best bet is to go for something on the lighter side, like their Light Squared golden ale.
Stone Cellar Brewpub | Appleton, Wisconsin
The Elk Burger at Stone Cellar Pub is a local masterpiece. General Manager Tyler Rueth explained that they get their elk from nearby Navarino Farms. "The increased flavor you get from the elk may challenge you to ever want to go back to beef," Rueth said. "And, if you're really in the mood for a mind-blowing burger, you can choose to top it with bison bacon."
Pairing: As far as finding the best beer to go with this phenomenal burger, Rueth said, "I would say our Scottish Ale pairs great with the Elk burger, as the sweeter, maltiness of the ale complements the leaner elk meat."
Three Floyds Brewing | Munster, Indiana
With your plate cleaned and just a little room left for dessert, the best thing to fill that space is Three Floyds Brewing's house-made doughnut. This round dessert is glazed and smothered in a decadent chocolate mousse and served with a mango and raisin chutney.
Pairing: If you're lucky enough to be one of the few that has a Dark Lord Imperial Stout nearby, then this would be a match made in heaven. If not, a super hoppy Dreadnaught IPA (99 IBUs) would bring out the sweetness of this dish very nicely.
Photo © Lisa B via Flickr CC
CraftBeer.com is fully dedicated to small and independent U.S. breweries. We are published by the Brewers Association, the not-for-profit trade group dedicated to promoting and protecting America's small and independent craft brewers. Stories and opinions shared on CraftBeer.com do not imply endorsement by or positions taken by the Brewers Association or its members.