Craft beer and dessert are a phenomenal pairing duo that goes well beyond drinking a chocolate stout alongside a chocolate cake. Creative chefs continue to find delicious ways to add beer to their dessert recipes. Whether it's  combining an award-winning porter with local ice cream or using beer to turn a traditional tiramisu into a "beeramisu," here's a taste of the ways brewpub and brewery chefs are exploring the flavor potential of beer-infused desserts.
---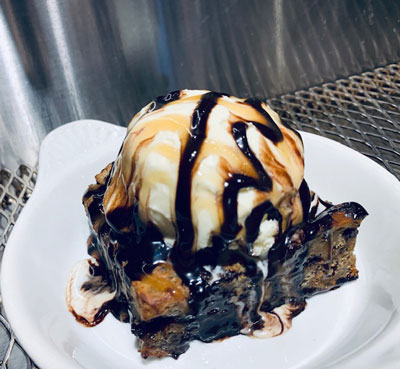 Blackwater Stout Bread Pudding | Edge Brewing | Boise, ID
For this rich bread pudding at Edge Brewing, Boise-made brioche is soaked in dark chocolate, cinnamon, and a creamy custard. All of that gooey goodness is topped with ice cream, caramel, and a house-made dark chocolate syrup made with a reduction of Blackwater Stout, Edge Brewing's Russian Imperial Stout.
(Related: CraftBeer.com's Beer & Food Course)
"Big, rich, and full-bodied beers help with balancing the sweetness of desserts," says Tony Knipe, executive chef at Edge Brewing Co. Chef Knipe also suggests Belgian-style beers with fruitier desserts and IPAs with super sweet and rich desserts.
---
Porter Chocolate Chunk Ice Cream | Great Lakes Brewing Co. | Cleveland, OH
In an effort for sustainability, Great Lakes Brewing Co. sends low-fill bottles to their neighbors at Mitchell's Homemade Ice Cream, instead of dumping them. The Edmund Fitzgerald Porter bottles, an award-winning beer with chocolate and coffee notes, are used to make the porter chocolate chunk ice cream available in the brewpub. The ice cream is also made with fair-trade dark chocolate.
---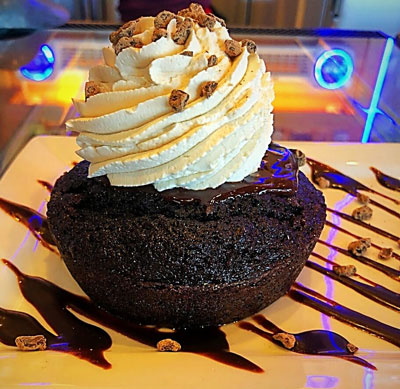 Chocolate Irish Car Bomb Cake | Collision Brewing | Longmont, CO
The molten chocolate stout cake at this car-inspired brewery is made with the Midnight Ride chocolate wheat stout – a rich beer with flavors of banana and a bitter, hoppy, earthy finish, made with Belgian chocolate malt. The cake is topped with a house-made Bailey's infused whip cream and a chocolate sauce.
---
Chocolate Chip Cookie | Maui Brewing Company | Maui, HI
The cookie at Maui Brewing Company is prepared with chocolate from Valrona, using an intense Manjari chocolate. It's served up warm with locally produced Hawaiian vanilla bean ice cream and two different warm beer-infused sauces. The Bikini Blonde caramel sauce is a classic caramel sauce made with a reduction of Maui's Bikini Blonde beer. The chocolate sauce is made with a reduction of the brewery's Coconut Hiwa Porter, brewed with toasted coconut.
(More: Breweries Where You Can Have Your Cake and Drink Beer Too)
Terry Lynch, executive chef for Maui Brewing, suggests pairing light desserts, such as sugar cookies, with beers that have notes of apricot or lemon. Chef Lynch says pairing bold flavors works well, too. "Our hoppy citrusy IPA works with a caramel apple tart," Lynch says.
---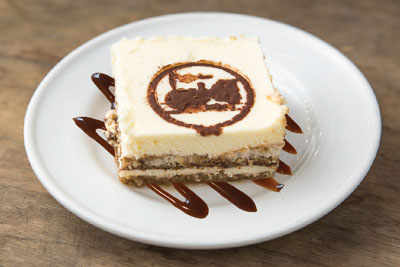 Beeramisu | Martin City Brewing | Kansas City, MO
Martin City Brewing in Kansas City puts a twist on a classic Italian dessert by dipping layers of ladyfingers in a Belgian Abbey Ale along with Kahlua and coffee. Each row of cookies is smothered with creamy mascarpone cheese sweetened with powdered sugar and a touch of cocoa powder. The mixture is spread evenly and sandwiched between layers of the soaked ladyfingers.
(More: Breweries Flex Creative Muscles Adding Independent Seal to Packaging)
A pairing tip from Matt Moore, owner of Martin City Brewing Co.: He says a lighter beer, such as a wheat, tastes great with a strawberry cheesecake – especially on warmer days.
---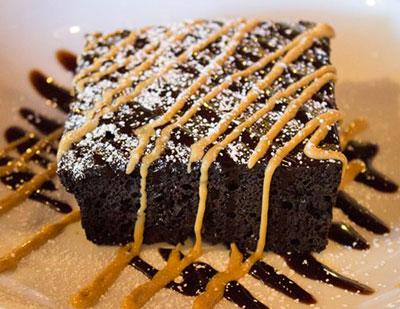 Special Brownie | Pig Minds Brewing | Machesney Park, IL
Pig Minds Brewing is a brewpub that specializes in vegan food. Their chocolatey, vegan brownie is blended with chocolate and an 8% ABV Joe Daddy Imperial Coffee Stout, which is made with house roasted coffee. It's drizzled with chocolate syrup and a peanut sauce and topped with powdered sugar. "For our desserts, we have a few malt forward beers that pair best with them, like Joe Daddy Imperial Coffee Stout, Flap Jacks Maple Porter and our Phil-Up Brown Ale," says Brian Endl, owner of Pig Minds Brewing.
(Discover: Find Breweries Near You)
---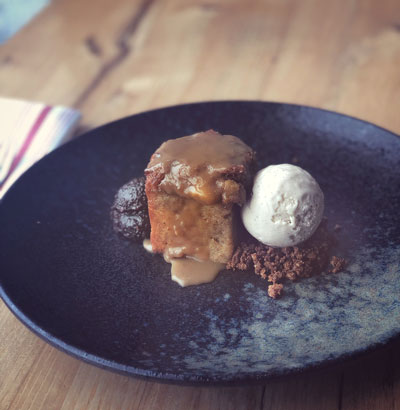 Brandy Bread Pudding at Wolf's Ridge Brewing | Columbus, OH
The Dire Wolf Imperial Stout is added to a classic caramel sauce while it's heating, lending a roasted, chocolatey flavor to the sauce. That sauce then tops the brandy-soaked brioche along with an eggnog ice cream, brandy cherry jam, and cinnamon walnut crumble.
---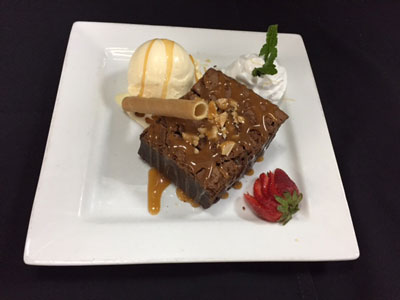 Chocolate Stout Brownie | Emmett's Brewing Co. | Downers Grove, IL
The brownie is made with Emmett's Cow Tipper, a milk stout with notes of sweetened espresso, roasted chocolate, and hints of caramel. It's topped with vanilla bean ice cream, a salted caramel-peanut brittle, and a caramel drizzle.
The unexpected ingredient of beer in these desserts adds a creative and a personal touch. There is truly no better way for a beer lover to end a meal than with a beer-infused dessert, ideally paired with a tasty craft beer.
CraftBeer.com is fully dedicated to small and independent U.S. breweries. We are published by the Brewers Association, the not-for-profit trade group dedicated to promoting and protecting America's small and independent craft brewers. Stories and opinions shared on CraftBeer.com do not imply endorsement by or positions taken by the Brewers Association or its members.