I'm sitting at a craft brewery enjoying a slice of cake that pairs perfectly with my beer. And it's as big as my face.
I'm at Moody Tongue Brewing in Chicago's Pilsen neighborhood, where pro chef-turned-brewer Jared Rouben and his team serve the infamous Moody Tongue 12 Layer Chocolate Cake. The humongous slice includes ground espresso-specked cheesecake, toasted pecan and coconut caramel filling. And there is chocolate buttercream in between decadent layers of chocolate cake. All twelve divine layers pair beautifully with Moody Tongue's Caramelized Chocolate Churro Baltic Porter. This rich, malty porter is fermented with lager yeast to bring a clean, dry finish to its bold chocolate, caramel and vanilla notes. The coveted slice of cake has become a Chicago delicacy of sorts. Guests can even participate in the brewery's private beer and cake pairings that delve into a full spectrum of beer pairings for each individual layer in the cake.
[newsletter_signup_box]
Brewery Desserts Abound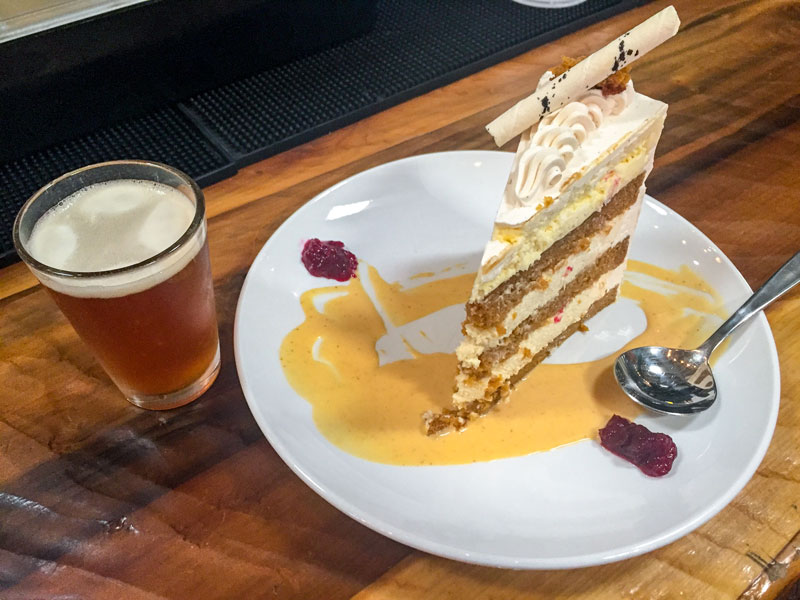 Believe it or not, this larger-than-life cake experience isn't exclusive to Moody Tongue. At Bhramari Brewing in Asheville, North Carolina, floor manager Asha Hertel runs her cake baking business, Kali Cakes, out of the brewery. That means the menu always has cake. "Asha's Treat of the Week" isn't just any cake, either.
(MALT SHOPPE: The Scoop on Milkshake IPAs)
"The cake on for this weekend is a Pumpkin Chai Cake," Hertel told me when I visited in the fall. She refers to her cakes like brewers refer to their recently tapped draught beers. "It has three layers of pumpkin cake, two layers chai mousse, chai-spiced buttercream, cranberry compote, and pumpkin creme anglaise, all topped with a full layer of white chocolate cheesecake."
Bhramari's cake offerings do rotate like its draft beers. And much like the brewery's experimental, one-off approach to its pints, Hertel is always experimenting with new ingredients and flavors.
(MEET: 4 Small Breweries Happy to Stay Small)
Another North Carolina brewery, Brewery Bhavana in Raleigh, serves rich banana coconut cake that pairs with its foeder-aged Brett saison. The slice isn't nearly as big as the layer cakes at Bhramari or Moody Tongue, but the flavor is.
Sweet Offerings
It's no surprise that as independent breweries step up their food programs, desserts come with the territory. Here are a few more establishments that offer exceptional sweet offerings. Some even have their own pastry chefs and ice cream shops.
(UPSTAIRS: Great Brewery Rooftops)
In Walland, Tennessee, Blackberry Farm offers an array of desserts at each of its restaurants, The Barn and The Dogwood. The Barn sports a seasonal dessert menu. It currently includes Breton cake, raspberry and cherry pavlova, and a summer cheese plate. At The Dogwood, the dessert stand offers sorbet, chocolate cake, cheese & jam, and executive chef Sarah Steffan's famous house-made chocolate chip cookies.
In Minneapolis, the Surly Beer Hall menu at Surly Brewing includes an array of different dessert options that rotate seasonally, currently including pistachio brûlée and a strawberry s'mores tart. Surly also serves rotating varieties of Lutheran Funeral Bars — bar cookies. Ask your server about the daily selection.
(MORE: Craft Brewers Tell Us About Their Bucket List Breweries)
Save Room for Dessert
At BRU Handbuilt Ales & Eats in Boulder, Colorado, another beer chef Ian Clark serves an inspired menu that will make it hard to save room for dessert. The South & Chocolate Cream Pie is worth it, though, or you can order an ice cream sandwich that is made next door at the brewery's ice cream parlor, Heifer & The Hen.
Taxman Brewing in Bargersville and Fortville, Indiana, serves a dessert menu that rotates seasonally like its savory options. The Pina Colada Pineapple Cake with coconut buttercream frosting and toasted coconut alone is worth the trip.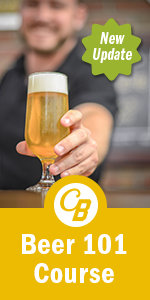 (ANALYSIS: Hemp Ales Grow in Popularity as Brewers Aim for New Flavors and Awareness)
Salmon River Brewing in McCall, Idaho, partners with local Stacey Cakes to create the Beer Buzz Chocolate Cake with their Buzz Buzz Coffee Porter. It's served with scoop of ice cream and drizzled with beer caramel sauce to boot. Salmon River also has a cake of the week on the menu, courtesy of Stacey Cakes.
Best Brewery Desserts
They aren't exactly cakes, but the house-baked sweet offerings at Block 15 Brewing in Corvallis, Oregon, belong in the best brewery desserts. Block 15 chefs serve mixed berry pavlova with lemon curd and fruit sourced from the Willamette Valley. Also on this robust dessert menu are peanut butter chocolate mousse pie and chocolate chip cookies. You can also get a root beer float served with housemade root beer.
Now you can have your cake — or pavlova or ice cream or cookies — and drink beer too!
CraftBeer.com is fully dedicated to small and independent U.S. breweries. We are published by the Brewers Association, the not-for-profit trade group dedicated to promoting and protecting America's small and independent craft brewers. Stories and opinions shared on CraftBeer.com do not imply endorsement by or positions taken by the Brewers Association or its members.