Cooking with Craft Beer: 3 Super Bowl Recipes
The real action will take place on the gridiron in New Jersey, but millions of Americans will gather comfortably at home, or out with friends to watch the Denver Broncos take on the Seattle Seahawks on Super Bowl Sunday.
One thing viewers at home will see are advertisements for beer—likely one of a certain light variety. However with America's craft beer renaissance giving us more choice than ever before, we have the chance to drink different and add depth of flavor to our glasses and our plates.
With more than 2,700 breweries in the country, many of which distribute outside of their own state boarders, the chance to drink different styles of beer from different breweries has never been greater. Flavorful ales and lagers have evolved to take on deep flavors that compliment a variety of foods, from fine dining to tailgating.
Aside from the game (and the commercials) the other star of the day is food. Wings, dips, sandwiches and all matter of hearty faire are the norm on the big day.
This year, why not add beer to a few dishes to bring out some unexpected flavors. Thanks to its main ingredients—water, hops, malt and yeast—cooking with craft beer is like adding a whole new spice cabinet to your dishes.
Here are three craft beer twists on traditional favorites from The American Craft Beer Cookbook: 155 Recipes From Your Favorite Brewpubs and Breweries that are sure to get your guests huddled around for several helpings.
Gouda Fondue
While fondue was most popular in the 1960s and 70s, it is enjoying a resurgence as chefs and party hosts embrace the communal appeal of people standing around a bubbling pot of melted cheese.
This two-cheese fondue blend gets its kick from the mustard powder and cayenne, while the addition of a lager soothes some of the heat. Have skewers and dipping options like bite-size pieces of apples, a grilled baguette or fresh vegetables on hand. Drink a premium American lager with this rich dish. Yields: 4-6 servings.
Ingredients
10 oz Full Sail Brewing's Session Premium Lager, or similar American pale lager
1/2 garlic clove, minced
12 oz smoked Gouda, rind removed and shredded (about 3 cups)
8 oz Monterey Jack cheese, shredded (2 cups)
1 tsp Worcestershire sauce
1/8 tsp cayenne pepper
11/2 tsps cornstarch
1/2 tsp dry mustard
1 Tbsp water
1/8 tsp freshly ground black pepper
Sliced apples, fresh vegetables and crusty artisanal bread for dipping
Preparation
In a fondue or similar pot, combine the beer and garlic and bring to a simmer. Gradually add the Gouda and Monterey Jack cheese, stirring constantly to evenly distribute. Bring the mixture to a gentle simmer, stirring until all the cheese is melted and the fondue is smooth. Stir in the Worcestershire and cayenne.
Whisk the cornstarch, mustard powder and water together in a small bowl to make a slurry. Stir the slurry into the cheese mixture and continue to cook at a low simmer, uncovered, for 20 minutes to let the flavors develop.
Stir in the pepper, and season with additional black pepper and cayenne as needed. Transfer to a fondue pot or serving bowl and serve with a platter of accoutrements.
---
Slow-Cooked Doppelbock BBQ Meatballs
Just like the old saying "set it and forget it," this is an easy recipe that lets a slow cooker do all the work for you. Combine the ingredients and return to the slow cooker a few hours later to a wonderful aroma and ready-to-serve bites.
The recipe calls for Sprecher Brewing Company's root beer BBQ sauce, but you can substitute another pop-inspired sauce. It makes all the difference in flavor of this dish. The recipe yields a lot of meatballs, so it's a great choice for a large gathering. Yields: about 20 servings.
Ingredients
16 oz Sprecher Brewing Co.'s Doppel Bock, or similar doppelbock
1 cup ketchup
1/2 cup Sprecher root beer BBQ sauce (or 1/4 cup rootbeer, 1/4 cup sweet BBQ sauce)
1/4 cup brown sugar
2 Tbsp red wine vinegar
1/4 tsp garlic powder
1/4 tsp salt
1/4 tsp freshly ground black pepper
3 pounds frozen cocktail meatballs
Preparation
Combine the beer, ketchup, barbecue sauce, brown sugar, vinegar, garlic powder, salt and pepper in a slow cooker. Add the meatballs and stir gently to make sure they are covered with the sauce (add more beer if necessary).
Cover the slow cooker and cook on low heat for six to eight hours. Halfway through cooking, check to see if you need to add more beer.
Serve the meatballs on a large platter with toothpicks. Place the extra sauce in a small bowl for dipping.
---
Chicken Wings with Bacon Barbecue Sauce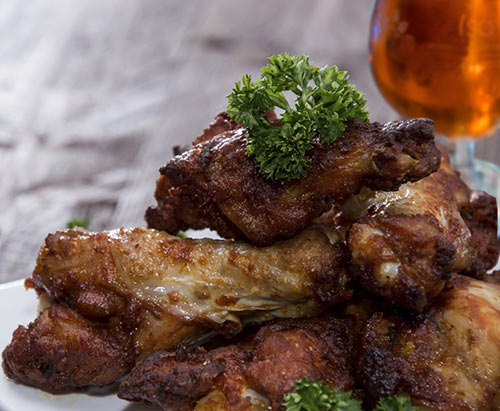 This recipe combines two wonderful things—bacon jam and barbecue sauce—and liberally spreads the mixture on that trusty pub standby, the chicken wing. This is a versatile recipe that can be used on a variety of smoked or barbecued meats; it even works well with escargots. You could also try substituting chicken wings with duck wings, if the hunter in your family has had a successful season.
Lager is the common accompaniment, but try pairing these wings with a robust porter; the slightly burnt, smoky notes from the malts bring an extra level of flavor to the bacon and chipotle. Yields: 12 wings and a lot of sauce. Leftover sauce is great on burgers, with other grilled meats, or as a dip for bread. Or simply make a double batch of wings!
Ingredients
1 cup roughly chopped applewood-smoked bacon
12 large chicken wings
2 Tbsp extra-virgin olive oil
1/4 cup diced yellow onion
1/4 cup dark brown sugar
8 oz robust porter
1 Tbsp unsalted butter
2 cups veal or beef broth
1/2 cup Worcestershire sauce
1 Tbsp puréed chipotle in adobo
1 tsp dried oregano
1 tsp dried thyme
1/4 tsp garlic powder
Preparation
Preheat the oven to 400°F. Put the bacon in a heavy skillet and cook it in the oven until crispy. Transfer the bacon to a paper towel–lined plate, reserving the fat in the skillet. Reduce the oven temperature to 350°F and move the skillet to the stovetop.
Toss the chicken wings in the olive oil, arrange them on a baking sheet, and bake for 1 hour, or until crisp and cooked through.
Add the onion to the bacon fat in the skillet and cook over medium-high heat, stirring occasionally, until golden brown, 5 to 7 minutes. Be careful handling the skillet; it will still be hot from the oven.
Add the brown sugar to the skillet and cook over medium heat, stirring occasionally, until it dissolves. Add the beer, scraping the bottom of the skillet with a spatula to loosen any brown bits. Stir in the butter and simmer until the liquid is reduced by half, stirring occasionally.
After the beer has reduced, add the broth to the skillet and reduce until the jam is thick, stirring occasionally and being careful not to burn it, 10 to 20 minutes.
Add the Worcestershire, chipotle, oregano, thyme and garlic powder to the skillet and stir to fully incorporate.
Transfer the sauce and bacon to a blender, let cool for 8 to 10 minutes, and then puree until smooth. Remove the chicken wings from the oven, place them in a large bowl, and pour in enough sauce to liberally oat the chicken. Serve immediately.