Brunch is the perfect meal because it combines the best aspects of breakfast and dinner. It can be sweet or savory. It doesn't require waking up early or staying out late. It's meant to be enjoyed in good company, and it pairs incredibly well with good beer. So why not host your own craft beer holiday brunch?
Start by picking a theme such as an ugly sweater or holiday pajama party. Then raid the garage or the closest 99-cent store for decorations (the tackier, the better). And don't forget about the playlist! Classic holiday songs interspersed with upbeat, familiar hits keep the cheer flowing.
As for menu planning, the key is to keep it simple and to choose recipes that can be prepared in advance. Any cooking required day-of should be brief and completed with a beer in hand. When serving up to eight or nine guests, the sweet spot is three dishes: one savory main course, one sweet bread or pastry dish and fresh fruit. And because it is, after all, a beer brunch, try recipes that incorporate beer such as maple porter-braised pork belly with sweet potato hash or cranberry quick bread with gose glaze (recipes below).
Serving 10 or more? "Make-your-own" bars encourage guest interaction and keep you out of the kitchen. Breakfast tacos are a crowd-pleaser and fillings can be prepared in advance, then warmed shortly before guests arrive. Or keep it low-key with an assortment of bagels, spreads and toppings such as flavored cream cheeses, smoked fish, fresh vegetable slices, cranberry sauce, nut butters and jams.
Then there's the true show-stopper: the beer. And oh, does it pair well with brunch. Below is a list of my favorite beer styles for serving with brunch and dishes to pair them with.
Coffee-Infused Beers
Coffee is the quintessential breakfast beverage, so it only makes sense to include a coffee-infused beer with brunch. By association, they'll pair well with any breakfast dish, but brown ales and porters, in particular, complement the roasted and mildly sweet flavors of breakfast sausage and sweet potato hash.
Milk and Oatmeal Stouts
Brewed with oats or lactose, these beers are full-bodied and slightly sweet with a smooth mouthfeel, which complements the sweetness of french toast or chocolate chip pancakes—no whipped cream required. These beers also counter heat while holding up against roasted flavors and, as a result, pair well with spicier dishes such as a hot sauce-spiked carne asada breakfast burrito.
Gose
This refreshing, mildly tart wheat beer is a standout at the brunch table. The addition of salt during brewing provides a slight minerality while coriander adds spicy undertones to a lemon-forward profile that finishes dry. It'll cut through the richness of salmon and cream cheese, counter runny egg yolks, calm the acidity of grapefruit, and clean your palate after each bite.
Holiday Beers
Holiday beers pair well with the season, as well as with brunch. Most are available in large-format bottles, which are great for sharing and sampling at your craft beer holiday brunch.
Fluxus 2015 | Allagash Brewing Co. | Portland, ME

According to the brewery, this year's Fluxus is a Strong Golden Ale brewed with Pilsner malt and local maple syrup.  After fermentation with a Belgian-style yeast strain, it is dry hopped with two experimental hops, 06277 and 06297.  The beer exhibits aromas of strawberry, pineapple and lime. This beer would pair nicely with a fruity breakfast bread or scones.
Brown Shugga' | Lagunitas Brewing Co. | Petaluma, CA
This beer is brewed with brown sugar, and it shows. Aromas of molasses and dark fruit esters give way to a strong caramel presence that's balanced by a citrus- and pine-forward hop bitterness. It's the perfect companion to eggs benedict. Roasted malts and residual sugars pair well with griddled canadian bacon and counter the acidity in hollandaise sauce. Meanwhile, the high alcohol content and hop bitterness cut through the rich sauce and running egg yolks.
Noel de Calabaza | Jolly Pumpkin Artisan Ales | Dexter, MI
While a Belgian Strong Dark Ale may sound intense for the brunch table, this one pairs quite nicely with dishes slathered in maple syrup. The aroma suggests dried prunes and berries with notes of cocoa and wood while the body is tart with flavors of raisins, figs, and oak that round out the beer nicely. The tart sourness calms the sweetness of sugars and syrups while the dried-fruit flavors and maltiness pair well with them. Serve with dishes such as baked french toast, panettone, fruitcake, or anything made with raisins, figs, and plums. Pour sparingly.
When stopping by your local bottle shop, pick up a couple of different beer styles for variety. Plan to serve around 32 ounces per person in eight-ounce pours, especially if stronger beers are being served. Invite your guests to bring their favorite breakfast beer to share, as well. Just don't forget the coffee!
Maple Porter Braised Pork Belly with Sweet Potato & Brussel Sprout Hash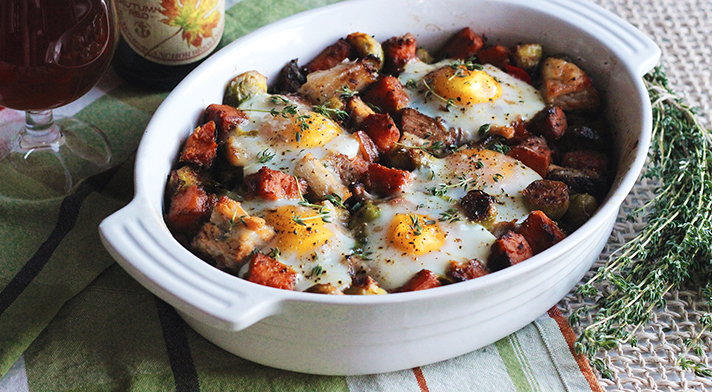 Pork Belly
2 pounds pork belly, skin removed
1 tsp ground ginger
1/2 tsp ground coriander
1 tsp salt
1/2 tsp freshly ground black pepper
12 ounces Big Leaf Maple Porter
2 Tbsp maple syrup
2 Tbsp apple cider vinegar
chicken stock
2 bay leaves
Directions
Preheat oven to 300ºF. Whisk together maple porter, maple syrup and vinegar.
Combine chili powder, ginger, coriander, salt and pepper in a small bowl. Rub the spice mixture on all sides of the pork belly. Place pork belly, fat side up, in a glass baking dish or dutch oven. Pour porter mixture over pork belly. Add enough stock to bring liquid half way up the side of the pork belly. Cover with a tight-fitting lid or aluminum foil. Braise in oven until very tender, but not falling apart, about three hours. Remove from oven and allow to cool. Once cooled, cover with plastic wrap or parchment paper. Place a smaller baking dish on top of the pork belly and weigh down by placing canned goods in the top dish. Chill overnight. Can be prepared up to three days in advance; remove weights after 12 hours and store refrigerated in an airtight container.
Sweet Potato and Brussels Sprout Hash
2 Tbsp butter
2 medium onions, halved and thinly sliced
2 cloves garlic, finely chopped
1 large red bell pepper, cut into thin strips
2 pounds of sweet potatoes, peeled and cut into 1/2-inch cubes
1 pound of Brussels sprouts
1 tsp fresh thyme, chopped
1/2 Tbsp smoked paprika or chipotle powder (optional)
Cut off the brown ends of the brussels sprouts and remove any yellow leaves; for larger brussels sprouts, halve or quarter to roughly the same size as the sweet potatoes.
Add two tablespoons butter to a large skillet over medium-high heat. Add onions, garlic, bell pepper, 1/2 teaspoon salt and 1/4 teaspoon black pepper. Cook, occasionally stirring, until onion softens, about six minutes. Add brussels sprouts, sweet potatoes, thyme, paprika or chipotle (if using), and season with an additional one teaspoon salt and 1/2 teaspoon black pepper; cover and cook, stirring two or three times, until potatoes are brown and almost fork-tender, about 10 minutes. Can be prepared one to two days in advance; store refrigerated in an airtight container.
Assembly
1 Tbsp butter
5 to 6 large eggs
Preheat oven to 450ºF. Remove pork belly from braising liquid and cut into 1-inch pieces. Butter a 9×5-inch glass baking dish. Add sweet potato mixture and top with pork belly pieces. Make six small wells and crack one egg into each. Season top of eggs with salt and pepper. Bake 15 to 20 minutes, until eggs are set and dish is warmed through.
Cranberry Quick Bread with Orange Gose Glaze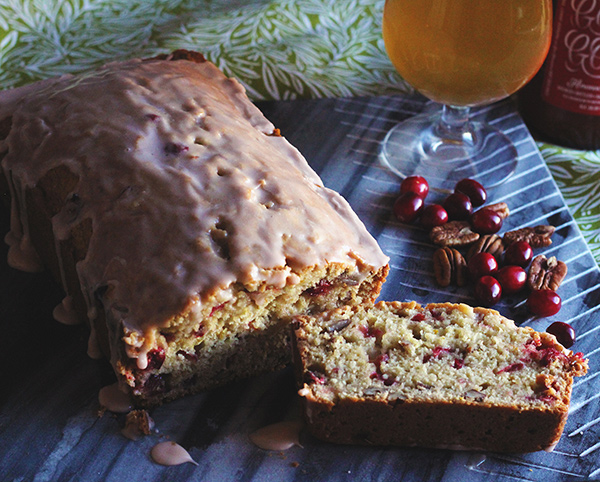 Glaze
1 cup confectioners' sugar
1 Tbsp orange juice
1 Tbsp gose or wheat beer
1 Tbsp orange zest
Bread
2 cups all-purpose flour, plus extra for loaf pan
3/4 cup sugar
1/2 cup brown sugar
1/2 tsp salt
1/2 tsp baking soda
1 stick cold butter, plus extra for loaf pan
Zest of 1 orange
1/2 cup buttermilk
1/4 cup gose or wheat beer
1/2 tsp pure vanilla extract
1 large egg
1 cup fresh cranberries, chopped
1/2 cup pecans or walnuts, chopped
Directions
Preheat oven to 350ºF.Butter a 9×5-inch loaf pan and set aside. In a large bowl, whisk together flour, sugars, baking soda and salt. Using a pastry cutter or your fingertips, cut the butter into the dry ingredients until mixture forms small crumbs; this can also be done by pulsing in a food processor.
In a small bowl, whisk together orange zest, buttermilk, beer, vanilla and egg until well combined. Stir into dry mixture until just combined, being careful not to overmix. Fold in cranberries and nuts.
Transfer batter to prepared pan. Bake in the middle of the preheated oven for 1 hour 15 minutes, turning once. Bread is ready when it turns golden brown and a toothpick inserted into the center of the loaf comes out clean. Let cool for 20 minutes, then remove from pan. While bread cools, make the glaze by whisking together confectioners' sugar, orange juice, beer and orange zest in a small bowl or measuring cup. Drizzle over the top of the cranberry bread. Glazed bread will keep in the refrigerator for up to three days.
CraftBeer.com is fully dedicated to small and independent U.S. breweries. We are published by the Brewers Association, the not-for-profit trade group dedicated to promoting and protecting America's small and independent craft brewers. Stories and opinions shared on CraftBeer.com do not imply endorsement by or positions taken by the Brewers Association or its members.