Pizza and beer is a quintessential culinary duo. Americans eat 100 acres' worth of pizza every day and drink more than 6 billion gallons of beer per year.
Both are clearly American favorites, so it makes perfect sense that small independent craft breweries would work so hard to create mouthwatering examples of both dynamos. Check out these eight brewpubs and breweries who work just as hard on making a standout pizza as they do a standout beer.
(MORE: 9 Weird Brewery Names and the Stories Behind Them)
Pinthouse Pizza | Austin, TX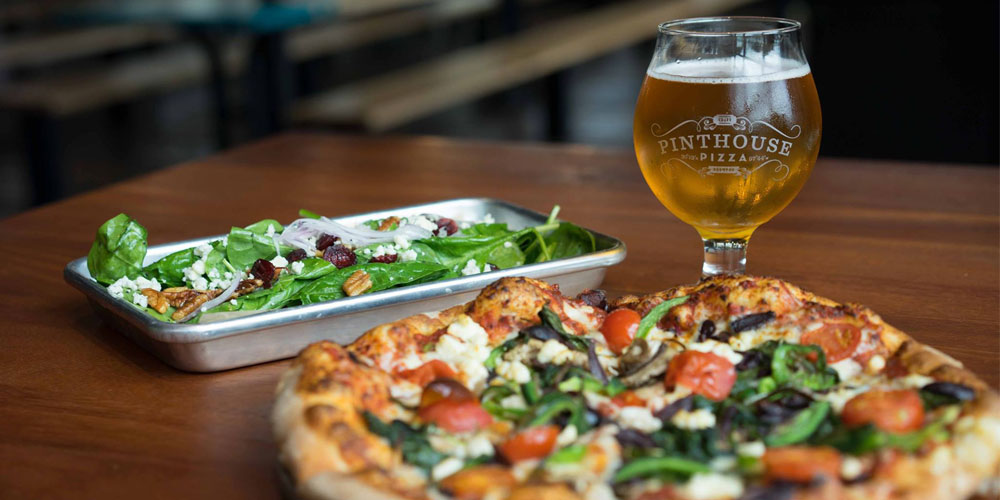 Pinthouse Pizza makes everything in-house by hand with a focus on sustainable, local, organic ingredients. Ideas are welcomed for their Monthly Off the Map Pie, which features non-traditional, fun ingredients. For example, their Frito-M Pie consists of chili, a cheese blend, Fritos, sour cream, diced red onions and jalapenos. They offer a gluten-free crust made with sorghum, teff and amaranth along with vegan-friendly options. Eclectic beers rotate, but if it's around, try the flagship Bearded Seal Dry Irish Stout, with flavors of roasted coffee and dark chocolate.
Blue Mountain Pizza & Brewpub | Weaverville, NC
Just five miles north of Asheville sits Blue Mountain Pizza & Brewpub, the self-proclaimed "coolest little pizza joint on the planet." What makes them so cool? They specialize in American and Belgian-style beer to go along with classic pan style pies. Design your own with classic ingredients or opt for curve balls, such as steak tips, chorizo, almonds and walnuts. Add parmesan, crushed black pepper, or sesame seeds to your crust.
(VISIT: CraftBeer.com Brewery Finder)
Stone Church Brewpub | Hermitage, PA
This former church-turned-pizza house and brewpub has a custom-made pizza oven turning out satisfying pizzas. Choose from a classic Neapolitan crust, or enhance your beer-pizza experience even more with their Brewmasters dough made with brewers' grain. For even more beer-pizza love, go with the beer cheese queso sauce. Sixteen beers on tap are created with a philosophy of making bold and unique flavors.
Piece Pizzeria & Brewpub | Chicago, IL
In a city known for deep dish pizza, Piece serves a refreshing change with their thin New Haven style pizzas. They team up with local restaurants to come up with brilliant collaborations. From local fried chicken hot spot, the Honey Butter Fried Chicken pizza has chicken, mozzarella, pimento-buffalo cheese sauce and scallions. The famous Hot Doug's has their own inspired spicy pie with Hot Doug's famous atomic sausage, caramelized onions and pepper jack cheese. Pair their GABF award-winning Dark n Curvy Dunkelweisen with the dessert chocolate pizza, topped with house-made chocolate hazelnut sauce and mascarpone cheese.
Moonlight Pizza & Brewpub | Salida, CO
This western Colorado brewpub serves "Fancy Schmancy Pizzas" along with a variety of beers, such as MoonLite Cream Ale and Raspberry Chocolate Porter. Pizzas include the Colorado-influenced Mirkwood Chicken with chicken, onion, green chilies, cream cheese and a mix of BBQ sauce and red sauce. When designing your own pizza, swap the traditional marinara for pesto, ranch, hot sauce, or Caesar dressing. Best of all, every Monday they donate 10 percent of proceeds to community organizations.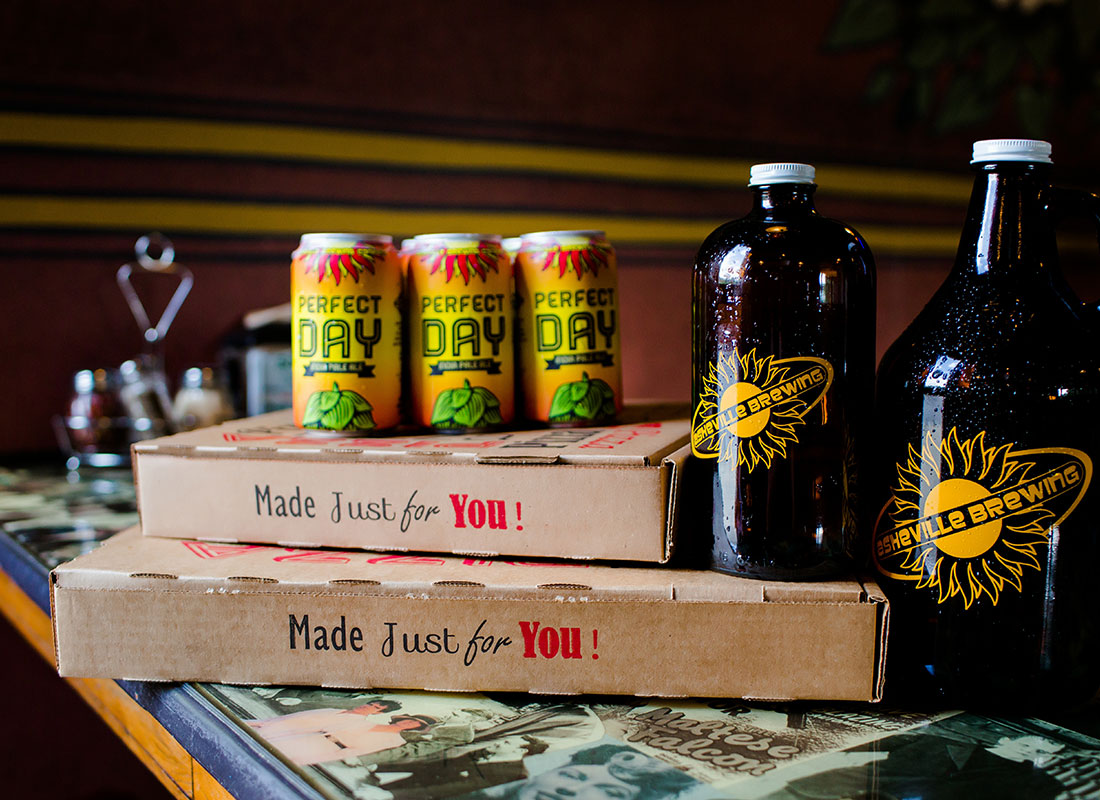 (MORE: Travel Website Ranks Best Value Cities for Biking and Beer Lovers)
Asheville Brewing Co. | Asheville, NC
Both locations offer a giant list of toppings, sauce options and dough choices for you to create your own pizza. They even offer a vegan cheese for all of the dairy-free pizza lovers out there (plus they have vegan appetizers and salad options). Gourmet selections range from traditional meat lovers and Hawaiian to more unique varieties, such as the Mardi Gras with Cajun chicken, chorizo sausage and peppers. Pair it with their Fire Escape Pale Ale, brewed with fresh, roasted jalapenos.
Old Town Pizza | Portland, OR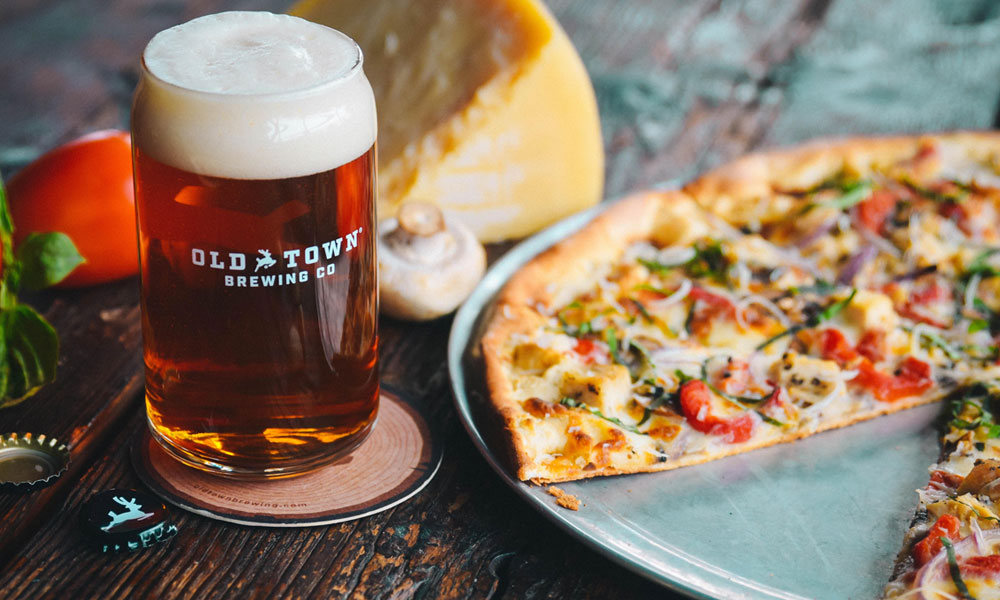 An Old Town Pizza customer favorite since 1974 is their pizza topped with homemade Italian sausage, pepperoni, salami, mushroom, black olives and bell pepper. Feeling creative? You're in luck because there are plenty of unpredictable toppers to make your own — capers, house-made meatballs, pine nuts, hickory barbecue sauce, and black pepper garlic chicken, to name a few. Try it with the 2015 GABF gold medal winning Shanghai'd IPA.
Garage Brewing Co. | Temecula, CA
Completely customize your pizza at this Southern California brewery and pizzeria. Start by selecting from red sauce, basil red sauce, alfredo, pesto or barbecue, then on to your cheese. Choose your toppings, including rosemary, cilantro, Canadian bacon, spinach and more. Satisfy your sweet tooth with their dessert pizzas, such as strawberry jam with chocolate and caramel sauce or the apples, cinnamon sugar, candied walnuts and caramel sauce. If you're going sweet, choose their Blueberry Cream Ale or the Marshmallow Stout.
We know there are dozens more examples of brewpubs and breweries making to-die-for pizza and beer. Tell us about them in the comments.
Save
Save
CraftBeer.com is fully dedicated to small and independent U.S. breweries. We are published by the Brewers Association, the not-for-profit trade group dedicated to promoting and protecting America's small and independent craft brewers. Stories and opinions shared on CraftBeer.com do not imply endorsement by or positions taken by the Brewers Association or its members.