Originally, the idea for The STIL – an acronym for the "Sweetest Things in Life" – was simply to fill a void. Boise, Idaho, one of the fastest growing cities in America, did not have a local, fresh-ingredient ice cream shop in its downtown. Two friends, Dan Sell and Kasey Allen, teamed up in a trial-by-fire manner, perfecting their recipes at home before moving forward with their business plan. But they ran into a small hitch: What about winter time? Would they sell enough ice cream? How could they spice things up to survive the colder months of Idaho?
[newsletter_signup_box]
Then an idea struck: Sell, an avid beer drinker, and Allen, an avid wine drinker, wondered if there was a way to incorporate their favorite beverages into the business. At first, they considered simply opening as a dual-purpose space, with ice cream in one corner and a bar in the other, to cover all months of the year. But then they went a step farther.
"At first it was, 'Okay, we're going to do ice cream, and we'll have beer and wine for sale on the side to bolster the slower part of the year in winter,'" Allen says. "Then it turned into, 'Maybe there are ways to marry the two."
They had seen beer and ice cream floats before – what if they poured craft beer and wine into the recipes? Or even better, what if they tried to pair them? It turns out, there was a way to combine the things they loved, and the STIL was born in July 2017.
Beer-Infused Ice Cream, Ice Cream and Beer Pairings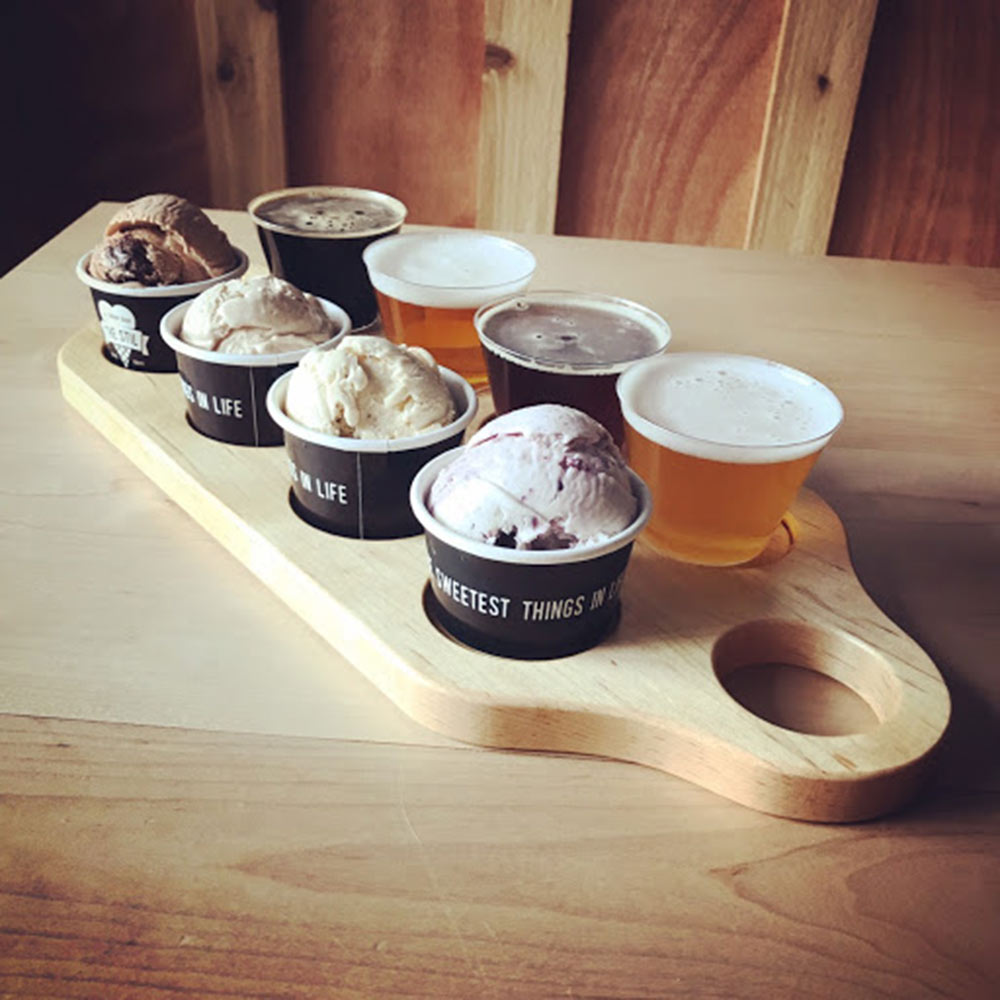 The STIL is much more than an ice cream shop. While it is no doubt a family establishment first and foremost, it is also a new, unique example in the long list of ways the craft beer scene is seeping into other markets.
The menu is just as likely to excite craft beer lovers as it is those with a sweet tooth. You can pair craft beer and ice cream on an ala carte basis. You can order an ice cream beer float, like espresso and caramel ice cream dropped into the locally-made Lost Grove Brewing Milk Milk Lemonade (milk stout). There are also beer-infused flavors and flight pairing.
(Related: Brewpubs and Brewery Restaurants Love Beer-Infused Desserts)
The flights are four 2-ounce servings of ice cream, each matched with a 5-ounce glass of beer, mostly local: Lavender and Berries ice cream with Bear Island's Honey Lavender Kolsch; Peanut butter ice cream with Belching Beaver's Mexican Chocolate Peanut Butter Stout; Honey Bourbon ice cream with Payette Brewing's 12 Gauge Barrel Aged Imperial Mexican Chocolate Stout; Coconut Rum Cashew ice cream with Mother Earth's Fantasy Island Coconut Brown; Berry Sorbet with a variety of local IPAs. The idea is exactly what you'd expect – you take a spoonful of ice cream and wash it down with the paired beer.
In the infusions, Idaho beers dominate the landscape: The Recoil IPA from Payette Brewing, or the Pistolero Porter from Lost Grove, is used in different versions of the Stout and Oreo ice cream; Evan's Gate Scotch Ale from Powderhaus Brewing is in the "Scotchy, Scotch, Scotch" flavor.
(Find: US Breweries Near Me)
"One of the main reasons I like this pairing is the pure maltiness of the beer," says Tyler Evans, header brewer at Powderhaus, the makers of Evan's Gate. "It's a great spot for us because they are showcasing our product to people who wouldn't necessarily know about our product. They are taking a recipe that we've spent a lot of time on and using it in conjunction with one of their own, and I think that's fantastic."
All beers on tap at the STIL are chosen specifically for their ability to pair with the homemade ice cream flavors, and every staff member is trained in matchmaking.
Each of the infused ice creams come with an alcohol content, but just a small one, typically 2% ABV. The beer used in the infused-flavors is just for that – flavor.
For Evans, the pairings mark the convergence of adult and childhood, a couple beers at the ice cream shop.
"It's reminiscent of being a kid and having a root beer float," Evans says with a chuckle. "Except, you know, it's not root beer."
CraftBeer.com is fully dedicated to small and independent U.S. breweries. We are published by the Brewers Association, the not-for-profit trade group dedicated to promoting and protecting America's small and independent craft brewers. Stories and opinions shared on CraftBeer.com do not imply endorsement by or positions taken by the Brewers Association or its members.