Sure, "Margaritaville" is an unofficial anthem for drinking and living the island life, but there is much more to do than walk on sandy beaches while sipping on a tequila cocktail, and independent brewers are offering a variety of alternatives.
[newsletter_signup_box]
The United States has many, many thousands of islands within its borders, though they may not be top of mind to everyone. A fair number of those U.S. islands are home to craft breweries worth the flight, ferry, drive or boat ride to visit.
Not all islands are the same, and the beer produced on them reflect the nuances of each particular "island life." From the rocky coasts of the Pacific Northwest to the briny tides of the Gulf of Mexico and the surfer's paradise of Hawaii, travelers visit islands to escape from different things and to discover different things. Craft beer can be one of those things.
San Juan Island Brewing Co. | Friday Harbor, WA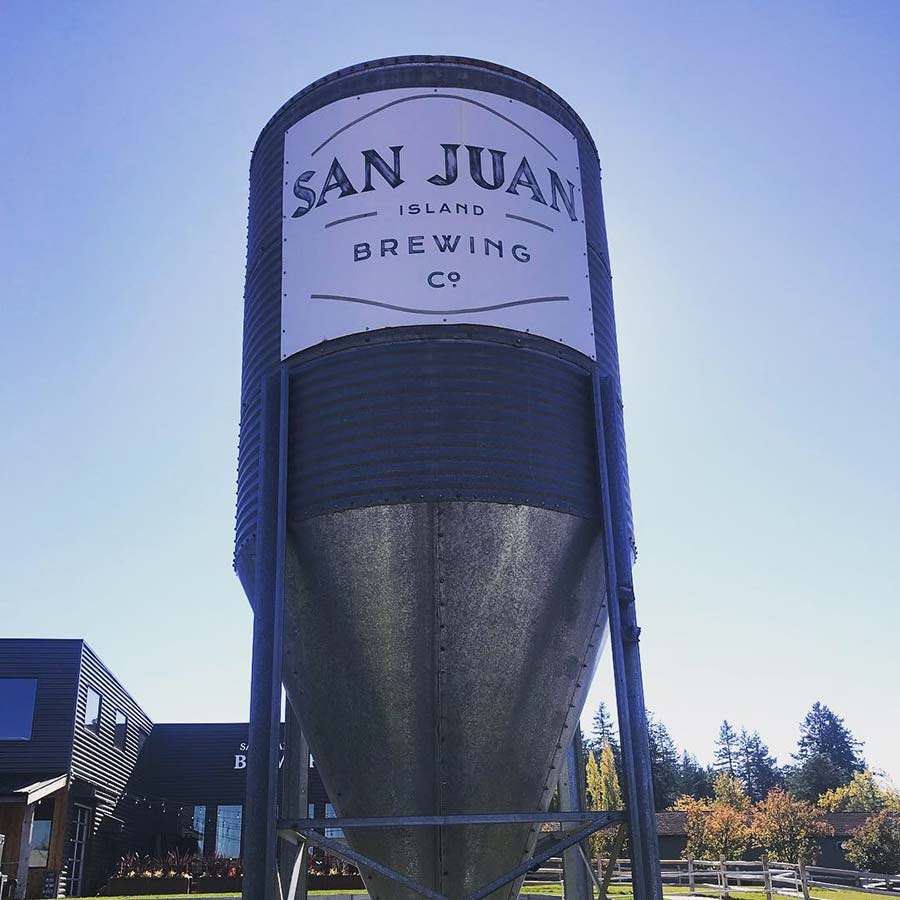 Getting to this brewery is half the fun. It's only accessible by ferry, private boat, or plane. San Juan Island Brewing Co. opened July 2017 and already has one medal under its belt, picking up a bronze at the 2018 Great American Beer Festival for its Bull Kelp ESB.
"We're well supported by our community," says Sean Aylward, who owns the brewery with his brother, Tim, and stepfather, Verne Howard. "However, since the island did not have a brewery since the early 2000s, we did have to educate a few locals about craft beer, including what a growler was."
Being a seasonal tourist destination does mean that roughly 80 percent of the brewery's sales happen between June and September, but the nearly 7,000 residents of San Juan Island certainly show up in the off-season.
Getting raw materials for their brewer, Jesse Visciglia, isn't that difficult. Howard also owns a local grocery, so food-related orders are already coming in from Seattle multiple times a week, and the brewery piggybacks on those deliveries. What is difficult is getting carbon dioxide to the island. By law, the amount they need cannot be taken on a ferry, and the U.S. Coast Guard won't allow carbon dioxide to be transported on the same vessel that delivers propane gas, so the brewery has to hire a private vessel to deliver it.
Island Hoppin' Brewery | Eastsound, WA
The largest island in San Juan County, Washington, is Orcas Island. It's accessible by a one-hour ferry ride from the mainland at Anacortes, or inter-island ferry if coming from other islands in the chain. At 6 years old, Island Hoppin' Brewery is nicely settled into the craft beer scene. In fact, the island has its own beer festival every November called Hops on the Rock.
"Orcas feels a bit more 'small-town' than some of the other islands, in my opinion," says John Calhoun, the brewery's tasting room manager. "We don't have a marina to house big yachts." This small-town feel is accentuated by the abundance of hiking trails, small freshwater ponds, and roaming hills one can explore on Orcas. The reward for a day's activity is beer, perhaps one of the brewery's flagships: Old Madrona Imperial Red or Elwha Rock IPA.
But being an island craft brewery, there is the occasional challenge to overcome. One of those is getting parts when and if something breaks. On Orcas Island there are only six brand-name chain stores; everything else is local and unique to the island, so it's not uncommon for the brewer to be scrolling through Amazon looking for the right part to fix their direct-fire kettle.
(TRAVEL: Drinking Local at Hotels is Getting Easier)
Catalina Island Brew House | Avalon, CA
The only brewery on California's Catalina Island, this nano brewery does a lot for its island community. It is also a bakery, restaurant and coffee shop. It opens at 6:00 a.m. every morning with counter service for breakfast-seekers. By lunch it's offering beers, served with its famed pretzels.
Catalina Island is accessible off the coast of southern California, slightly closer to Los Angeles than San Diego. The two most popular ways to get on the island are by a one-hour ferry ride across the Pacific Ocean or via a 15-minute helicopter ride.
Once on the island, adventure awaits. Some choose to backpack across the island, where others may go parasailing or strap into the 1,100-foot-high zip line that drops people down to a sandy beach. Whatever the exploration, kicking back with a local craft beer at Catalina Island Brew House is a fine reward.
The small brewhouse offers a mix of mainstay beers and seasonal rotations, including Island Hop IPA, Dancing Goat Harbor Porter, Rabid Fox Red Ale, Pebbly Beach Pale Ale and Lover's Cove Wheat. The brewery also offers a couple guest beers on tap. Flights are available for under $8 during happy hour, which runs noon to 4:00 p.m.
Galveston Island Brewing | Galveston, TX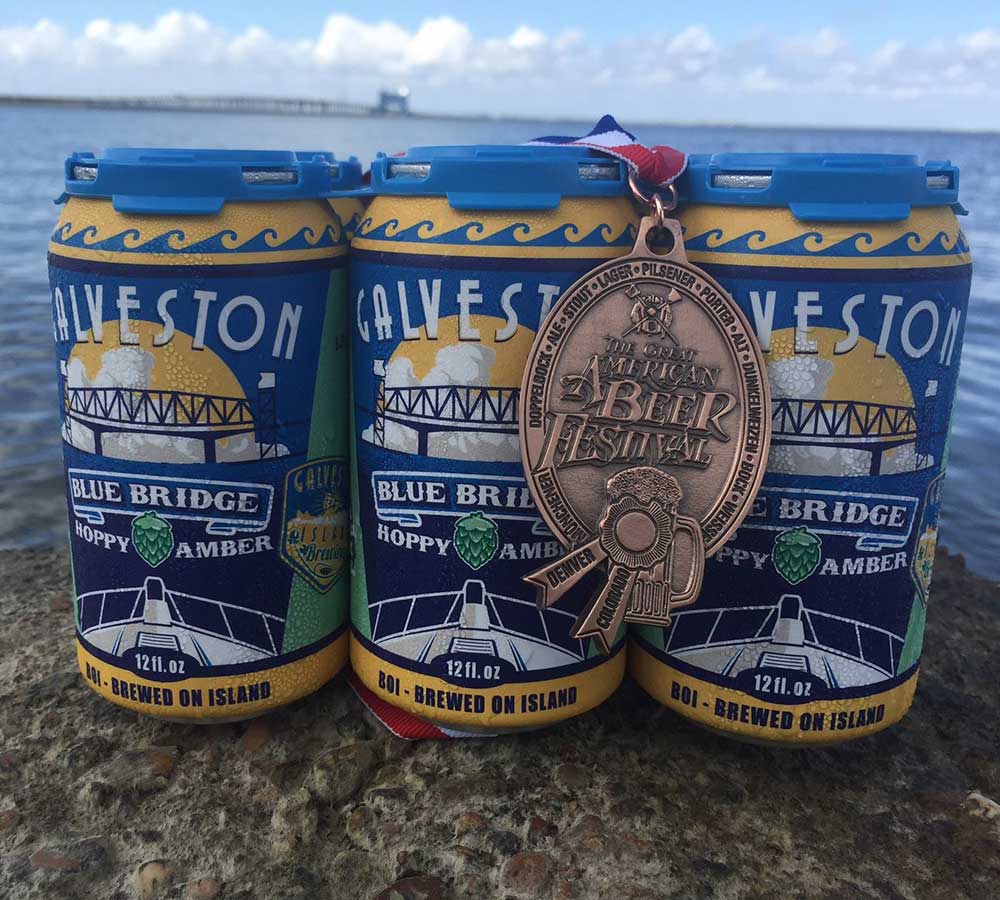 Galveston is a city of 50,000 residents that welcomes over 1 million tourists annually. "Like a lot of islands, we are a tourist destination, and it's feast or famine in the summer," explains Mark Dell'Osso, founder and owner. "But what we've done is build more off-season brewery events, like our Crawfish Festival and seek accounts that would only serve beer in the winter, such as seasonal cruise ships that only sail in the winter." This distribution strategy means Galveston Island Brewing does not need to seek out new accounts that will need to be filled during the brewery's busy summer months.
While the brewery's number one seller is Tiki Wheat, a half-wheat and half-barley brew paired with coriander and notes of honey, its Blue Bridge Hoppy Amber is the beer that brought home a bronze medal at the 2017 GABF in the American-Style Red/Amber Ale category.
Galveston Island Brewing does distribute and now has its own canning line. "We used to use a mobile canner that came all the way from Austin," Dell'Osso says, "but we grew so big we now have our own canning line."
Since Galveston is only 50 miles from Houston and accessible via the Galveston Causeway bridge, there are not many obstacles to brewing on this island. "Although we do have to keep an eye on our water profile," says Dell'Osso, "since it comes to us out of a 2-mile, 100-year-old pipe along the bridge line, but it's been fine."
(VISIT: Find a U.S. Brewery Near You)
Kauai Island Brewery and Grill | Port Allen, HI
After a day on the water watching spinner dolphins and snapping pictures of the Nā Pali Coast, visitors will pull into Port Allen, and only yards away from Kauai Island Brewery and Grill. This brewery offers much more than locally made beer. With cocktails, wine, a full menu and many pinball games, the vacation never ends.
The brewery originated as Waimea Brewing Company on the southwestern side of the island of Kauai. After the lease ran up, the owners and the brewer decided to launch a new brewery, Kauai Island Brewery and Grill, and move it into the port town of Port Allen.
Its tagline is "The World's Westernmost Brewery," and that is true, for now. Hawaii is the westernmost U.S. state (if you don't include Alaska's Aleutian Islands), and this brewery is the farthest west on Hawaii's island chain, so a visit here means you've gone as west as you can get.
But with remoteness comes a cost. Hawaii is 71 percent dependent on oil for its energy, which translates into energy costing three times more than the U.S. national average. So those pinball machines you'll find upstairs at the brewery get turned off after every use by the player. Energy is that expensive.
But the beer is on tap, always. One of the brewery's top sellers is The Fonz IPAaaaaaaaaaaaaaa, brewed with over 60 pounds of fresh, local taro, once a staple of the Hawaiian diet, and still an integral part of the culture. The brewery keeps 10 or more of its beers on tap, plus a few from other breweries.
(READ: Epic Fall Road Trip: New England Breweries)
Frenchtown Brewing Company | St. Thomas, U.S. Virgin Islands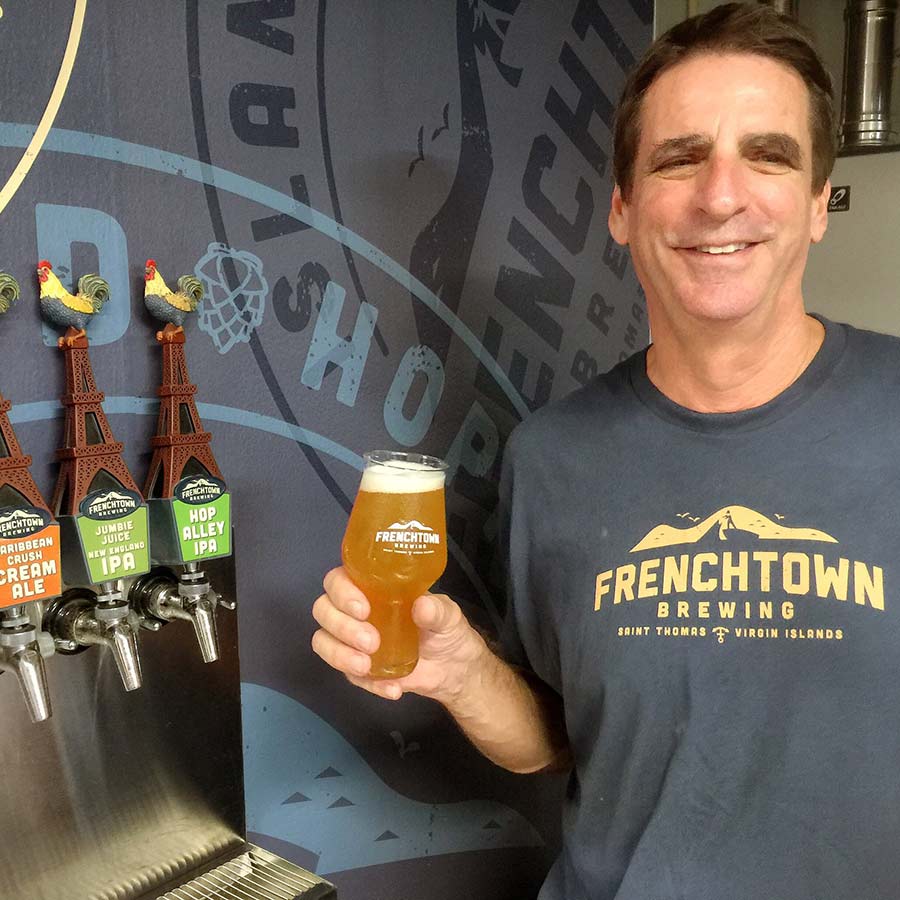 Pulling its name from the Bohemian fishing village of Frenchtown, this brewery is part of a thriving entertainment center of restaurants, bars and nightspots on St. Thomas. Founded by Kevin Brown in 2015 as a three-barrel nanobrewery, Frenchtown Brewing Company's inspiration came from Brown's strong affinity for Belgian beers.
"People are really grateful that we're here. There weren't any [breweries] on St. Thomas when we opened," co-owner Terri Brown says. After moving to St. Thomas in the late 1980s, Kevin found the island was lacking in "drinkable beers," so he began homebrewing. A third-generation Belgian himself, Brown set off to sample all the styles of beers brewed in Belgium. (At the time there were over 500. Today there are over 800.)
Today, if you wants to visit this brewery, its hours are limited and only open to the public on Wednesday and Friday evenings, and sometimes seasonally on Saturday afternoons for growler fills only. "We only have 700 square feet of space," Kevin says, "so for the safety of the public, we can't be brewing and be open at the same time."
Speaking of general safety, hurricanes are a perennial concern in the Caribbean, and the brewery had two road bumps last year due to Hurricane Irma. "We lost power on September 6 and could not brew again until December 3," Kevin says. "After cleaning up the damage, we didn't open until Christmas week." The brewery also missed an opportunity to expand its operation, as the Browns had just signed on a building on August 30 — only to have that building demolished by Irma a week later.
As one can imagine, the island life isn't cheap. Everything comes in on a boat, and the brewery has to calculate ordering the right amount of raw materials, but not too much so it's sitting around for long. And the water for brewing comes from reverse osmosis seawater, which is roughly 10 times more expensive per gallon than water on the mainland.
But even with the weather and the added expense, Frenchtown Brewing Company is making refreshing beers for the locals and tourists alike, such as their 86 and Sunny APA, Caribbean Crush Cream Ale, Hop Alley IPA and Frenchie Farmhouse Saison.
(READ: My 100-Mile Denver Brewery Hike)
Black Narrows Brewing Co. | Chincoteague, VA
Chincoteague is Virginia's only resort island and is about 3.5 hours from Richmond. This intimate, 7-mile-long island is widely known for its oysters and clams, but many come to visit in July to watch a herd of 150 wild ponies swim from Assateague Island to Chincoteague Island in the annual Pony Swim.
Less than 3,000 people live on the island, and its median age of residents is 46, a full 11 years older than Virginia's median age of 35. But when it comes to family and community, age is just a number.
Barely a year old, Black Narrows Brewing Company may hit 400 barrels of production by the end of 2018. Black Narrows Brewing Company is a family business, with its five-person roster including mother, father, their two daughters, and their son-in-law. The brewery itself is situated in an old "oyster shuckin'" warehouse and operates on a five-barrel system from Colorado Brewing Systems.
Being small means the brewery can be agile, and it is dedicated to sourcing many, if not most, of its ingredients from Virginia, from malt and hops to corn and … oysters. Yes, oysters for its Tart Oyster Wheat.
"Inspired by the German gose style, this briny beer incorporates Eastern Shore raw wheat, two gallons of oyster flesh, and fifteen gallons of oyster liquor in each batch. It's fermented with a naturally occurring yeast strain found from our famous Salt oysters," the brewery's website reads.
To further showcase its commitment to community, the brewery donates 10 percent of its gross sales to charities, including "One Local, One Global" and to global cancer research and prevention.
Atlantic Brewing Company | Bar Harbor, ME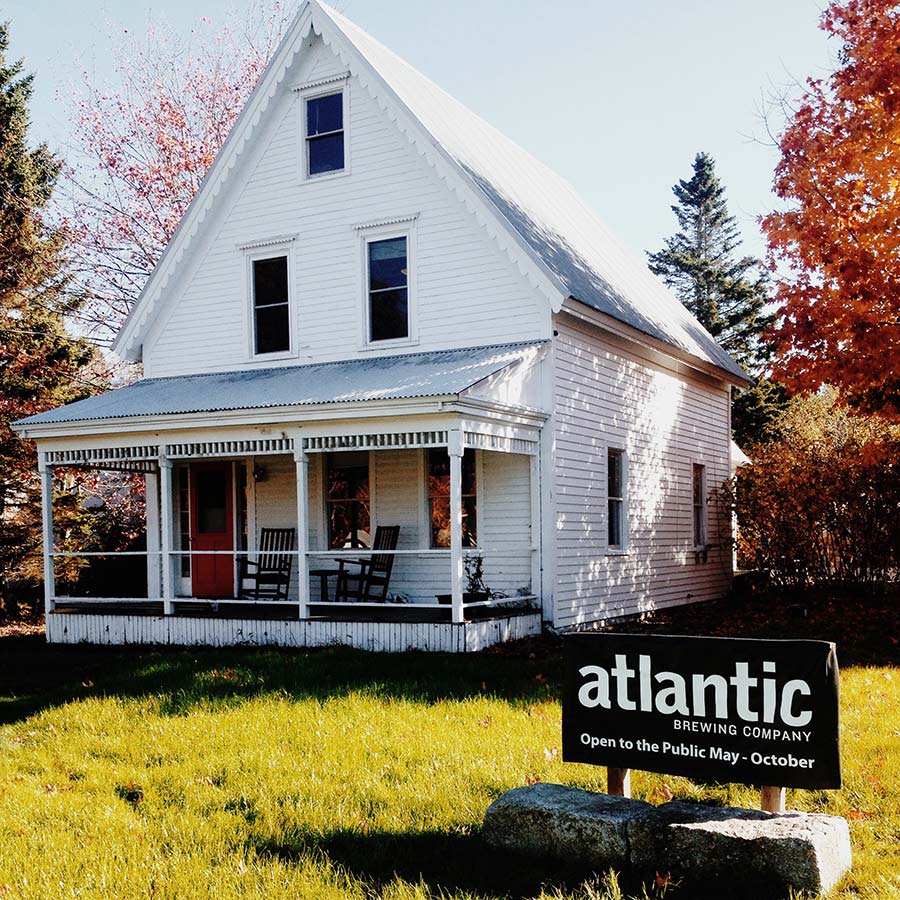 Mount Desert Island, the second largest island on the East Coast, is home to Acadia National Park, the first national park east of the Mississippi. It's a place where rocky shores are juxtaposed against lush evergreens. This island receives millions of visitors annually, even though the average summer temperature is 67 degrees.
To warm up on a summer day, many visitors will pop into Atlantic Brewing Company in Bar Harbor for a pint of Bar Harbor Real Ale, the first beer the brewery ever made back in 1991 when it opened. But one of the brewery's beers that seems to embody the mystique of Maine is its Blueberry Ale.
"That beer happened because back when we were brewing in our original location on a two-barrel system, a guy pulled up with his truck full of blueberries and asked, 'You want these?' So we brewed a blueberry beer," Allie Sasner, social media and marketing coordinator, explains. "That was 20 years ago and we've kept it up since."
"We're primarily a destination brewery," Sasner says, "and we get a lot traffic from Acadia, but what's also nice being so close to a national park is that our water comes from a granite well. We use that for all the beer we make and we don't have to deal with city water like a lot of other breweries have to."
Atlantic Brewing Company operates two breweries. One is their main brewery in Town Hill, a 15-barrel brewery built on a 10-acre farm designed to create an experience where visitors could learn about small-scale beer production in a country setting. This location offers three tours a day during the peak season.
The brewery's newer location, open for only a year, is in downtown Bar Harbor, and it is a 7-barrel operation that produces one-offs that don't necessarily get distributed.
There's not a lot of need for the brewery to distribute its beers, however, since about 70 percent of the beer made on the island is consumed on the island, and much of that by locals. But for those who want to take some Atlantic Brewing Company beer home or on an adventure, the brewery has just started shifting from glass bottles to cans.
These island craft breweries are ones who don't get swept away in the hustle and bustle of an island vacationer's itinerary. Instead, they are brewing beers that complement the experience, the environment and the spirit of being off the mainland. So plan a drive, book a boat or buy a plane ticket to check them out firsthand.
CraftBeer.com is fully dedicated to small and independent U.S. breweries. We are published by the Brewers Association, the not-for-profit trade group dedicated to promoting and protecting America's small and independent craft brewers. Stories and opinions shared on CraftBeer.com do not imply endorsement by or positions taken by the Brewers Association or its members.