Everyone loves a good beer festival. They are a great way to try a bunch of new beers, explore parts of a city, and hang out with other craft beer enthusiasts. As small and independent brewing matures, so do beer festivals. Organizers are finding creative themes to make their events standout (and sell out). Check out these creative beer festivals with themes from oddball to athletic. They're well worth a beercation.
(TRAVEL: Plan Your Next Beercation)
2018's Themed Beer Festivals
Brew-Ski Festival | Boyne Falls, MI | March 10 (with festivities from March 9-11)
Where snow hounds and beer nerds unite! Boyne Highlands Resort in Boyne Falls Michigan puts on the Brew-Ski Festival and Communications Director Erin Ernst tells us that suds and snow are a great combination and since this event is staged right at the base of the slopes, you can enjoy a morning on the slopes and an afternoon tasting beers. At least 70 breweries participate and bring sample pours of 285 different beers. If you don't ski as well as you fall, don't worry — there are plenty of other entertainment options including live music to round out this festival.
FemAle Brew Fest | Fort Lauderdale, FL | March 24 
This year brings the second edition of FemAle Brew Fest, a festival that celebrates women in beer. Breweries pouring at the FemAle Brew Fest are either owned or co-owned by women or have a female in a prominent part of the business. "I take pride in the fact that for a decade I have played an integral part in producing a high quality product, and generating a healthy profit," says Angela Burroughs, founder of Proof Brewing Co. and featured event brewery. Organized by Fem Collective, a number of the food vendors will also be female-owned businesses.
Northern Lights Rare Beer Fest | St. Paul, MN | March 24
Beer can be rare. You can argue that seeing the Northern Lights is rare. Try to combine the two? Epic. Sure, there's no guarantee of a solar flare headed towards Minnesota in March, but the Northern Lights Rare Beer Fest in St. Paul does guarantee some rare beer. Previous winning styles, which are deemed "Aurora Borealis Award Winners," have included a huckleberry sour, a honey bourbon barrel aged stout, and a wheat wine aged in Pappy Van Winkle barrels. Mark Opdahl from Chop Liver Craft Beer Festivals loves how this event can "combine amazing food and the beautiful architecture that is the Minnesota History Center, along with the backdrop of downtown St. Paul and the state capitol building."
(EXPLORE: Find More Beer Festivals)
Decibel Metal and Beer Fest | Philadelphia | March 31-April 1
Decibel Metal and Beer Fest organizers, Decibel Magazine, have shown beer lovers the connections between the metal music community and the craft beer community since the debut of their Brewtal Truth column back in 2009. If you love metal or beer this may just be the festival for you. Fourteen metal bands will take the stage, and 20 breweries will pour their beers, many of which already have metal connections. Alex Yarde from Decibel says, "Decibel Metal & Beer Fest — the ultimate celebration of the most headbang-worthy craft beer in North America — truly brings that brotherhood to life."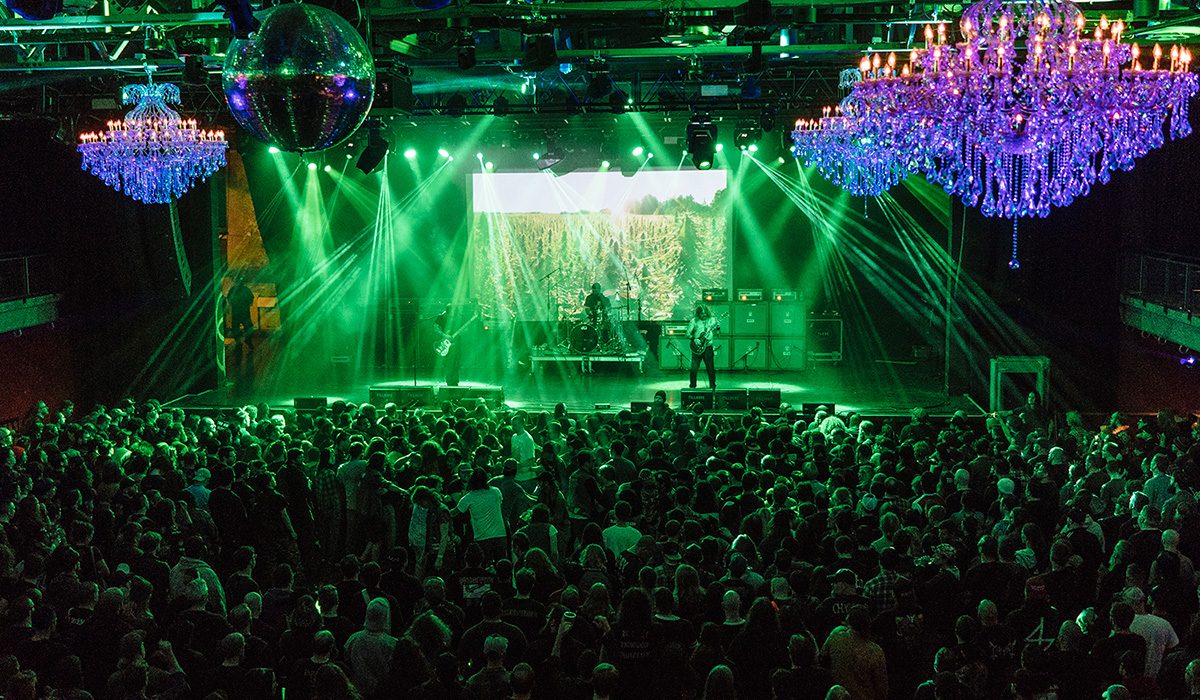 Modern Hops Day of the Juice | Atlanta | March 31
This year brings the inaugural Modern Hops Day of the Juice festival, which will take place in Atlanta's brand new Monday Night Brewing Garage. During the festival, breweries will pour mostly experimental beers made with new and experimental hops, making this beer fest a hop head's dream. Bonus: It'll bring together breweries that you can't often get in Georgia. Eric Levin from modernhops.com tells me he's excited about this festival for many reasons including the "many special collabs brewed just for this festival." Eric says all proceeds will be donated to two charities: The Georgia Transplant Foundation and the Polycystic Kidney Foundation.
AmeriCAN Canned Craft Beer Fest | Phoenix | April 28
It's unCANny just how amazing a festival exclusively dedicated to canned beer can be. The AmeriCAN Canned Craft Beer Fest is more than sample tables. There is also a beer science garden and seminars so you can learn while you sample, beer Olympic game competitions so you can play while you sample, and a rare beer garden for those hard to find cans. Sample enough and you might just be doing the … can-can.
(READ: A Beer Geek's Travel Checklist)
Sly Fox Bock Festival and Goat Races | Pottstown, PA | May 6
Goat things are all the rage: goat yoga; Tom Brady being called the "G.O.A.T." (Greatest Of All Time). But honestly, this offbeat beer festival beats even Tom Brady. Sly Fox Brewing Company's Bock Fest and Goat Race is everything you're dreaming it is: a beer festival which also features goat races. Where else can you watch 60 goats race for glory while you sip on a variety of craft beers?! Nowhere. Sarah Jagiela tells us that this festival "started out as a small group of brewers hanging out drinking beers and running around with a couple of goats in a parking lot, [but] has transformed into a crazy day with thousands of people in the fields surrounding the Pottstown brewery." Plus the annual Maibock is released at the event and named after the winning goat.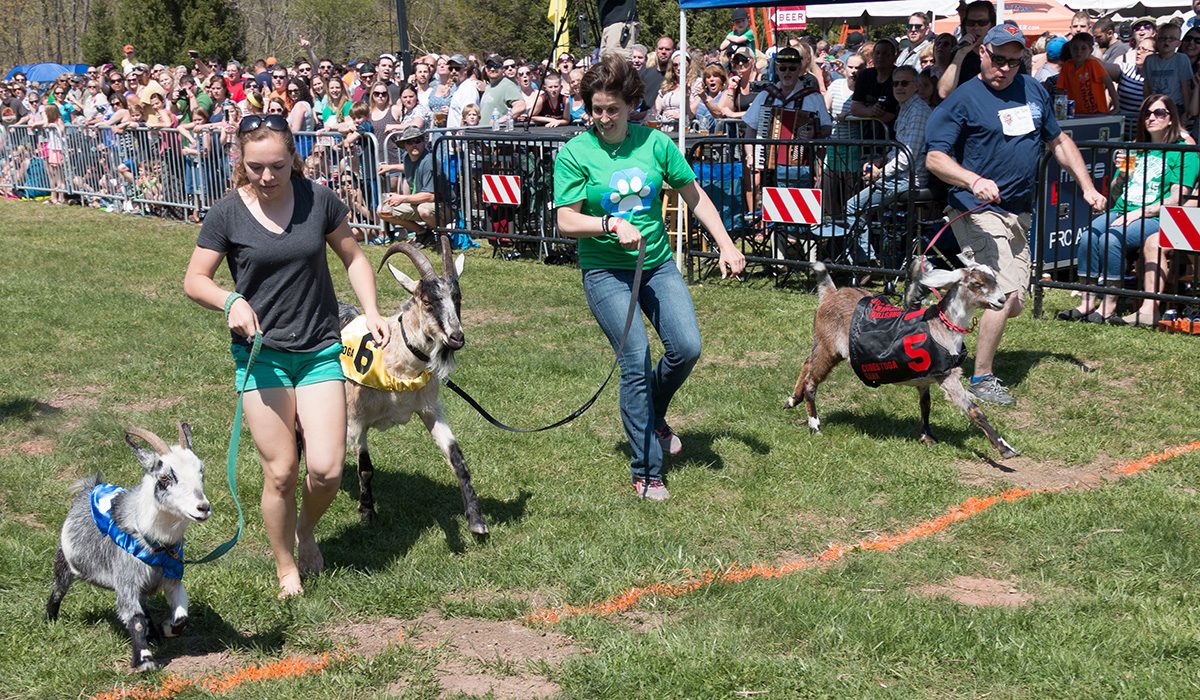 Strang Brew Festival | Reno, NV | May 19
Craft brewers push the envelope of traditional beer styles and flavors, and Reno's Strange Brew Festival pushes the envelope of craft brewers further. The only "rule" is that the beer has to be, well, strange. Not sure what that means? Feast your eyes on some previous year's beer entries: Bubble Gum Ale, Sunny D Saison, Sour Bock Infused with Sour Patch candy, Barrel Aged Butternut Squash and White Sage Saison. Strange. Enough said.
Lagers for Lumber Fest | Longmont, CO | July 21
Wibby Brewing's Lagers for Lumber is Colorado's only festival exclusively dedicated to the lager, which is kind of a big deal since ales get so much darn attention (in this beer writer's humble opinion). They're planning bands, silent disco DJs, arcades, laser shows, crafts for kids, swimming pools, and eight-foot floating inflatable flamingos (since a flamingo is hidden within the artwork on all of Wibby's cans). Previous years have donated as much as $6500 to local charities and the hope is that this year will raise even more.
CraftBeer.com is fully dedicated to small and independent U.S. breweries. We are published by the Brewers Association, the not-for-profit trade group dedicated to promoting and protecting America's small and independent craft brewers. Stories and opinions shared on CraftBeer.com do not imply endorsement by or positions taken by the Brewers Association or its members.