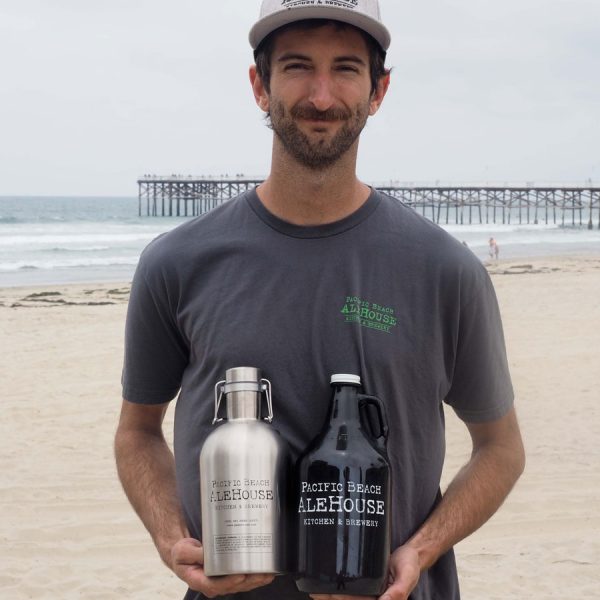 3 San Diego Beach Breweries You'll Love
If you are planning a trip to tour the small and independent brewery scene in San Diego, a town with about 125 breweries, it's a good idea to get help from people who know the lay of the land.
That's what I did when CraftBeer.com accepted my pitch to write a beach breweries feature during a recent visit to the Southern California beer mecca. I got in touch with the folks at Brewery Tours of San Diego to pick their brain about quintessential beach breweries. On our way to the first stop I asked Rob, our earnest guide and driver, how they selected breweries to tour.
"It depends on what the customer wants," Rob said. "Some people want to go to the big name breweries they've heard about. Others want to go to small microbreweries. And some others want us to surprise them."
Rob was a wealth of knowledge about San Diego and each of the three beach communities we visited.
San Diego was in the grips of its annual "June Gloom," which had been preceded by "May Gray." This overcast was present during much of my week-long visit. But fortunately the sun always shines on craft beer, especially if there is a beach nearby.
Pacific Beach Alehouse Kitchen & Brewery | Pacific Beach
Jonathon Rielly greeted us in rubber boots, the standard attire for all head brewers. Rielly has been Pacific Beach Alehouse's brewer for about a year; he used to homebrew with his father. He has the happy demeanor of so many craft beer brewers I've met: they just can't believe they get to make great beer every day for a living.
After a quick walk-around among the 30-year old 14 bbl system once used at Green Flash Brewing Co., we headed upstairs to the second-floor deck. The view, as expected, was of the Pacific Ocean breaking on the sand with beachgoers streaming up and down a boardwalk.
This often includes a well-known local named Slomo. Legend is that this fellow chucked his well-paying technology job for life as a rollerblading beach dude. He did not show during my visit, but Slomo reportedly has a distinctive, slow gait. Rielly named a beer after the dude. Slomo Saison is a traditional Belgian-style beer and according to Rielly, Slomo approves.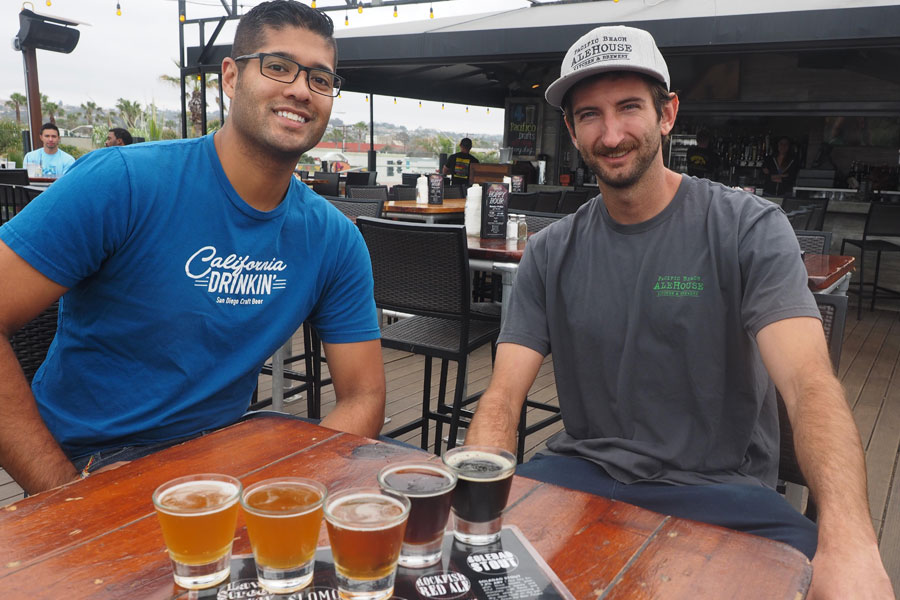 His other everyday brews include Law Street Lager, Kate Sessions IPA, Rockfish Red Ale and Soledad Stout, with the saison and ale the top sellers. The lager really hit my palette well, but I noticed that all of PBA's beers finished very smoothly.
"I'm not a big fan of aftertaste," Rielly explained. Rielly, who has awards from the San Diego International Beer Festival and is a Chamber of Commerce people's choice pick, said that PBA sells all their beer to locals and tourists one glass and growler at a time.
Amplified Ale Works Kitchen & Beer Garden | Mission Beach
Owner and manager Alex Pierson built on his popular California Kabab Mediterranean food restaurant when he and a college buddy added fresh craft beer to their offering at their new beachside location. Amplified Ale Works opened in 2012 and just added a seven barrel offsite brew room to supplement their onsite three and a half barrel system. Their name, Amplified, is a tip-of- the-ball cap to both their love of the local music scene, as well as their approach to "robustly brewing intense hoppy and Belgian craft beer." But they do keep up with customer taste.
"With so many people knocking sand off their feet on their second-story beer garden, we have also evolved to offer lighter beach beers as well," said Pierson. The result is a very creative nine-beer menu, as well as other regional guest taps.
I learned something from Rob while I was sampling the Electrocution IPA at AAW, which was excellent. Rob told me that the well-known West Coast hoppy style of beer derives from the hard water in San Diego. Its chemistry is something that hops really embrace. The IPA was balanced nicely by AAW's Leggy Blond. Their Golden Strong Ale and American Wheat were also delicious standouts for me.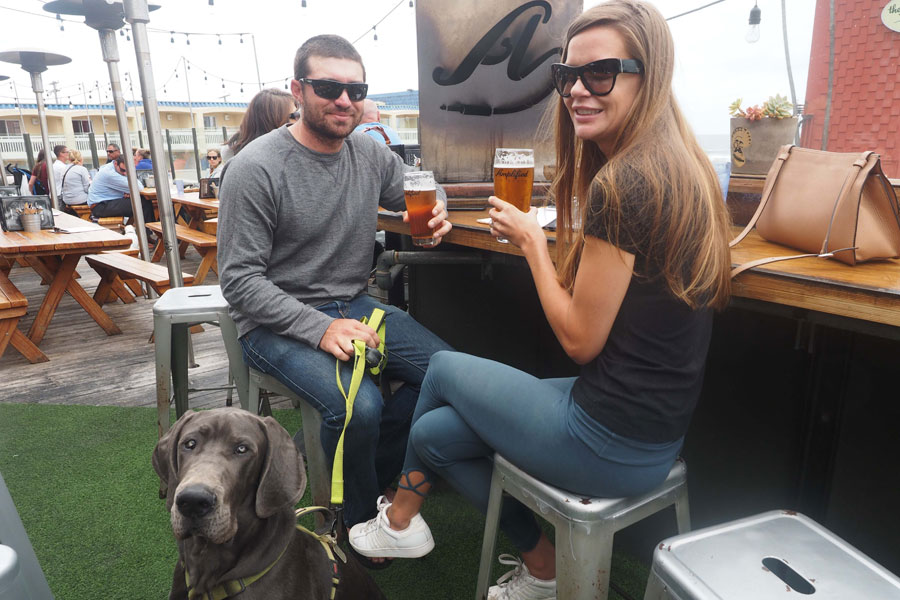 This 2016 World Beer Cup gold medal-winning beach brewery (for their Whammy Bar Wheat) is also very dog-friendly. In fact, I saw the biggest dog I've ever seen in any establishment. The handsome, gray, blue-eyed, friendly, great dane named Bullet was enjoying a day out with his just engaged, local owners Codie and Katie. They both hoisted a glass of Amplified craft beer in honor of the occasion.
Pizza Port Brewing Co. Tasty Grub & Grog | Ocean Beach
Of the three beaches we visited, Ocean Beach felt the most like a neighborhood. Rob told me that locals tend to never leave.
This holds true for Jamie Shelly, who grew up in Ocean Beach. The Pizza Port Brewing Co. festival and events manager returned from college in Colorado and now lives within walking distance of the brewery. The open seven barrel brewery and picnic tabled dining room had more the feel of a surf shop. A steady stream of customers, most of whom seemed to know each other, streamed in and out.
"About 75 percent of our guests at this location are locals," said Shelly. "We were founded 30 years ago (26 years brewing) on the idea of supporting friends who like to make good craft beer, so that's how we still operate." She explained that many of their customers first came to PPBC with their parents for their pizza, as much as their beer. Today many of those grown children now bring their kids.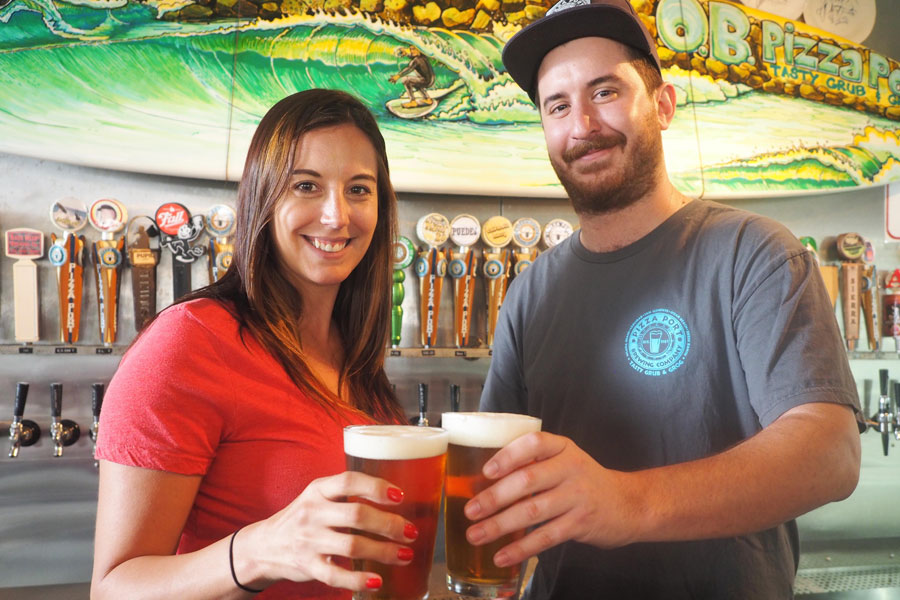 PPBC has the most local craft beer I have ever seen: 30 of their own taps, plus guest taps. Shelly said that brewing at five locations creates a friendly rivalry that results in a great craft beer selection. As our last beach stop of the day, I had to limit myself to just a handful of tastes.
My first pick was Shark Bite Red, just for the name alone. Shelly said it was actually PPBC's first beer ever. Another popular beer is the Jetty IPA, one of several beers named for local surf break spots. Both are "bill payers," in brewers' lingo, their most sold beers. All the samples I tried were amazing.
As with the other beach breweries I visited, PPBC has won a slew of medals for their work. Several of their beers are available in cans.
Photos © John W. Mitchell
CraftBeer.com is fully dedicated to small and independent U.S. breweries. We are published by the Brewers Association, the not-for-profit trade group dedicated to promoting and protecting America's small and independent craft brewers. Stories and opinions shared on CraftBeer.com do not imply endorsement by or positions taken by the Brewers Association or its members.