Resurrecting historical beer styles and merging them with modern brewing ingenuity is a hallmark of American craft brewers. And smoke beers are a perfect example of this creative spark.
In the smoke-beer genre, most point to the traditional Rauchbier style, which emerged in Bamberg, Germany, in the 1500s. In fact, "rauch" is the German word for "smoke." By drying the malts over an open fire — typically beechwood — and incorporating them into the brewing process, it leaves a moderate level of smoky flavor and aroma that compliments the base beer, usually similar to a Bock or Märzen (or Oktoberfest).
However, today's craft brewers experiment with different wood, malts, beer styles and levels of smokiness. The confluence of tradition and innovation has sparked a diverse collection of crafted smoke beers throughout the U.S.
(LEARN: CraftBeer.com Style Finder)
Nine Smoke Beers to Try
Smoked Porter | Alaskan Brewing | Juneau, AK
Relying on techniques derived from Alaskans who brewed more than a century ago, Alaskan Brewing uses direct heat from local alder wood to malt its barley (a process also recognizable to those who love smoked salmon). And the water for the beer comes from a nearby glacier. "When you brew in Juneau, it's necessary for us to maximize our resources, which I think we do well," said co-founder and brewmaster Geoff Larson. "But, it also allows us to use those resources to create unique beer, and that's what it's all about."
So, when one drinks Smoked Porter, like all Alaskan Brewing beers, one truly drinks local … local to Alaska.
Manzanita Smoked Altbier with Charred Manzanita | Fort Point Beer Co. | San Francisco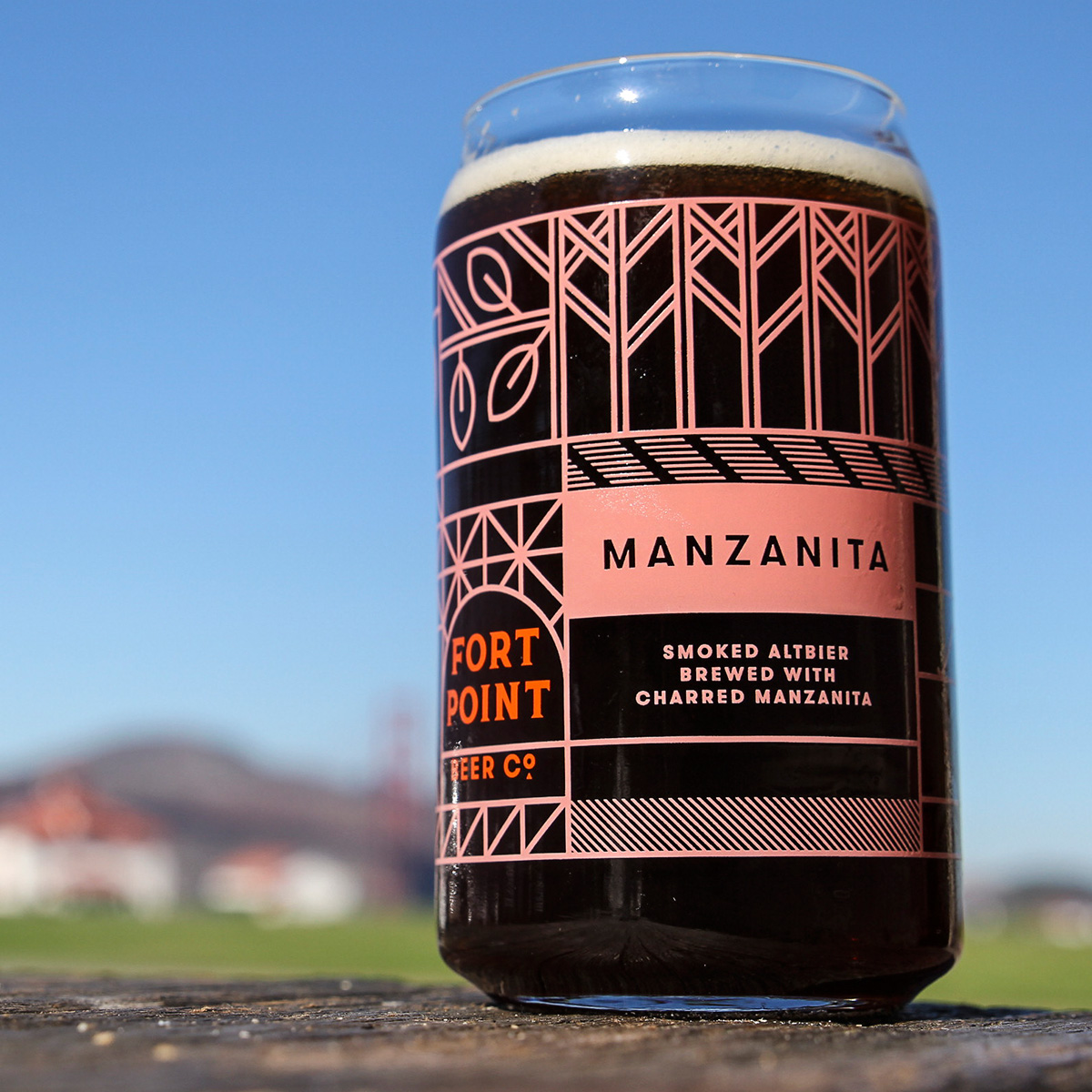 In 2013, Fort Point and Sebastian Sauer, a renowned and accomplished German brewer, embarked on an experimental collaboration. The result was a new interpretation on the traditional Rauchbier that celebrates both Germany and California.
"Manzanita is our seasonal beer for fall," said Fort Point Brewing's Sarah Chorey. "Each of Fort Point's cans are designed to tell a story utilizing angular illustrations. The latest can, Manzanita, is the story of a crisp, fall night, showcasing close-ups of manzanita leaves and camping tents along the Northern California coast where manzanita is a native plant," she said.
The use of beechwood and charred manzanita branches provides this Rauchbier with its unique blend of German and California flavors. The light-bodied beer presents assertive, multi-layered smokiness. It also hits nutty and herbal notes and provides both a sweet and savory character.
(READ: Coolships in American Craft Brewing)
Fore Smoked Stout | Dark Horse Brewing Co. | Marshall, MI
Dark Horse chooses to use cherrywood instead of the traditional beechwood, and keeps the smoke levels at bay, which allows the stout to remain the star of the show. The light smokiness simply enhances the overall flavor, including its perceived flavors similar to roasted coffee and chocolate.
While robust and sophisticated, the flavors meld together in such a fashion that makes Fore Smoked exceptionally easy to drink.
Smoked Red Ale | West O Beer | Milford, IA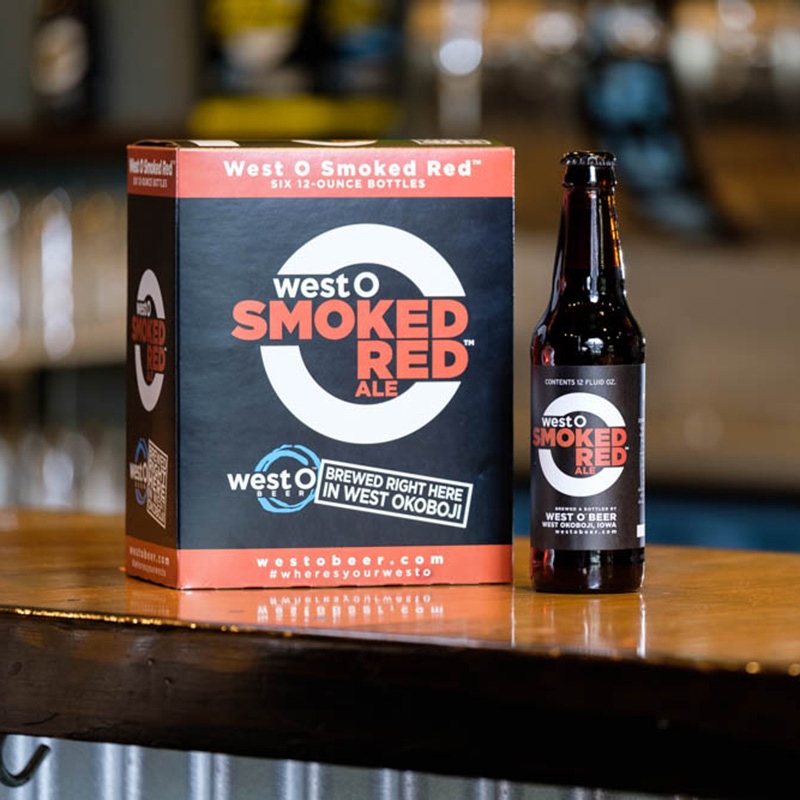 From hog roasts to breakfast bacon, Midwesterners have an affinity for smoked meat. So, it's no surprise that West O Beer might offer its northwestern Iowa customers a bit of smoke in its beer.
"It's still our best seller out in the market in northwest Iowa … We're actually planning to release a few more different smoked beers over the next year or two," said owner Matthew R. Matthiesen.
Barbecue aficionados understand that smoke is intended complement and enhance the main ingredient. "We add cherrywood smoked malt in the mash. It's smoked prior to us adding it into the mash tun with different grains. The main reason our smoke flavor is subtle is we only use about 2 percent smoked malt per batch, versus 25 percent or 50 percent. It gives us subtle flavor but the beer remains balanced," Matthiesen said.
Drinkers will enjoy the beer's nutty flavors mixed with fruit emanating from the dark caramel malts and spice from the Perle hops.
Smoked Märzen | 49th State Brewing Co. | Anchorage & Denali, AK
Part of its Hibernation Series, the hickory aroma and flavor found in this 49th State Smoked Märzen transports the drinker to a campfire in the middle of the woods. For those who love an abundance of smoke flavor, this is the beer for you.
The sweet malt of the traditional German beer with notes of fruit compliment a brew that isn't afraid to showcase smoke. This is not a one-note beer.
Smoke: Oak-Aged Smoked Baltic Porter | Surly Brewing | Minneapolis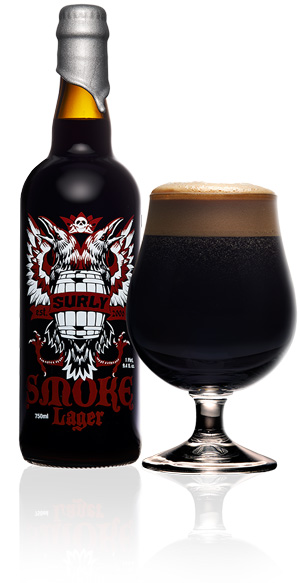 Never afraid to do something bold, Surly not only went with a different type of lager (Baltic Porter), but also aged this beer.
Tiffany Jackson, Surly communications manager, explained the technique. "Smoke is aged in the fermenter for four-plus weeks with red oak honeycomb barrel alternative from Black Swan Cooperage in northern Minnesota. The red oak adds notes of light grass, baked bread and toasted marshmallow," she said.
"The taste is sweet but balanced by the smoke notes and oak tannins," she said. "These are a nod towards the natural smoky character of pre-industrial wood-kilned malts used in past eras. Compared to standard porters, Baltic Porters typically have higher ABVs, a neutral lager yeast character and rich, sweet malt notes."
Though it's not widely available, various rating sites show that people can get their hands on a few bottles. Most importantly, it demonstrates just how creative brewers can be when it comes to employing smoke.
Smoking Wood Rye Barrel Aged | The Bruery | Placentia, CA
The Bruery has released a bevy of "Smoking Wood" beers, aged in various types of whiskey barrels including rye. A good beer hunter and bottle trader could obtain the makings of a terrific vertical or wonderfully diverse smoke-beer collection.
The Rye Variant finds inspiration from all aspects of brewing history, from smoking to barrel-aging to malt experimentation. The rye adds spiciness to the smoke, while the presence of oak, caramel and vanilla, and a richness from the whiskey, provide a multi-dimensional taste.
(READ: What is the Independent Craft Brewer Seal)
Smoke From The Oak (Apple Brandy Barrel) 2017 | Captain Lawrence Brewing | Elmsford, NY
Captain Lawrence reminds us of tradition on its website: "Before the introduction of indirect-fired malt kilns, all beers had a smoky flavor." So, it stands to reason that smoke and beer go hand-in-hand, and that's probably why so many people enjoy the genre.
But, in true modern craft fashion, Captain Lawrence has taken it to a new level with its Smoke from the Oak Imperial Smoked Porter that is aged in apple brandy barrels for 10 months. Aroma and flavors remind one of brandy, oak, vanilla and a touch of honey. The bonus of a healthy dose of carbonation provides for a wonderful extra element.
Rauchbier & XO1 Oak-Aged Smoked Red Flanders | Dovetail Brewery | Chicago
When it comes to merging tradition with modern craft creativity, few do it better than Hagen Dost and Bill Wesselink at Dovetail Brewing in Chicago. They rely on the time-tested technique of coolship brewing to create classic European-style beers.
On coolship, Dost explained, "Not only does the beer cool down much faster, because of the large surface area, but I think the beer ends up being much more flavorful with this method, really clean and pure."
That's evident in the Rauchbier, which provides a pleasantly smoky aroma on the nose, but the taste is subtle. The smoke almost seems to kiss the palate with each sip but never once overpowering it.
That's not all.
Dovetail took the Rauchbier, placed it in oak barrels and soured it. The result is an experimental Oak-Aged Smoked Red Flanders, called X01. It has all the charm of a Red Flanders with a pleasant addition of smoke and oak that results in a breathtaking beer.
(TRAVEL: Plan Your Next Beercation)
Where There's Smoke
Smoke beers tend to be seasonal and special releases, but that also allows for enhanced creativity. Considering this list, the smoke beers emerging from the minds of brewers are increasingly diverse and experimental.
For instance, in the recent past, Smuttynose (Smuttlabs) has produced Smoked Cherry and Smoked Peach Berliner Weisse beers, while Stone Brewing has offered several Smoked Porter variants including vanilla bean, chipotle pepper and one with chocolate and orange peel. Many local breweries play with smoke, too.
From bacon to barbecue to beer, there's a renewed love affair with incorporating smoke into our food and drinks. And craft-beer revolution has given brewers an opportunity to reprise traditional techniques and combine them with modern craft approaches.
CraftBeer.com is fully dedicated to small and independent U.S. breweries. We are published by the Brewers Association, the not-for-profit trade group dedicated to promoting and protecting America's small and independent craft brewers. Stories and opinions shared on CraftBeer.com do not imply endorsement by or positions taken by the Brewers Association or its members.