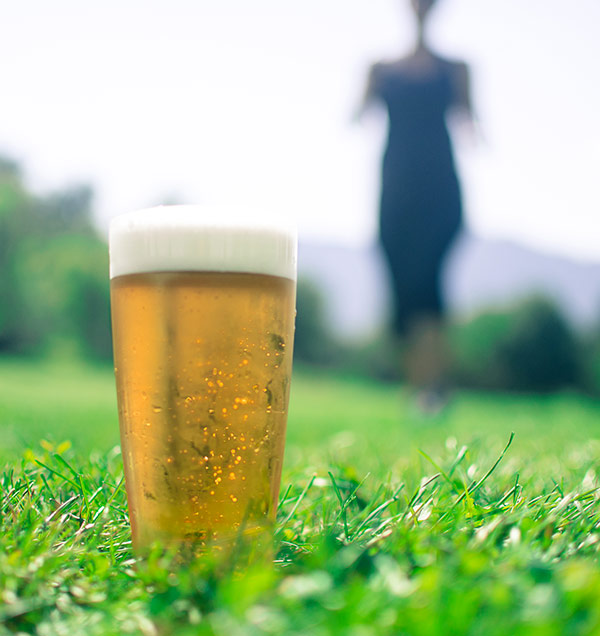 The After-Workout Beer Phenomenon
In 1978, a then undiscovered Kim Basinger appeared in a television commercial for Beer on Tap Shampoo. In the spot, Basinger looks into the camera with a brilliant smile, and announces "Brewed with one third real beer." She pauses, and then wags her finger and admonishes: "…but don't drink it!"
This year, Canadian company Lean Machine announced that it plans to release an "after-workout beer" that raises the same issue—should you drink it? With their "recovery ale," Lean Machine hopes to "create a beverage that aligns with the active lifestyle of young beer lovers, while promoting responsible drinking," according to an NPR report.
While beer shampoo is clearly unpalatable, science does make a case for beer as a replenishment drink after a workout. The biggest benefit that scientists and nutritionists all seem to be in agreement about is that beer is plant based. Barley, hops and yeast contain a wide range of natural nutrients not found in sports drinks.
Lean Machine's proposed beverage would be an extremely lightened and low alcohol version of beer; this is by no means a craft beer.
Beer Better than Water?
A study published last year in the International Journal of Sport Nutrition and Exercise Metabolism indicates that the dehydrating effects of beer can be tempered by tinkering with its electrolyte levels. This was achieved by lowering the alcohol volume to 2.3 percent and adding salt. The resulting "beer" was found to work better than traditional ale in rehydrating athletes, as well as decreasing the diuretic effect of beer.
The lead researcher, in summarizing the project, was quoted as saying: "A properly formulated beer beverage is likely to do you no more harm than you are likely to get from a sports drink. In fact, it probably is likely to do you more good, because it's got a lot of these sort of natural compounds, like polyphenols, that are actually good for your health."
For athletes to get this benefit, however, most of the alcohol would have to be removed. A recent study from the same folks who brought us the beer purity laws five centuries ago—the Germans—found that excessive amounts of alcohol can impair the protein synthesis process that repairs muscles after exercise. The operative word here is 'excessive.'
Another recent study, conducted at Granada University in Spain, concluded that a group of athletes that each drank a beer (not excessive) after a workout experienced a slightly better hydration effect than a second group that was given only water.
A cardiologist for the top flight Rio Madrid soccer club, when asked about the study, said he has long recommended "barley drinks" to professional athletes after training.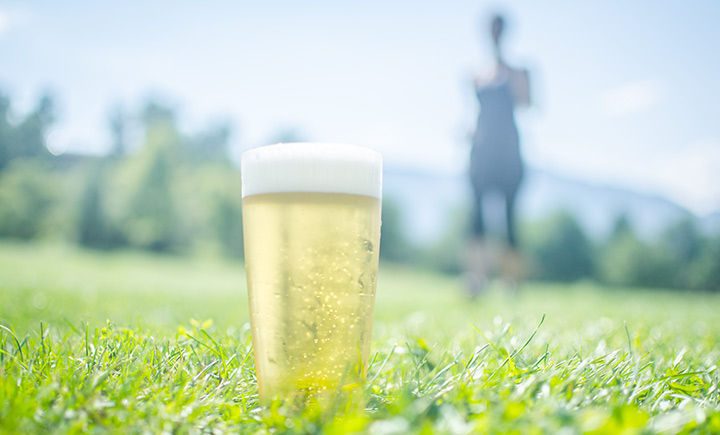 Brewers Weigh In
These studies suggest there is a fine line for relying on beer to replenish the body after exercise. According to the Mayo Clinic, water is generally the best way to recover from a workout that lasts less than 60 minutes. Sports drinks, however, do offer benefits after more strenuous exercise. But if research indicates a beer-based sports drink is superior, Lean Machine could be onto something.
We asked several small and independent craft brewers about the idea of reformulating craft beer with lower alcohol content, additives (such as salt) and lighter flavor for use as an after-workout beer. Their reactions ranged from surprise to bemusement, and even to agreement.
Tim Cochran, who with his wife Carol owns the Horse and Dragon Brewing Company in Fort Collins, Colo., thought a bit before answering: "Why not just have a regular craft beer? It's 95 percent water."
Runner's World magazine seems to agree with him; an article titled "15 Great Post-Run Beers" can be found on its website—without a light beer on the list.
"You know what it reminds me of?" said Charles Finkel, the owner of The Pike Brewing Company in Seattle's historic Pike Place Market. "I'm a gardener, and at a show a friend of mine put a sign on a rose bush that read 'edible rose bush.' I said to him, 'All roses are edible.' He answered, 'I know that and you know that, but now everyone knows it.'"
Finkel paused before continuing. "Any beer is a great after-workout beer!" he chuckled. "And there's no reason for a brewer to put salt in beer. If someone wants salt in beer, they can put it in themselves." However, Finkel, who opened up the Belgian beer market in America 30 years ago and has seen just about everything in beer, wished the Canadian company the best.
Zorba Proteau, the head brewer at Rockslide Restaurant & Brewery in Grand Junction, Colo., liked the concept of an after-workout beer. He noted that session beers—an English term adopted for beers with lower alcohol content, which makes it possible to consumer more of them in a drinking "session"—are becoming more popular in craft beer circles.
Proteau, a self-professed science geek with a degree in biology, is also an avid mountain biker.
"Based on my own experience, after a hard ride, if I drink an American pale ale with about a five percent ABV, I think it replenishes my muscles better than a meal," he said. "But that benefit quickly diminishes if I drink more than one beer."
Beer's Health Benefits
Entwined in Lean Machine's business model is data that beer already does offer health benefits. Beer contains antioxidants similar to those that promote heart health. The polyphenols that help muscles recover also reduce cholesterol and ward off cancer. Beer lowers blood pressure and, because it contains calcium and silicon, promotes bone growth. And beer has been demonstrated to improve cognitive function and memory disorders.
The founder of Lean Machine is confident the product will come to market, especially after taste trials the company is currently conducting. He says, "Canadians know what good beer is."
He does have a point. The Brewers Association just announced that exports of U.S. craft brewers were up 49 percent in 2013, with the biggest market, Canada, accounting for 47 percent of total shipments. Conversely, with 80 percent of Canada's trade going to the U.S., Lean Machine could soon cross the border to a store in your neighborhood.
CraftBeer.com is fully dedicated to small and independent U.S. breweries. We are published by the Brewers Association, the not-for-profit trade group dedicated to promoting and protecting America's small and independent craft brewers. Stories and opinions shared on CraftBeer.com do not imply endorsement by or positions taken by the Brewers Association or its members.