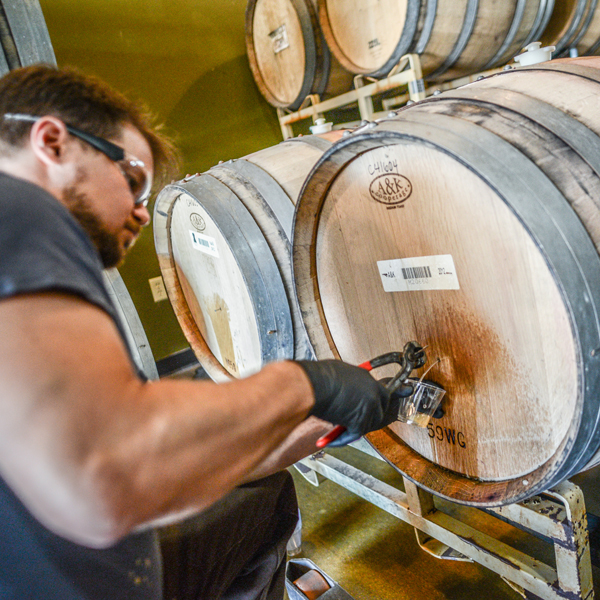 Aging Beer for Beginners: Buy and Stash These 5 Beers Now for the Holiday Season
If you're like me, aging beer for years and years requires a lot of will power (I can hear it calling my name from the cellar late at night). And truth be told, most beers aren't brewed to last that long; drinking beer as fresh as possible is one reason we seek out small and independent breweries.
But, there's nothing wrong with a little "Christmas in July" mentality — the idea of buying a beer this summer and stashing on the shelf for a few months until December. For beginning beer agers, it's the perfect amount of time. Not too much to drive you crazy, but long enough to notice how beers can evolve and improve – or at least change – over time.
(LEARN: CraftBeer.com's Big List of Beer Schools)
This is a motivating list for the rookie ager, a selection taken from around the country with a strong focus on obtainability, i.e. beers that are available now(ish) and distributed in multiple states. No matter your location, you should be able to find one or two of these easily, maybe more, and start experimenting with how aging can enhance your beer drinking experience. We recommend buying at least two: one to try now, one to save for later. Take notes on the one you drink now, and then compare it to your experience in December. Remember, aging is all a matter of opinion, so try to keep expectations to a minimum.
With any luck, next year you'll be ready to dig a little deeper and pony up for exotic beers that can stand to age a year or more. But for now, here's an early cheers to a great holiday season.
Tetravis | Sam Adams | Boston, MA
Sam Adams is known for many things in the world of small and independent beer, but, somewhat surprisingly, its Barrel Room Collection has gone under-appreciated. The shining star is the Tetravis, a 10.2% ABV Belgian-style quad brewed with molasses and notes of dark fruits, like raisins and figs.
It was last bottled in August of 2015 and June of 2016, so check the bottle when you buy it. Come the holidays, it could be about a year and a half or just about six months old. As it ages and develops, it takes on a tart spice thanks to its Belgian yeast.
(SEE MORE: Get to Know 75+ Popular Craft Beer Styles)
"Over time the spicy clove character from the yeast becomes more subtle which emphasizes the richer malt notes in the beer," said Sam Adams brewer Jennifer Glanville. "Flavors of figs, earthy molasses, toffee, cocoa, and dark fruits like cherries and black currents are predominant over the brighter characteristics when the beer is younger."
Pair it with: a sweet dessert, like s'mores, for a flavor complement or with a goat cheese for a flavor contrast.
Outer Darkness | Squatters Craft Beers | Salt Lake City, UT
Squatters describes Outer Darkness as the "biggest" beer they've ever made. Roasted barley, oak, molasses and licorice flavors form the base for this 10.5% ABV Russian imperial stout. A bit of the work has been done for you already. The most recent bottling was on June 6, 2016, so it will have a solid six months on it come December regardless of when you pick it up. Look for the plot to thicken – the forefront, reactionary tastes of booziness, bitterness and sweetness will mellow as the profile smooths out, allowing the individual flavors of the chocolate, coffee, licorice and molasses to take center stage.
Pair it with: bacon-wrapped dates
Hog Heaven | Avery Brewing Co. | Boulder, CO
There's some disagreement in the beer world about the effects of aging on Avery's Hog Heaven, which makes it a great case study for someone new to aging. Though officially coined an imperial red IPA, the subtext describes the beer as a "dry-hopped, barleywine-style ale."
Barleywines are typically some of the best beers to age because of their strong profiles and flavors and high-alcohol content. But Avery's unique twist with Hog Heaven — adding hops to make it an IPA-barleywine combo — creates a contradicting brew.
(BEER TRAVEL: Plan Your Next Beercation)
Extremely hoppy beers have a tendency to lose freshness, their best attribute, over time. Hog Heaven comes in with 100 IBUs, and the fact that hops play a big role in this beer's profile suggests that it might not benefit from long-term cellaring. But a few months is enough to make things interesting, and you should judge for yourself. For many, the mellowing of the hops character is a good thing, overcome by the gain in complexity from the ever-evolving barleywine.
Pair it with: smoked meat or cheese
Yeti Imperial Stout | Great Divide Brewing Co. | Denver, CO
Any wonder about whether this beer will age well should be answered by the fact that Great Divide has produced several subsequent barrel-aged versions of its Yeti Imperial Stout: Espresso Oak Aged Yeti, Barrel Aged Yeti, Chocolate Oak Aged Yeti and the Oak Aged Yeti.
Original Yeti is available all year round and will benefit from a little shelf time of its own — no oak barrel needed. According to Great Divide, it has a shelf life of one year and will improve up to that point. In a few months, the highly-present roasted malt qualities of a fresh batch will evolve into a taste more akin to chocolate, coffee and caramel. You can shorten or lengthen the time of aging in the future based on the balance you are looking to achieve.
Pair it with: rosemary potatoes au gratin.
Black Chocolate Stout | Brooklyn Brewery | Brooklyn, NY
Brooklyn will release its 2016 version of the Black Chocolate Stout in September, so keep an eye out for it after Labor Day. You won't have to wait as long to pop it open, but those few months of patience will pay off.
(COOK WITH BEER: CraftBeer.com's Recipe Finder)
"The Black Chocolate Stout is aged for almost two months before it leaves the brewery, but it emerges in September still a little boozy," said Garret Oliver, Brooklyn Brewery brewmaster. "At this age, it retains its original sharp elbows — an espresso-like roast character with chocolate notes in the background. By the holidays, though, those edges have started to soften. The alcohol is no longer obvious, the coffee-ish roast starts to trend towards dark chocolate, and the entire beer becomes more 'married' in its flavors."
Pair it with: vanilla ice cream
CraftBeer.com is fully dedicated to small and independent U.S. breweries. We are published by the Brewers Association, the not-for-profit trade group dedicated to promoting and protecting America's small and independent craft brewers. Stories and opinions shared on CraftBeer.com do not imply endorsement by or positions taken by the Brewers Association or its members.