To a majority of today's American beer drinkers, beer is as normal as apple pie. People have it in the house, at social gatherings like picnics with family and friends, at ballparks and at life celebrations such as Thanksgiving, Christmas, and weddings. It was not always so. Even after Prohibition was repealed, it cast a long shadow on beer. It took the end of a war and a famous, artistic decade-long ad campaign to convince a nation that "Beer Belongs."
Even After Prohibition, Negativity Toward Beer Lingered
At the beginning of World War II in 1941, eight years after passage of the 21st Amendment ending Prohibition, 7,700 jurisdictions in 12,400 local option elections voted to be dry. There even was a proposal in the U.S. Senate to ban alcohol from military training camps. It aimed to create "moral zones" that would outlaw alcohol and other "immoral" activities within 10 miles of the camps. Modern Brewery Age wrote, "The ghost of national prohibition has returned and will attempt to come to life under the guise of wartime need."
Prohibition activists were successful in promoting an unsavory general public perception that treated beer and distilled spirits with similar disdain.
"From the mid-19th century into the 20th century, beer came to be associated with the working man, who was drinking outside the home at a saloon or tavern," says Theresa McCulla, resident beer scholar at the Smithsonian's National Museum of American History and curator of the American Brewing History Initiative, a project supported by CraftBeer.com publishers the Brewers Association. "Temperance advocates were especially critical of saloons' popularity among the nation's many new immigrants. Criticism of saloons played an important role in leading to Prohibition."
(MORE: Heroes of the Brewhouse)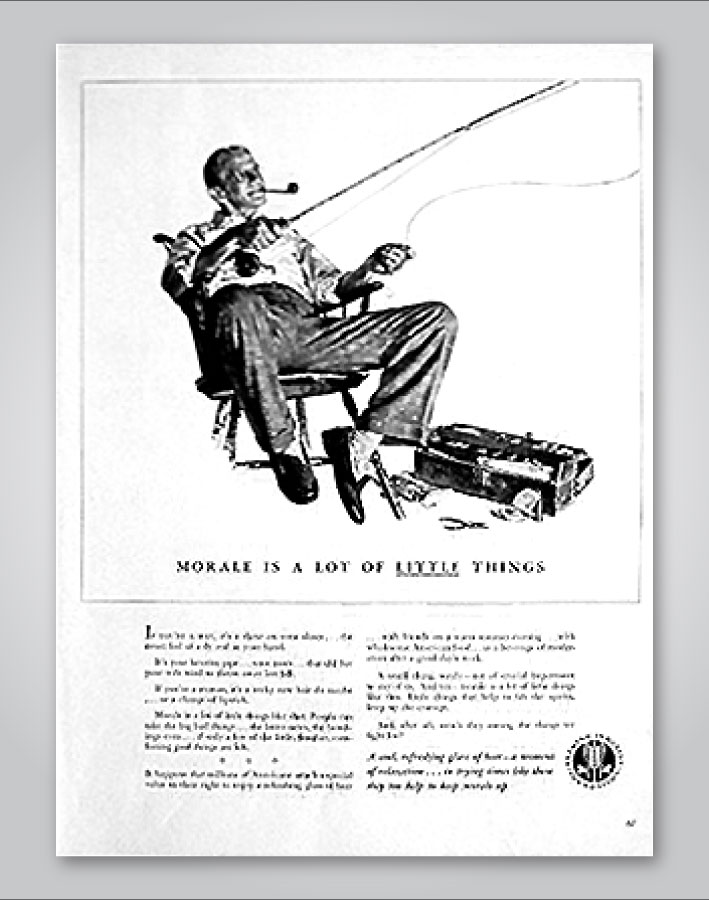 The Brewing Industry's Wartime Campaign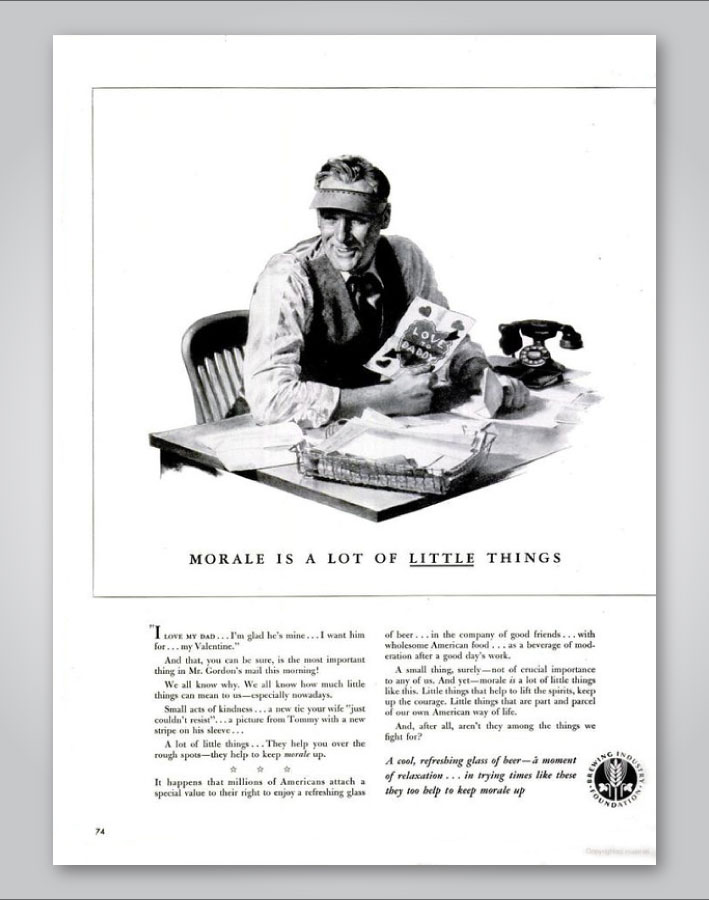 That perception continued into World War II while the country united behind the war.
The brewing industry's wartime campaign "Morale is a Lot of Little Things" appeared in widely distributed magazines. That included "Colliers", "Time", "Life", "Look", "Ladies Home Journal", and almost a dozen farm magazines. Many of these ads show everyday scenes such as a man exiting a barber's chair, a picnicking family, or someone fly fishing.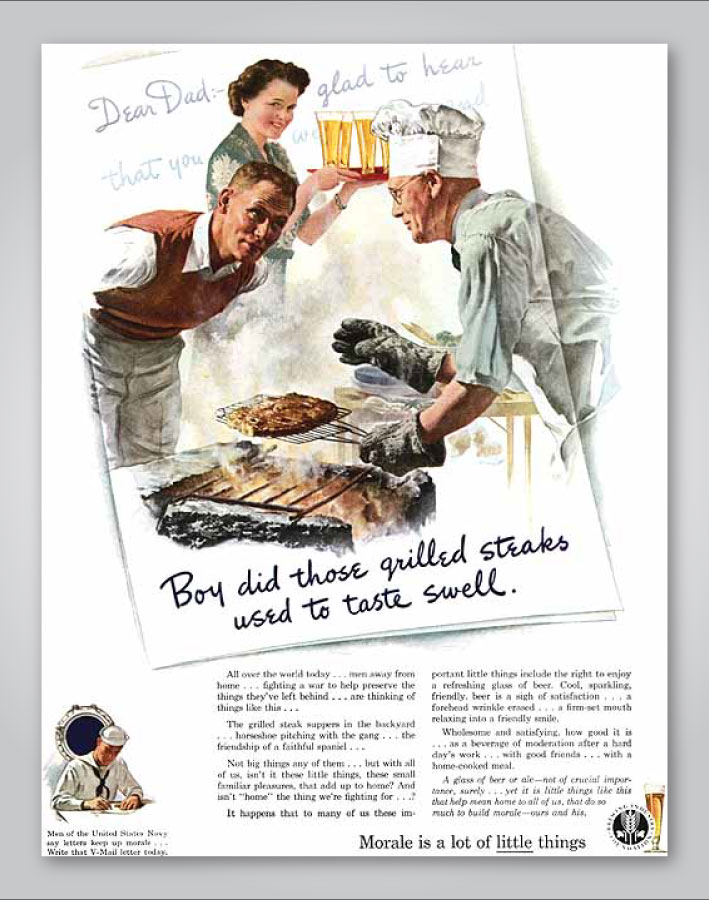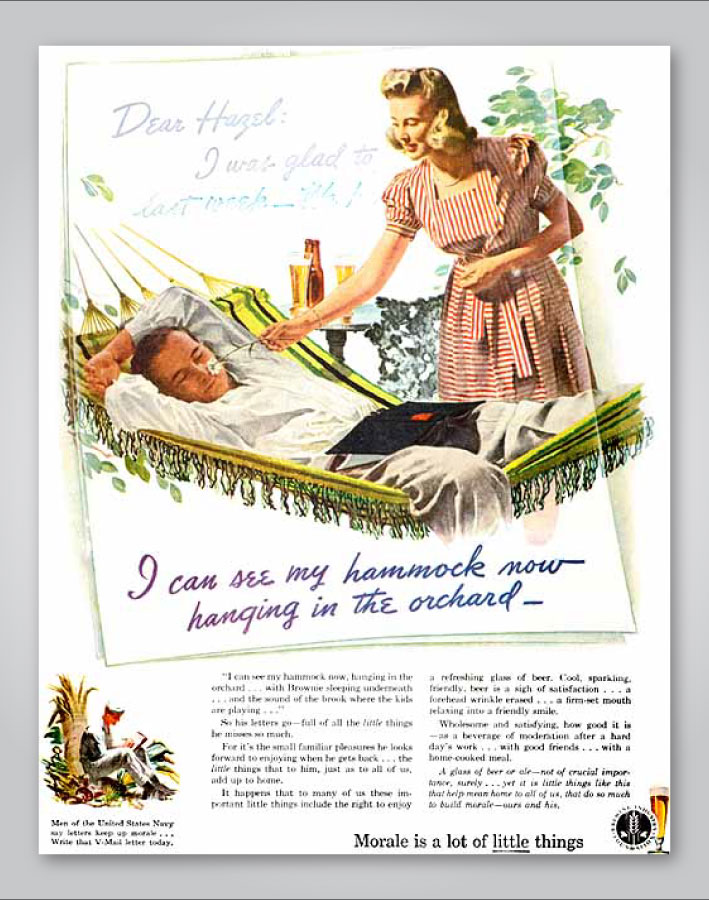 One frequent theme of the brewing industry's wartime campaign depicts a soldier, sailor, or marine in an inset picture writing home. The ad's central image shows him waxing nostalgically on activities such as lying in a hammock with his wife bringing him a beer, smelling the grilling steaks at a family barbecue, or fishing for trout. The implied purpose was to encourage writing to the troops, an effort for which the U.S. Army, Navy and Marines reportedly gave recognition to the United States Brewers Foundation.
The ads conjured up the small pleasures the soldiers were fighting for. The ads also described beer as "a beverage of moderation." And it ended with words similar to, "A glass of beer or ale — not of crucial importance, surely…yet it is little things like this that help mean home to all of us, that do so much to build morale–ours and his."
Making Beer Belong in America After World War II
In 1944, as the war entered its final year, companies started preparing and planning for post-war America. Brewers were well aware that the war years from 1941 to 1945 saw beer consumption grow from 56.8 million barrels to 80 million. Recognizing the war's end as a potential moment for re-imagining the role of beer in America, the Brewers Foundation hired J. Walter Thompson, one of the largest PR firms in the world, to develop an advertising campaign.
As expected, post-war America saw a huge increase in consumer spending as goods became more available. The GIs returned home, many having learned to like beer during their time in Europe, got married, bought homes and appliances, and moved to the suburbs.
In this environment, the PR firm conducted a national survey of beer consumption to provide a focus for its campaign. The study found, not surprisingly, that the majority of beer drinkers were men between the ages of 21-40. The study found non-drinkers supported Prohibition by about 60 percent. It also found that beer was neither socially acceptable nor suitable for home consumption. The firm understood that "The home is the ultimate proving ground for any product." And, "Once accepted in the home, it becomes part of established ways of living." So the "Beer Belongs" campaign was born. It was conducted through the major mass media magazines.
The Beer Belongs Campaign Uses Art to Change Perception
The Beer Belongs campaign served several purposes. The two most important: make beer socially acceptable so that it would become a part of American life, and to stave off efforts to resurrect Prohibition. A third purpose was to recognize women's roles as the purchasers and servers of beer in their homes.
Jim McGreevy, the president and chief executive officer of the Beer Institute (successor to the Brewers Foundation), says that the series "Home Life in America" was pivotal in changing perception of beer in America in the 1940s and 1950s.
"Whether being served while friends picnic on the beach or being the celebratory drink of choice after a marriage proposal, the images from this campaign made these and many other occasions synonymous with beer," McGreevy says.
(MORE: Form & Function: Brewery Visits with an Architect)
Campaign Hires Well-Known Artists to Create Idyllic American Scenes that Include Beer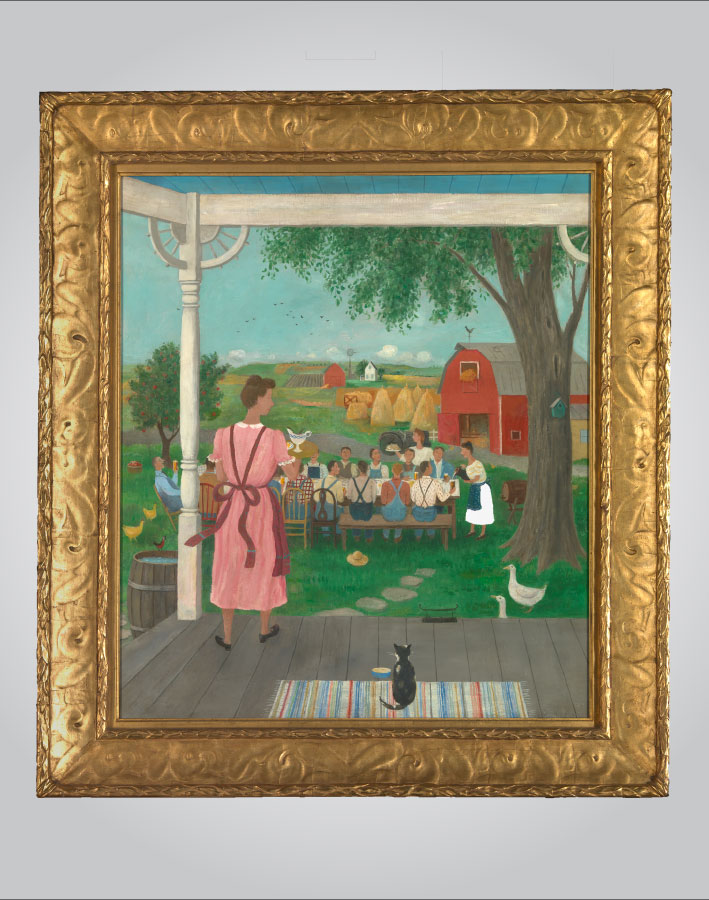 Commissioned art by renowned artists of the time was at the heart of the first series of the Beer Belongs advertisements. These notable artists include Lucille Corcos, Doris Lee, Julien Binford, Marianne Appel, Fletcher Martin and William Palmer. Their style ran the gamut from modern primitist to social realist and included a variety of painting techniques. Doris Lee's "Harvest Time" now hangs in the Smithsonian's Reynolds Center for American Art. It's one of the pieces that shows these works went beyond advertising art and went into museums and private collections.
Virginia Mecklenburg, chief curator, Smithsonian American Art Museum, notes that, "All of these were well-known artists whose names would resonate with readers." The participation of these artists helped to legitimize the campaign and generate interest.
The artworks depicted scenes of Americana — Midwest farms, a baseball game — while including beer as a part of the scene. Reinforcing text would read: "In this America of tolerance and good humor, of neighborliness and pleasant living, perhaps no beverage more fittingly belongs than a wholesome beer. And the right to enjoy this beverage of moderation…this, too, is part of our American heritage of personal freedom."
Each ended with "America's Beverage of Moderation" and, in large print: "Beer belongs … enjoy it."
The ads also offered, "Reprints of this oil painting, without advertising and suitable for framing," if a request was sent to the Brewers Foundation. The artwork was popular enough that people wanted to display it in their homes. One estimate of the number of requests is more than 100,000.
The reprints as well as the ads are readily available on eBay and Amazon for less than $20. A number of the original paintings currently are in the offices of the Beer Institute in Washington, D.C.
Second Series of the Beer Belongs Campaign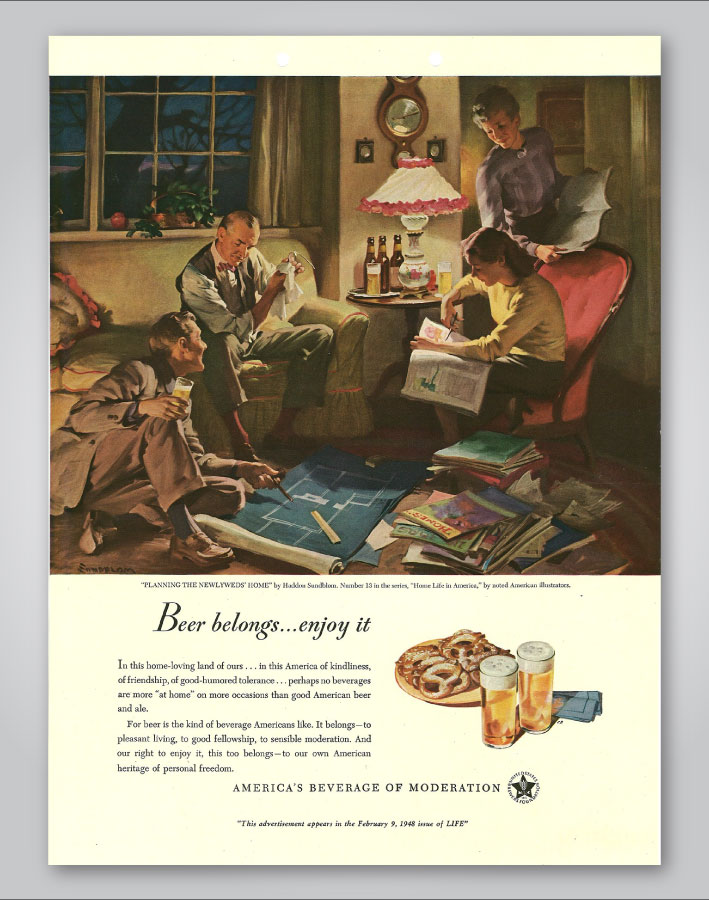 Artists in the second series included Douglass Crockwell and Haddon Sundblom. Sundblom is probably the best known of the artists, renowned for his other commercial artworks. He created the Quaker Oat Man, the smiling visage of Aunt Jemima and Coca-Cola's Santa Claus. This second ad series also included text supporting beer as a natural part of home life in America.
The illustrations convey typical American family activities — from bowling nights to weekends as the lake. Somewhere in the image, beer is on a table, in a cooler, on a serving tray, or in people's hands.
Haddon Sundblom's "Planning the Newlywed's Home" shows two older parents and their newlyweds looking over an architect's plan. There's a beer on a back table. Crockwell's "Thanksgiving Dinner" displays a dining room table with a huge roasted turkey while the gray-haired mother carries a tray with flutes of beer; his "Grandmother Hangs the Mistletoe" has much the same scenario.
(VISIT: Breweries in Historic Buildings)
A Reflection of the Times
The ads were a reflection of the culture and considered one of the great advertising campaigns of the era. For comparable perspectives in TV think "Adventures of Ozzie and Harriet," "Father Knows Best," and "Leave It To Beaver."
The artworks meant to change the perception of beer in American homes share core themes. The people portrayed all seem to be upper-middle-class or more. It was perhaps a tactic to provide inspiration and aspiration for others.
In most of these idyllic illustrations, there are equal numbers of well-dressed men and women. Men often wear suits with white shirts or sport jackets in home settings. Women generally wear dresses or long skirts. Like many of the advertisements in the pre-Civil Rights era, no minorities are pictured.
The series ended in 1956, but its combined effectiveness using fine art to reach the public certainly lingers today. Now, beer can be found in most homes, virtually any social setting and at life celebrations. Members of the 1940s-era Brewers Foundation who set out to show America that Beer Belongs would be proud.
CraftBeer.com is fully dedicated to small and independent U.S. breweries. We are published by the Brewers Association, the not-for-profit trade group dedicated to promoting and protecting America's small and independent craft brewers. Stories and opinions shared on CraftBeer.com do not imply endorsement by or positions taken by the Brewers Association or its members.