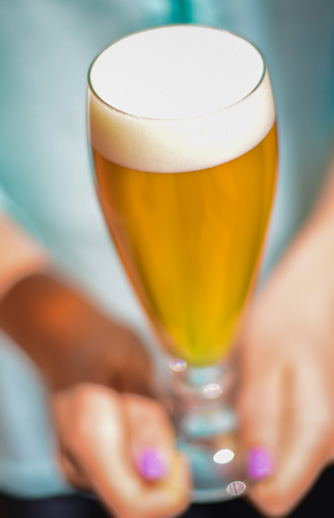 American Wheat Beers
Tyler Brown wasn't going for gold when he devised the American wheat beer that has earned his eastern Oregon brewpub a medal for five years running at the Great American Beer Festival. No, Brown was searching for something a little darker with his Shredder's Wheat.
"It was a weird way that that beer came about for us," said Brown, the owner and founding brewer of Baker City Brewing Co. "We would go up skiing on Thursdays with some brewery employees and we would look and see all these people sitting around with these pitchers of a dark-amber beer. We would ask the bartender, 'What the heck is everybody drinking?' And he goes, 'Oh, it's an amber bock. They just want something dark in color because it's winter, but they don't want anything that's really filling with a big body—they just want a really easy-drinking beer.'"
Though it took a while to convince Brown's customers at Baker City Brewing that a wheat beer could be something other than pale and cloudy, the concept eventually caught on. "It breaks that mold of people thinking, 'I don't like dark beer,'" Brown says. "Shredder's is dark in color, but it's still approachable. It's still an easy-drinking beer."
Weather the Heat with Wheat
Aside from Brown's winter-inspired winner, the American wheat beer is one of summer's ideal styles.
Traditionally pale yellow to gold in color beneath a frothy white head, American wheat beers are crisp and refreshing, with a relatively low 4 to 5.5 percent ABV. They are a wonderful gateway style for craft beer rookies, including even the most diehard loyalists to mass-produced light lagers.
At Funky Buddha Brewery  in Oakland Park, Fla., brand director John Linn says two of the company's three top-selling brews are wheat beers. The region's hot weather and historic lack of craft breweries create a thirst among consumers for something light. Funky Buddha's Cabana Boy Wheat Ale fits the bill with its crisp, clean character.
"It's a beer we can point to and say, 'Hey, if you're just dipping your toes in the craft beer pool, here's something that you can get into that's pretty approachable and easy to drink,'" Linn says.
An American Taste
Utilizing as much as 50 percent or more wheat malt in the grain bill, American wheat beers can have a distinct grainy quality. They range from moderately sweet to very dry, with a low to moderate hop bitterness and flavor. And despite the overwhelming nod toward lighter-colored brews, breweries such as Baker City prove that American wheat ales can thrive along a broad color spectrum.
Most importantly, though, American wheats should be free of the fruity esters (banana) and spicy phenols (clove) that are so prominent in their German-style hefeweizen counterparts. In typical craft beer fashion, America's small and independent brewers put their own unique stamp on the style, usually with strong conviction.
Take Gerald Wyman, head brewer for Gella's Diner & Lb. Brewing Co.  in Hays, Kan. Wyman's American Wheat Ale is a three-time Great American Beer Festival medal winner—including a bronze in 2012 and silver in 2013. Wyman attributes the success to his attention to detail in creating exactly what he thinks an American wheat beer should represent. Aiding in that process is a hand-picked yeast strain that Wyman chose to mimic the qualities of a lager yeast.
"I want my wheat beers to be clean, I want them to be balanced—in other words, I don't want them to be sweet at all, and I don't want them to be bitter," Wyman says. "I don't like sweet beer, and I don't like super-dry beers, and that's what a lot of brewers do with their wheat beers and some of their light lagers. I want the wheat flavor in it and I want the light hops in it to come through."
Fruit-Infused Flavors
Wheat ales also make a great base for imaginative infused brews that often include fresh, local fruits and vegetables, herbs, flowers and other flavorings.
"I just think they naturally lend themselves to be a warm-weather, summer kind of beer," said Mark Johnsen, founder of RJ Rockers Brewing Co. in Spartanburg, S.C. "The wheat part in it, per se, is fairly neutral-tasting, so anything you add to it is really going to pop out."
For Johnsen and RJ Rockers, the "pop" comes in the form of fresh South Carolina peaches in their wildly popular Son of a Peach Wheat Ale.
About six years ago, Johnsen decided the stone fruit—symbolized by the "Peachoid," a 135-foot-tall water tower along Interstate 85 in nearby Gaffney, S.C.—would be the perfect signature ingredient for a new spring/summer seasonal. It caught such fire along the Eastern seaboard that Son of a Peach quickly evolved into a year-round product and currently accounts for 60 percent of Rockers' overall sales.
"I guess you could say it was inspired, in part, by the Gaffney Peachoid," says Johnsen, who now produces a 9 percent ABV version of the beer, called Peachy King. "We were driving down the highway one day and looked up at it and the light bulb went on: We produce that much peach, why shouldn't we make a peach beer if we're in South Carolina? It was very well-received and it's our most popular beer."
Funky Buddha, meanwhile, has made a name for itself not only with beers like Cabana Boy but also a slew of specialty offshoots that scream "South Florida!" Set to be released in late July 2014 is the annual summer seasonal Blueberry Cobbler Ale, made with fresh blueberries, real vanilla beans and imported cinnamon. Pina Colada Wheat Ale, Ginger Lemongrass Wheat Ale and Cucumber Jones Wheat Ale are also among Funky Buddha's many popular special-release brews.
Linn explains that Funky Buddha strives to produce bold yet balanced, drinkable specialty and fruit-infused beers, and it helps to start with a wheat ale. "It's a nice base beer that's light and not too obtrusive," he says. "You can really do a lot with it and allow other ingredients to shine through."