Some beers just can't seem to get respect. Bière de garde is a beer style that enthralls brewers even while confounding them in how to get consumers to try these brews. Much like its sister farmhouse ale, the Belgian-style saison, bière de garde is better known to European drinkers than to American craft beer lovers, making it challenging to market.
Unlike saisons, however, bières de garde have yet to make it onto the modern beer lover's rotation of beers that are more prominently featured in craft beer circles. Even the "Oxford Companion to Beer" seems to dis the style, calling bière de garde "the only widely acknowledged French contribution to specialty brewing." Ouch!
(READ: 10 Peanut Butter Beers You'll Crave)
Traditionally brewed in the Nord-Pas-de-Calais (Flanders) region of France, a classic bière de garde is amber in color with a malty sweetness and "earthy" quality. As with many other beer styles, however, America's small and independent brewers are putting their own unique spins on their versions of these "beers for keeping," which tend to be slightly higher in alcohol (6-8.5% ABV) and drier than other farmhouse ales and were originally brewed during the spring to age for summer drinking.
Bière de garde may not get the spotlight like the ubiquitous IPA, but this is a style you'll come to love as much as the brewers who make it do.
New Twists on an Old Style
Every beer has a story, but it takes a leap of faith to make a bière de garde.
Kersteriode | Other Half Brewing Co.
"We don't make that much of it because it will never be as popular as IPA or imperial stout," says Sam Richardson, owner of Other Half Brewing in Brooklyn, NY, which is quickly becoming among the "must have" IPA breweries in the northeast. Their IPAs are typically canned at the brewery on Friday, with queues on Saturday rivaling an iPhone release.
At 10% ABV their Kerstperiode — a seasonal bière de garde they brew in November for the winter holidays (Kerstperiode is Dutch for "Christmas Season") — is a big, boozy winter beer that is darker than a traditional bière de garde. Thus far, Other Half is only releasing it in kegs, in part because it's not a top seller for the brewery. "All we can do is hope people will give it a try, but if we never make a lot of it, that's okay, too."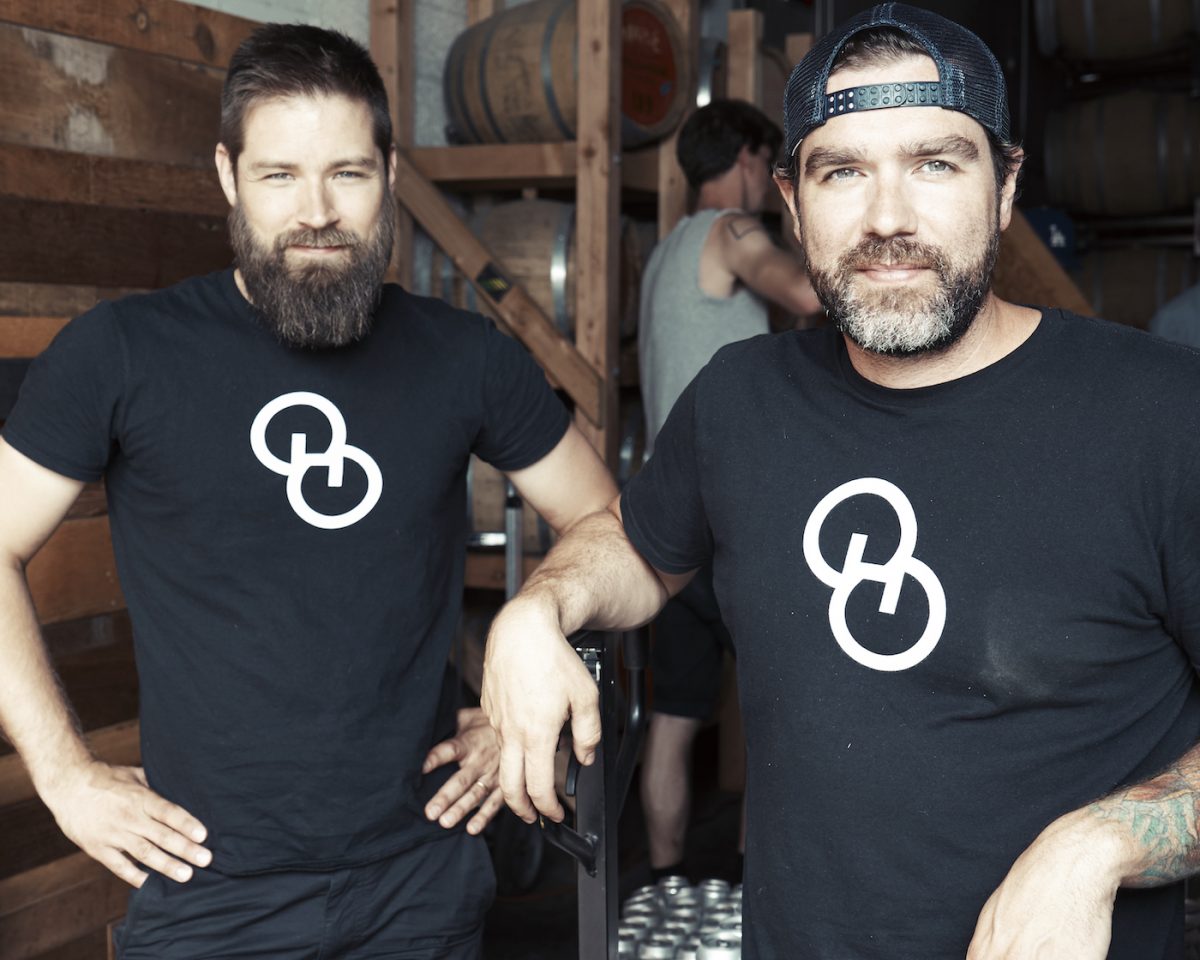 Scratchin' Hippo | Adelbert's Brewery
The brewers at Adelbert's Brewery in Austin, TX, have it a bit easier since their brewery is already known for making Belgian-style, bottle-conditioned beers. Nevertheless, the microbrewery uses a great story and a bit of bait-and-switch on the marketing of their bière de garde, Scratchin' Hippo. The 6.9% ABV brew uses La Chouffe (Brasserie d'Achouffe) yeast and ferments at warmer saison-friendly temperatures.
Named in memory of owner and brewmaster Scott Hovey's brother, George Adelbert "Del" Hovey, the brewery came up with the idea for Scratchin' Hippo from one of Del's crazy life stories. Having spent some time in Kenya, Del once told a tale about the night he and his wife were woken up by an "earthquake" vigorously shaking their house. "Del popped his head outside only to find a hippopotamus scratching its body along the side of the house," Scott recalls. Thus, a beer name is born.
A different approach on convincing the public on the merits of bière de garde is to give them the beer before they ask for it.
(READ: Solera Brewing in American Craft Beer)
Biere de Garde | The Commons Brewery
And like saisons, bières de garde pair extremely well with food. In fact, The Commons Brewery (Portland, OR) used food as an inspiration to create The Commons Brewery Biere de Garde, which had its 2012 launch party at Portland's Cheese Cave and was the style requested by the latter company's owner and cheesemonger, Steve Jones. The more sessionable ale (only 5.3% ABV) is also more malt forward than most of the brewery's other farmhouse ales, offering sweetness to complement sharper foods such as aged cheeses.
Head brewer Sean Burke considers Bière de Garde a great fit for The Commons Brewery. "Our main focus is on farmhouse/saison-type beers, and we brew a few different bières de garde throughout the year, ranging from a blonde version to a lower alcohol version, to the more widely available Ambree offering." Sean admits that his influences came from hard-to-find French bières de garde from Brasserie Duyck, Brasserie Castelain and Brasserie Theillier, among others.
Old Guard Biere de Garde | Service Brewing Co.
"When I'm at an event with two beers to pour, I force them to drink the bière de garde before they have a chance to ask for something else," admits Kevin Ryan, CEO of Service Brewing Co. in Savannah, GA, whose brewery's Old Guard Biere de Garde was recently featured at SAVOR, the Brewer Association's food and beer pairing celebration that takes place annually in Washington, D.C.
Service Brewing Co. prides itself on two things: using local ingredients and honoring veterans (the label of Old Guard Biere de Garde features the first female to join the Old Guard military unit, which keeps watch at the Tomb of the Unknown Soldier, among other stations). As for the local ingredient, their beer uses 1/4 pound of Savannah Bee Company honey for every gallon of bière de garde brewed. However, the style itself was almost an afterthought for the company.
"The yeast came first," explains Kevin. "We harvested it from a small apiary we keep at the brewery. It had a lot of Belgian qualities, so we thought it would work either with a saison or a bière de garde. Everybody makes saisons, but there's not that much bière de garde out there."
(READ: Revolutionizing the Future of Chocolate Beers)
BdG1 | Transmitter Brewing
Citing a nearly identical list of influences is another brewery specializing in farmhouse ales, Transmitter Brewing (Long Island City, Queens, NY). Brewer-owner Anthony Accardi says, "Some of the first beers that I remember having were basically European beers that were hard to find. They had this certain intriguing 'cellar corked' flavor that I really like. The idea for our BdG1 is to try to get back to that somehow." The brewery also produces a barrel fermented bière de garde (BdG2) and a seasonal spiced version (BdG3) in the fall.
Transmitter Brewing's BdG1 bière de garde is a 7.1% ABV ale that gets its "earthiness" from a large amount of buckwheat. Nearly 25 percent of the grain bill is made up of buckwheat, which the brewery sources from a Colorado malting facility. Vienna and Pilsner malts even out the flavor, along with a modest hops bill of Noble varietals.
"When I was growing up, my grandmother made all her own bread," Anthony reminisces. "Sometimes we could convince her to make buckwheat pancakes, which had to be prepped the night before because they were yeasted. So there definitely is some memory association that makes me happy about this beer."
Almost sounds like it could be the start of a very long, very famous French story about recalling one's entire childhood with a single bite of food.
Or, in this case, a sip of bière de garde. Proust's favorite madeleine is optional for dunking.
CraftBeer.com is fully dedicated to small and independent U.S. breweries. We are published by the Brewers Association, the not-for-profit trade group dedicated to promoting and protecting America's small and independent craft brewers. Stories and opinions shared on CraftBeer.com do not imply endorsement by or positions taken by the Brewers Association or its members.