Peanut butter is one of those addicting foods that people just can't seem to get enough of, so it makes perfect sense to combine that creamy, salty, sweet goodness with beer. We know you find them irresistible because you also couldn't get enough of our 2016 peanut butter beers article, "Nostalgia in a Glass." We decided to dig up 10 more breweries making awesome peanut butter beers.
Described as "comfort food in a can," Back Forty's Peanut Butter Porter is made with all natural peanut butter extract and brewed with crushed peanuts.
Catawba Brewing's Peanut Butter Jelly Time is a recreation of your go-to childhood lunch. This specialty brown ale is aged for weeks on raspberries and roasted peanuts.
(READ: Movie Inspired Beer Names and the Stories Behind Them)
Bourbon Barrel Traxxx Night Fury is a heavy hitter weight in at 13.5% ABV. Not only is the imperial stout aged on peanut butter, but also coconut, vanilla beans, cacao nibs, and of course, bourbon.
You'll find flavors of coffee along with the peanut butter in Dangerous Man Brewing's Peanut Butter Porter. Recommended food pairings include Thai food, curry dishes and desserts.
(INFOGRAPHIC: How to Choose the Right Beer Glass)
Peanut Butter Porter from Liquid Mechanics combines the sweetness of the peanut butter with the slight smokiness of the porter. Enjoy this silky smooth brew with flavors of a classic peanut butter cup.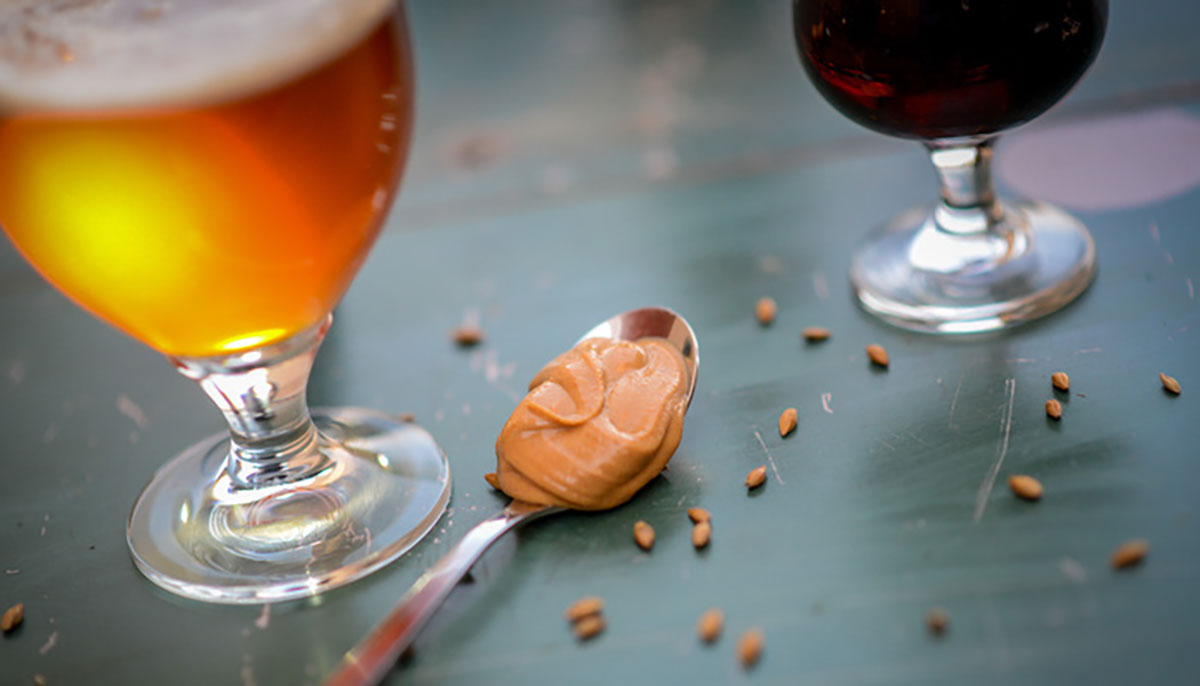 Nut Crusher Peanut Butter Porter is compared to a liquid peanut butter cup. A lower ABV than the rest of the bunch (6% ABV), it has notes of caramel and chocolate to go right along with the peanut butter.
Gnarly Barley takes its base beer, Korova Milk Porter, and adds a silky peanut butter touch to create the Peanut Butter Korova Milk Porter. The 6.2% ABV baltic oatmeal porter is full of chocolate and peanut butter notes and comes complete with a smooth finish.
Rich peanut butter is added throughout the brewing process in the Chocolate Peanut Butter Stout. A super intense chocolate flavor comes from two types of chocolate malt, raw cacao nibs, and then being aged on cacao nibs.
(VISIT: Find a U.S. Brewery)
Kick your peanut butter fix up a notch with this Mexican Chocolate Peanut Butter Stout. Belching Beaver's highest rated beer, this stout has flavors of cinnamon and coffee that compliment the peanut butter flavor.
Absence of Light is a creamy stout brewed with peanut butter and chocolate malts. With a balanced sweetness, you'll also find flavors of roasted coffee and caramel malts.
CraftBeer.com is fully dedicated to small and independent U.S. breweries. We are published by the Brewers Association, the not-for-profit trade group dedicated to promoting and protecting America's small and independent craft brewers. Stories and opinions shared on CraftBeer.com do not imply endorsement by or positions taken by the Brewers Association or its members.