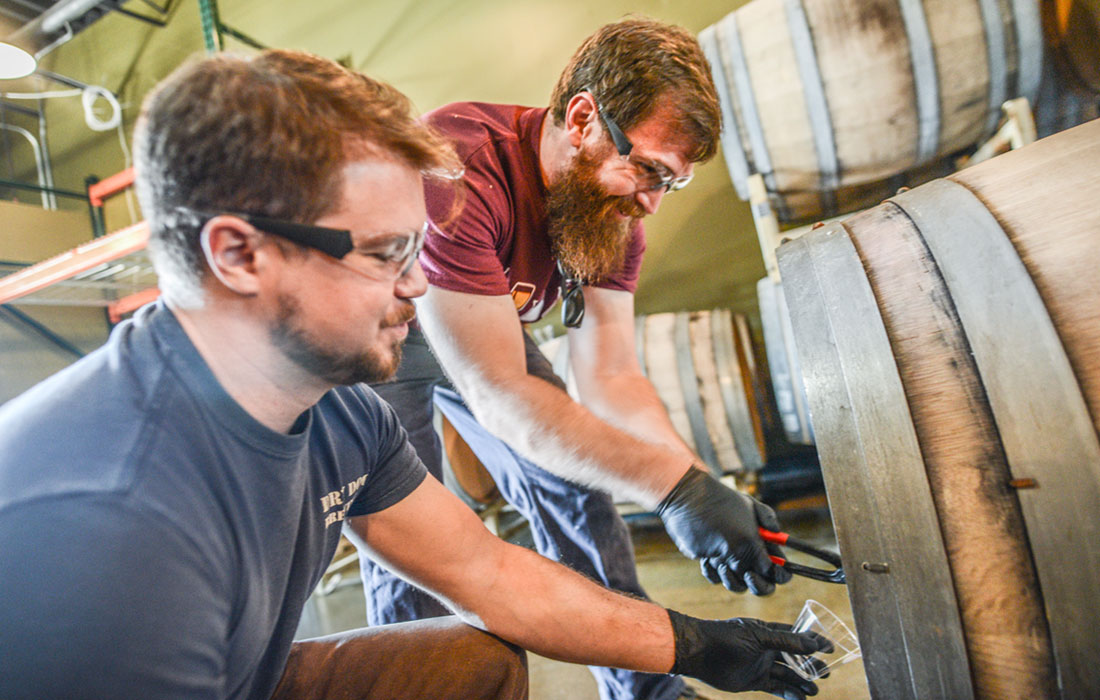 Brewers Find Bold Beer Flavors in Barrels Beyond Bourbon
The number of craft breweries with some level of barrel aging program has risen dramatically over the past decade, with most gravitating toward used whiskey casks, particularly bourbon, to add new oaky, vanilla and boozy flavor elements to select batches. But whiskey certainly is far from being the only game in town, especially as brewers experiment with oak containers that previously held everything from brandy to Italian-style amari.
Placentia, California's, The Bruery has been among the leading innovators in that space. In addition to bourbon, Scotch and rye whiskey barrels, the company has used rum, brandy and tequila barrels, as well as casks that were once home to fortified wines like port and Madeira.
(MORE: Coolship Fever in American Craft Brewing)
A few years back, The Bruery released Sucré, its sixth-anniversary ale, in various barrel-aged iterations, including rum and Madeira. The now-retired 16.9 percent ABV English-style Old Ale was blended using the solera method, a traditional practice in blending sherry where fractions of liquid from younger barrels are merged with small portions from older ones.
Strong, bold brews like Sucré — French for "sugar," as "sugar" is the traditional sixth-anniversary gift — are the ones that hold up best in rum barrels.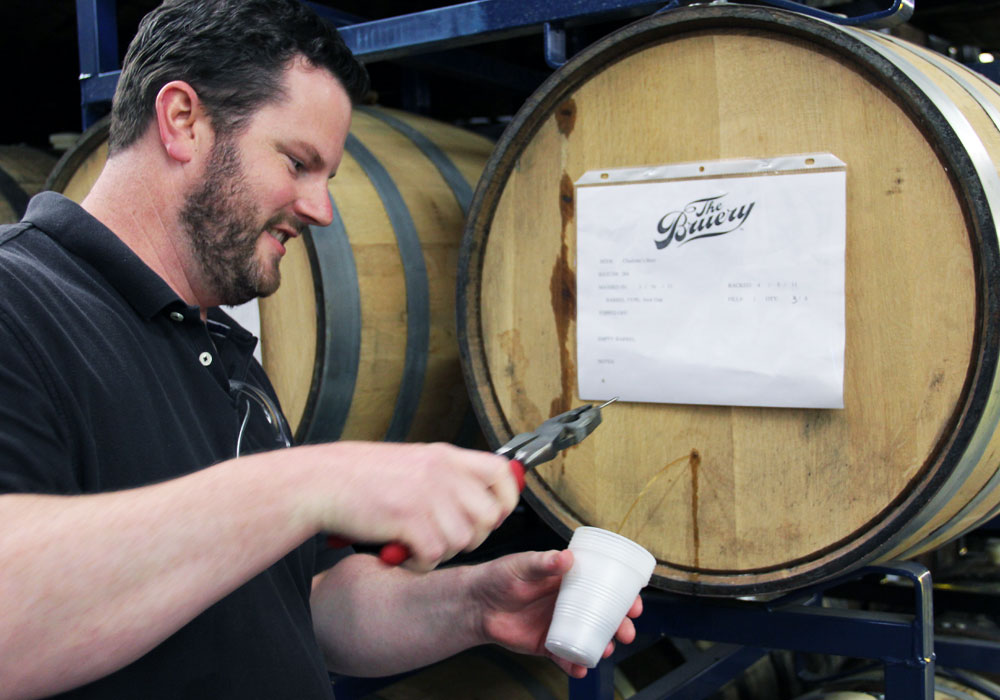 "You get some of the richness from a dark aged rum, some of that sugar cane flavor," says The Bruery founder Patrick Rue. "Sometimes it can come off a little like airplane modeling glue, it can be super hot — it's really dependent on the distillery. I've had some rum barrel beers that were really nice and some that were not really nice. A really assertive beer generates the best results."
Rum barrels also worked quite well with The Bruery's 19.7 percent ABV Black Tuesday imperial stout. Madeira casks were also a good match for those hefty beers, imparting a bit of a burnt raisin flavor, an unusual note for a barrel to deliver.
Port barrels, meanwhile, add hints of dried plum and other dark fruits. One year in the wood tends to be the standard for The Bruery, though its Chronology series features beer that's been racked at six, 18 and 24 months, in addition to 12 months. "Some are best at six months, some at 12 months and some at 24 months."
(MORE: Mind-Blowing Beers Made with Barrel-Aged Coffee Beans)
Even more out of left field was Fort Collins, Colorado, based Odell Brewing Co.'s Fernet Aged Porter, a limited release that spent some time in wood that once held Leopold Bros. Distillery's riff on the dark, opaque herbal Italian amaro. Known for its minty, licorice-like flavor profile (in addition to hints of other botanicals like lavender, honeysuckle and ginger root), fernet brought a kind of Good 'n' Plenty-crossed-with-Andes-Candies dimension to the 9.8 percent ABV roasty, chocolaty porter.
While fernet, Madeira, port and rum all typically spend varying lengths of time in wood, one doesn't traditionally think "oak-aged" when talking about gin. Most gin is unaged, but an increasing number of barrel-matured gins are on the market, combining the woody elements with the juniper-forward spirit's mix of botanicals — which, in turn, leave their imprint on the oak. And, once those barrels are empty, many brewers have been quick to get their hands on them.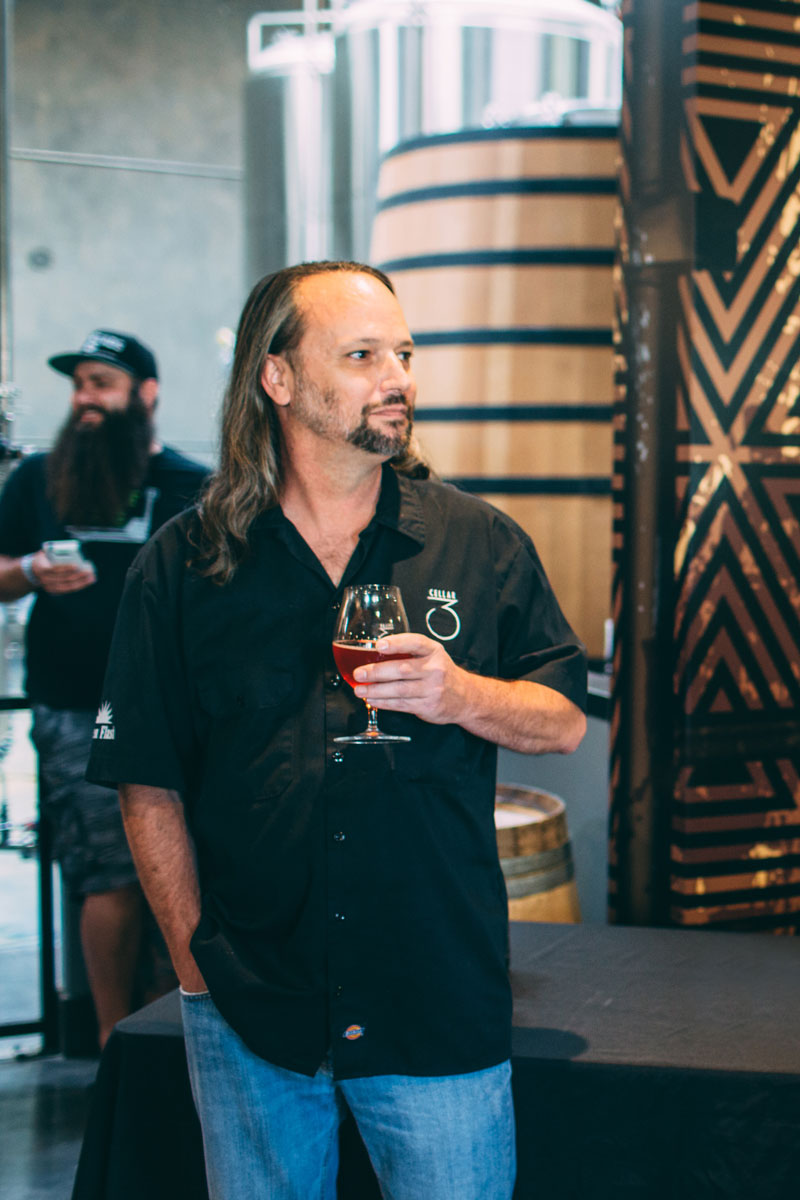 San Diego's Green Flash Brewing was among them, using those erstwhile gin vessels to flavor Divine Enebro, the third in its limited-edition Cellar 3 Barrelmaster's Reserve series. Green Flash found that the fruity esters and gum drop flavors of its Belgian-style tripel would pair well with the gin botanicals.
Barrelmaster Pat Korn found further inspiration in fellow San Diegan Old Harbor Distilling Co.'s San Miguel Southwestern Gin, which marries Southwestern flavors like cilantro and cucumber with the more traditional botanicals.
"I wanted to incorporate those flavors into the beer," Korn says. "To do this, we added cucumber, juniper berries and coriander in a large hop sack, racked the beer onto this and kegged it off when we felt the botanicals had reached their peak in integration and flavor."
Distillers Get a Flavor Boost from Beer Barrels
Distiller-brewer collaborations are now proving to be anything but one-way transactions. Just as craft breweries are reaching flavorful new heights aging in spirits barrel, distillers are realizing they can enhance their own products in vessels that once held beer. Across the pond, Jameson last year unveiled its Caskmates series, whose blends incorporated some of the iconic Irish whiskey matured in barrels that previously held beers brewed by some of Ireland's craft brewers.
Closer to home, Louisville, Kentucky, based craft brandy distiller Copper & Kings recently kicked off its Cr&ftwerk project — the ampersand is a core element of the company's branding — a series of brandies aged for a year in beer barrels.
(LEARN: CraftBeer.com's Big Glossary of Beer Words)
Copper & Kings already had been partnering with brewers that were aging beer in its brandy barrels before the distillery launched the project to do the reverse.
Chico, California's, Sierra Nevada, Munster, Indiana's, 3 Floyds, Longmont, Colorado's, Oskar Blues and Louisville's Against the Grain Brewery are among the breweries that have supplied barrels for the Cr&ftwerk line.
The distillery released a brandy aged in wood that previously held 3 Floyds's Dark Lord Russian imperial stout, which infused the spirit with malty, dark chocolate and coffee notes.
"The easiest to use are the imperial stouts," notes Copper & Kings founder Joe Heron. "There's a lot of dark chocolate and it's very viscous, which retains really well in the barrel."
Copper & Kings's partnership with Sierra Nevada has so far resulted in two distinct products. One used Sierra's Imperial Smoked Porter barrels, imparting strong vanilla and malt flavors, with hints of smoke. There's even some noticeable hop character. Sierra's Cherry Chocolate Stout served as the basis for another, producing a brandy with flavors of baked cherries, chocolate toffee and a nose of dried cherry and cacao nibs.
"We've always been inspired by craft brewers — that authenticity, that creativity, that imagination and just that ability to think differently." Joe Heron, Copper & Kings
Oskar Blues's G'Knight and Deviant Dale's brought, as you would expect, plenty of citrusy, grapefruity hop character to the brandy. Against the Grain's Mac FannyBaw, a rauchbier that attempted to replicate the flavors of a peaty Islay Scotch whisky, brought some of that smoke to the brandy, as well as a touch of salinity.
The spirit typically enters the wood at 130 proof (65 percent ABV) to ensure maximum beer flavor extraction. It's not chill-filtered, as that process would strip out some of the desired flavor. It's then bottled at 111 proof (55.5 percent ABV).
"Brandy is quite a promiscuous spirit," notes Heron. "It takes on flavor very quickly and maturation has to be managed quite carefully. If you leave it in new American oak too long, it gets very oaky."
As the number of craft distilleries in the U.S. grows and the players within the segment diversify beyond bourbon and other whiskeys, expect to see more of these alternative barrel collaborations between small brewers and spirits makers. There's plenty of innovation on both sides, so it would be a shame for each not to mine the talent of the other from time to time.
"We've always been inspired by craft brewers — that authenticity, that creativity, that imagination and just that ability to think differently and inspire people to drink differently," says Heron. "That's why we started the Cr&ftwerk project and started working with brewers in that way. It was more than, 'It'll be cool to age in craft beer barrels.' We were much more reverential and deferential to the philosophy of great craft brewers."
CraftBeer.com is fully dedicated to small and independent U.S. breweries. We are published by the Brewers Association, the not-for-profit trade group dedicated to promoting and protecting America's small and independent craft brewers. Stories and opinions shared on CraftBeer.com do not imply endorsement by or positions taken by the Brewers Association or its members.