When we think of barrel-aged beer, we usually think of beer that's been brewed and then left to age in whiskey or wine barrels. But a few brewers are putting a new twist on that and spinning things around the other way: Introducing a beer, brewed with barrel-aged coffee beans.
If you're not into coffee, you may not have heard of such a thing, which has taken flight in coffee houses across the country. Barrel-aged coffee is actually aged before it is brewed. Before they are roasted, coffee beans are green and very susceptible to their environment. In other words, they soak up aromas like a sponge. Traditional coffee makers do everything they can to limit green bean exposure to foreign flavors, but in this case, they are intentionally exposing it to something they deem favorable: oak barrels. The beans absorb the flavors of the barrel, both the oak and whatever was in the barrel previously, typically wine or whiskey. After a period of aging, they are roasted as usual.
(MORE: Big Beers to Keep You Cozy This Winter)
Just in the last year or two, breweries have begun to use these beans to make coffee beers. At present, Montavilla Brew Works in Portland and Modern Times Brewery in San Diego are two of a very small group of breweries nationwide experimenting with barrel-aged coffee. Our research revealed only three doing it extensively, the other being Middle Brow Brewing of Chicago. Modern Times ages and roasts its own beans in-house. Middle Brow and Montavilla partner with local coffee roasters for their barrel-aged beers.
Portland's Second Favorite Thing (After Beer) Is Coffee
Montavilla's Bipartisan Porter, brewed in partnership with Bipartison Café, uses barrel-aged beans from local roaster Water Street Coffee. Founder/Brewer Michael Kora said the idea was sort of a natural one, a tribute to the morning and nighttime rituals of the city. When he discovered the neighborhood coffee shop was doing the new thing in coffee, he wanted to make it the new thing in beer.
"Heading into fall, we wanted to brew something special for the dark season," said Kora. "In Portland, the only thing bigger than coffee is beer, so we wanted to blend those two together."
The beans were aged in an oak barrel that had aged a pinot noir wine previously. Once roasted, the beans were cold brewed to reduce acidity and the barrel-aged coffee was added to the porter at the very end of the brewing process to cut down on the bitterness. Kora said the Bipartison Porter was widely successful and called it a "huge hit."
"The flavors are distinct," Kora said. "There's concord grape and pinot in there and the oak is a supporting player. They all blend so well together with the porter, and we cold brewed it so you get a nice big aroma from the coffee."
(MORE: 8 Barrel Aging Life Lessons)
"It's Blown People's Minds"
Though the idea came naturally for Montavilla in a coffee and beer-loving city like Portland, it was even more logical for Modern Times in San Diego. It operates as both a brewery and a coffee roaster — that's been its business plan since day one — so once the coffee side of the business started experimenting with barrel-aged beans, it didn't take long until they decided to throw some into a batch of beer.
"The idea came very naturally the first time we tasted barrel-aged coffee and decided to make some ourselves," said Founder Jacob McKean. "We just combined the two things we make in the same building."
Both Kora and McKean expressed some initial hesitation throughout the experimentation process, wondering whether the detailed flavors of a barrel-aged coffee would survive the brewing process and show up in the beer.
"Their eyes get really wide and they say something like, 'Whoa. That's incredible.'" ~Jacob McKean, Modern Times Beer
"We had no idea going into it if the barrel character of the coffee would translate to the beer, but it did, in a big way," said McKean of his bourbon barrel-aged coffee stout, City of the Dead. "It's not a subtle aroma or flavor. It has strong notes of the barrel it was aged in along with a really amazing toasted marshmallow character. It would be impossible to mistake a beer made with barrel-aged coffee for a beer made with non-barrel-aged coffee."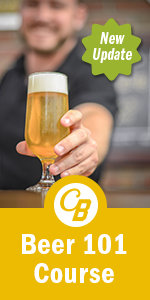 Like the Bipartisan Porter, City of the Dead was met with extreme regard. McKean said they brewed it using whole beans and have found that this the best way to add coffee to beers.
(READ: 12 Beers of Christmas)
"It's blown peoples' minds," said McKean. "The very concept of barrel-aged coffee is totally alien to most people, and the idea that it could influence a beer so much is just completely baffling at first. Then they smell it and taste it, and it's like coffee beer from a different universe. Usually, their eyes get really wide and they say something like, 'Whoa. That's incredible.'"
Though this concept will not become a style in its own right — it will live under the arm of coffee beers — it will be fun to see the combinations brewers can come up with as coffee roasters continue to experiment with wine and whiskey barrels. You can be sure that there are more brewers out there playing around with this, and if there's not, there will be soon, given the success the pioneers have found. Talk to your local brewers to see if they have something in the works. If not, maybe you can convince them.
"Coffee beers have a lot of potential to grow," said McKean. "I love seeing coffee and beer geekdom growing in tandem, and there's a lot of crossover in the people who get really into them. So I see the relationship continuing to deepen."
CraftBeer.com is fully dedicated to small and independent U.S. breweries. We are published by the Brewers Association, the not-for-profit trade group dedicated to promoting and protecting America's small and independent craft brewers. Stories and opinions shared on CraftBeer.com do not imply endorsement by or positions taken by the Brewers Association or its members.