Breweries today are sprouting from coast to coast and everywhere in between. New construction or development always has an environmental impact, and breweries are no exception. However, craft breweries—both new and old—are keeping a close watch on their impact and are doing what they can to keep their environmental impact as minimal as possible.
Many craft breweries have become aware of the footprint that their businesses have on the planet, and they have taken conscious steps to ensure the least environmental impact possible—even if it means spending a little extra to find alternatives in the brewing process.
Mother Earth Brewing | Kinston, NC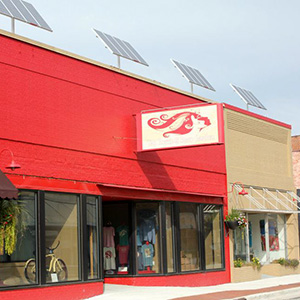 You can't have a compilation of environmentally-aware breweries without the likes of Mother Earth Brewing. They live up to their name, as they have the distinction of being named the first Gold LEED (Leadership in Energy and Environmental Design) brewery in February 2013. Gold is the second-highest LEED certification available under a point-based system where you earn more points the more eco-friendly projects you complete.
Gold status is something that founders Stephen Hill and Trent Mooring have been striving for since the brewery's beginning back in 2008. "Going green with the brewery was a choice we made to create the smallest footprint we could," says Hill. "Becoming Gold LEED certified was just an affirmation of our commitment to Mother Earth."
Mother Earth Brewing out-greened everyone else by having solar panels installed, fitting the bathrooms with eco-flush toilets which save hundreds of gallons of water every year, and even using eco-friendly carpet for the building.
Hill explains the brewery's motivation for long-term green success by stating: "Doing things that are right for the environment is the best choice for us and our children."
Little Harpeth Brewing | Nashville, TN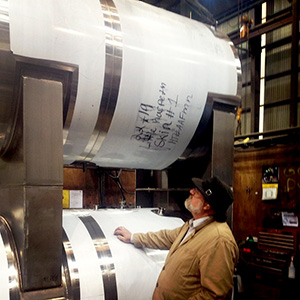 Little Harpeth Brewing, near the Cumberland River in Nashville, is very resourceful in trying to become as green as possible. Emphasizing the second R-word in the slogan "reduce, reuse, recycle", founder Michael Kwas explains the lengths he went to when building the brewery offices.
"We built our offices from wood and electrical parts we reclaimed from the demolition of the prior offices that were in our space," says Kwas. "The only items we threw away were the bent nails and drywall. We reused all the wiring, and what was left over we stripped and sold back to a metal scrap yard. We hate trash and landfills."
Besides making sure that as many items as possible are reused, Little Harpeth reduces it energy output in a unique way. The brite tanks its brewers use to hold beer are horizontal submarines that cut down the fall time for the yeast during the conditioning step, saving days in the process — which translates to reducing electrical consumption related to the glycol refrigeration units.
Don't expect Kwas and the rest of Little Harpeth to be content with the green efforts they have in place now. "As soon as we gain financial comfort we plan to upscale some brewing equipment and re-invest in energy efficiency objectives around the brewery," Kwas says.
Backpocket Brewing | Coralville, IA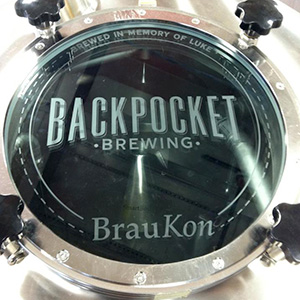 Backpocket Brewing started less than two years ago, but the idea of an energy-saving system was planned from the get-go. Co-founder Jake Simmons chose to use a brand new BrauKon system in the brewhouse.
This SmartBoil system saves energy during the brewing process by using low evaporation boil. Since it's fully automated, the system can heat the water to precisely 99.9°C. Once a boil goes to 100°C the energy level spikes — so by not going that extra tenth of a degree, energy is saved. Vapor condensers help to recapture the energy by turning the evaporated gas into a liquid that can be re-used. This reduces the evaporation rate to 2 percent, helping save even more energy.
The automated system helps during the cleaning process as well, because it uses a "Clean In Place" unit that has pipes going to each tank. It controls the amount of energy, water, and cleaning material used, making sure waste is minimized. It's truly an innovative (and cost-effective) way to reduce the energy that is needed to run a brewery.
Yards Brewing Co. | Philadelphia, PA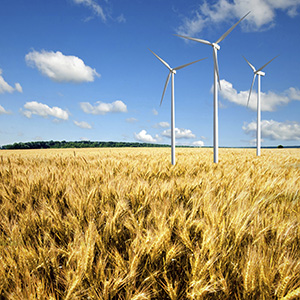 In the city of brotherly love, Yards Brewing is showing mother earth some affection as well. The brewery was one of 134 small business that recently received grants from the Pennsylvania Department of Environmental Protection to help implement or improve upon energy efficiency and pollution prevention practices.
Yards is another brewery looking to alternative energy to help run their brewery, and is Pennsylvania's first 100 percent wind-powered brewery. While it currently purchases all of its power from a separate wind power provider, maybe that grant money can help towards a wind turbine in the future.
When I asked Gina Vasoli, deputy of art, marketing, and media for Yards, about the reason to use wind-powered energy, she replied very practically: "We chose to go this route because it's the right thing to do! Whenever possible, we will always choose the more sustainable, environmentally conscious route, whether or not it costs more for us."
It's clear that Yards Brewing is looking out for its future—and the planet's as well.
Coastal Extreme Brewing Co. | Newport, RI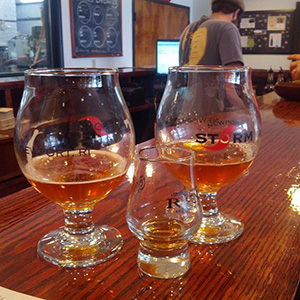 One might not expect a brewery that was once featured on the TV show "Dirty Jobs" to be a very green-friendly place. But this couldn't be further from the truth for Rhode Island's Coastal Extreme Brewing Company (brewers of Newport Storm beer). Besides brewing phenomenal beer, Extreme Brewing also distills their own spirits. This allows them a unique opportunity to re-use water during both productions, which in turn means less energy used to heat and cool that water.
Company president and co-founder Brent Ryan says it best: "We have designed a system that brings cool water from our water source, through our water filter, through the condenser on the still and into the hot liquor tank for the brewery. The end result is 150-degree water entering our hot liquor tank (up to 500 gallons for a final distillation) which is then used to mash in during our brewing process. With this arrangement, we have effectively eliminated the need to constantly be cooling down hot water for reuse in the cooling of our still and have also done almost all of the needed heating for the water that we use in the brewing process."
While saving energy on water isn't revolutionary, realizing the shared benefits of having a brewery and distillery on-site is a new concept. Having them next to one another is an efficient and creative way to reduce as much energy consumption as possible.
Public relations and event coordinator Samantha Grindell emphasizes that every little bit counts. "Although techniques like these don't always get the headlines the way wind farms do, we believe they are every bit as important and green as other solutions," Grindell says.
That's just a small sample of breweries across the country that are doing their best to make sure that we'll all be enjoying beer on this planet for many years to come. Please share any other breweries near you that deserve to be mentioned and supported as well!
CraftBeer.com is fully dedicated to small and independent U.S. breweries. We are published by the Brewers Association, the not-for-profit trade group dedicated to promoting and protecting America's small and independent craft brewers. Stories and opinions shared on CraftBeer.com do not imply endorsement by or positions taken by the Brewers Association or its members.