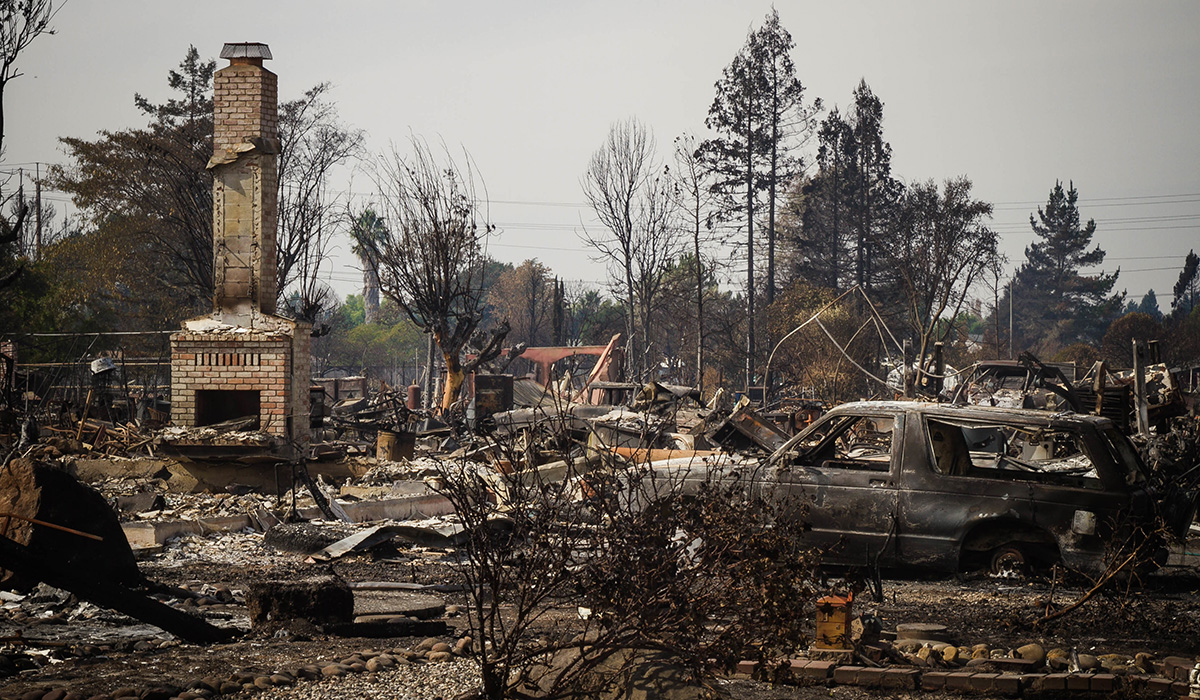 California Wine Country Breweries Fear Tourism Slowdown after Wildfires
It has only been two weeks since Northern California fires, fueled by ferocious winds, raced down mountainsides and onto valley floors in Napa and Sonoma counties, destroying over 7,000 homes and taking over 20 lives. Smoke still lingers in the air as neighbors sift through the ashes, leaving many to wonder, "What happens next?"
All of the region's craft breweries escaped unscathed, though there were some very close calls. Plow Brewing Company and Cooperage Brewing Company both lie in a section of Santa Rosa that was surrounded on three sides by the fire. A few blocks to the west is the Coffey Park neighborhood, where 900 homes were destroyed. And a few blocks to the east sit the remains of the Hilton Sonoma Hotel and the Fountaingrove Inn.
"It's going to take a really, really long time to rebuild our community," says Natalie Cilurzo, co-founder of Russian River Brewing Company, also in Santa Rosa. "About 5 percent of our housing is gone, and we were already at a 99 percent occupancy rate."
(READ: Breakthroughs in Malt Flavor Science)
Open for Business
Despite the devastation, efforts are already underway to rebuild and to let visitors know that they are open for business. In a recent press release, Tim Zahner, interim CEO of Sonoma County Tourism, said, "Our lush vineyards, hundreds of thriving wineries, stunning beaches, and ancient redwoods are here and most of them are open."
This is good news for a region that depends heavily on tourism for its livelihood; Sonoma County says tourism accounts for one in 10 jobs in the county. The majority of tourism and hospitality businesses (92 percent) are primarily small and locally owned, with fewer than 25 employees; this includes most of the craft breweries.
Not only did the brewhouses come out of this unharmed, but most of the vineyards survived as well. According to Sonoma County Tourism, the fires started late in the harvest season. In fact, around 90 percent of harvest was completed, with the juice already in the tanks. Also, nearly 98 percent of Sonoma County's 425 wineries were undamaged by the fires. Only one winery was destroyed in Sonoma County and others that reported damage said it was contained to out-buildings, not tasting rooms or production facilities.
"I can absolutely tell you that they are all hurting." Kevin Robinson, Plow Brewing Company
"Tourism is very important to us, and this is peak season now with the grape harvest," Cilurzo says. "There are always a lot of events going on at all of the wineries. Tourism was down for the past few weeks, but this last weekend it was getting back to normal. The air is clearing out now, too, and the skies are blue. It's a very popular time to come. And I can say it's still very beautiful here."
Kevin Robinson of Plow Brewing Company echoes Cilurzo's thoughts: "We are a county that depends so much on tourism. I have a taproom, but I also distribute, with over 100 accounts in Sonoma County alone. So I have a really good gauge on how well Sonoma County as a whole is doing, based on how much beer these accounts are going through. And I can absolutely tell you that they are all hurting."
(INFOGRAPHIC: How to Choose the Right Beer Glass)
We are Family
While many share a concern about the fire's effect on local tourism, most are just happy to be alive. Neighbors have banded together as they struggle to make some sense of it all. Nowhere is this more apparent than in the small and independent craft brewery community, where sharing resources is a fact of life.
Leading the way was Russian River Brewing Company with their Sonoma Pride fundraising campaign.
"During the first few days of the fires, we had no less than 100 breweries from around the world reach out to us, wanting to help," Cilurzo tells us. "I know all about the camaraderie and family spirit that we have in the craft beer industry, but to see it in action, unsolicited, as we've had in the past few weeks, is really overwhelming."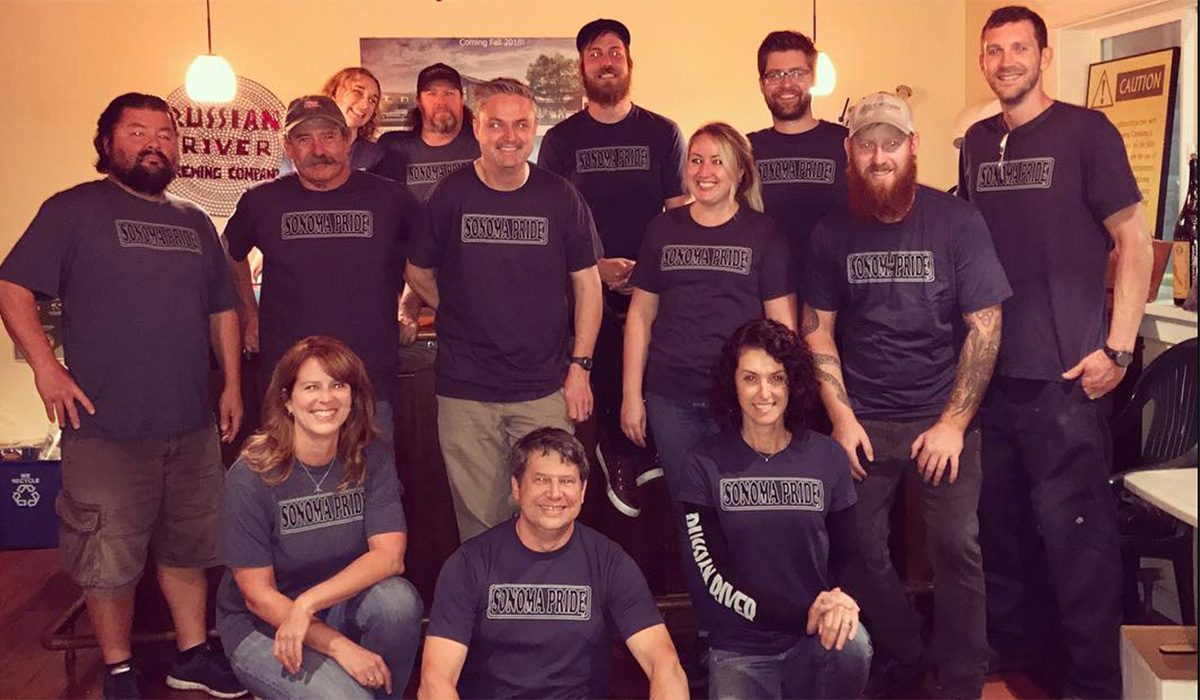 Other local breweries have followed suit, collaborating on brews and volunteering their time, money, and energy on supporting those in need. Bear Republic Brewing Co., which is based in Healdsburg, has five employees who have lost their homes. Says their Public Relations Manager, Kate Davis, "We know so many people who have been affected by this. This has been a really good opportunity for everyone to come together and help those who are less fortunate."
Cilurzo explains, "It's been a really challenging time for the community, but everyone's been stepping up to try and help one another in any way possible. Many who worked in the Hilton or the Fountaingrove Inn are now without jobs. So we want to be able to stay busy so we can not only keep all of our employees employed, but have the ability to employ new people."
Sonoma County Tourism is posting the following message to the world: We are bold. We are brave. We are committed. We are resilient. We are #SonomaStrong.
(VISIT: Find a California Brewery)
The Message: Come Visit!
Many acknowledge that the region will be forever changed by these fires, and no one can be certain what the long-term effects will be. But for now, the best advice that locals can give is to come visit.
"People don't need to be afraid anymore. Out of respect to us, we need you here," Robinson says. "Getting back to work is what we need to do. And you can help us by supporting our businesses."
According to Sonoma County Tourism, there should be availability in most lodging properties by the beginning of November. You can check VisitNapaValley.com and SonomaCounty.com for details. And they are asking those who can't visit to please buy beer and other products that are made, grown and produced in Somona County.
CraftBeer.com is fully dedicated to small and independent U.S. breweries. We are published by the Brewers Association, the not-for-profit trade group dedicated to promoting and protecting America's small and independent craft brewers. Stories and opinions shared on CraftBeer.com do not imply endorsement by or positions taken by the Brewers Association or its members.