Citrus IPAs
India pale ales are many things, but we don't typically think of them as "seasonal" beers. Unless, that is, you count their myriad sub-categories. While most of these hop bombs are perhaps best enjoyed in September when the nibble-sized green cones with the sticky, yellow lupulin inside are harvested and at their freshest, there's a place for certain IPAs in every season. On a cold winter day, the allure of a bone-warming double IPA is irresistible. And come springtime, when some palates might seek out a refreshing fruit-infused shandy or radler, there's no need to turn one's back on the beloved India pale ale with its bright, citrus flavors.
Cascade hops, of course, are redolent of grapefruit pith, and stylish Citra hops live up to their tangy namesake. Increasingly, brewers embellish these already citrusy IPAs with actual zest, peel or juice from grapefruits, oranges, lemons, and/or limes to create complementary flavor profiles ideal for both hopheads and lovers of fruit beer. Here are a few citrusy, spring-like IPAs to seek out and crack open for an extra bright, sunshiny day.
Grapefruit Sculpin IPA | Ballast Point Brewing | San Diego, CA
Sculpin, "regular old Sculpin" as I now call it, has for years been one of the most celebrated India pale ales in the land. The highly-decorated beer already boasted citrus and tropical fruit flavors, but this new rendition sweeps any mango notes aside in favor of full-frontal grapefruit. Specialty brewer Colby Chandler speaks of a "proprietary process" of infusing such robust Florida grapefruit character into the beer—perhaps some dry-hopping with tons of zest—but it's still a noticeable hop bomb (Simcoe, Amarillo, Centennial and more). What's more, according to Chandler, the brewery already sells as much grapefruit IPA as the "regular old" one. (7% ABV | 70 IBUs)
Pamplemousse | LOMPOC Brewing | Portland, OR
Derived from the French word for grapefruit, the name is the only thing non-West Coast about this beer. Pamplemousse is built on a pungent IPA base, loaded with already grapefruity hops including Centennial and Chinook, Tettnang for balance, and a kiss of Southeast Asian flavor from Pacific Northwest-grown Meridian. Then enough real fruit juice is added to supply a full day's dose of vitamin C. Well, it tastes that way at least. (5.8% ABV | 70 IBUs)
Homefront IPA | Center of the Universe Brewing | Ashland, VA
Memorial Day welcomes the seasonal release of this citrusy IPA that benefits America's veterans. Brewed with and at several partner breweries across the homeland, including Fremont (Seattle), 21st Amendment (San Francisco), and Cigar City (Tampa), this isn't the only IPA to use orange zest, but it's certainly the only one aged on (unvarnished) Louisville Slugger maple wood bats! Why bats?
Center of the Universe Brewing was co-founded by former major-leaguer Chris Ray, and the aforementioned cities are some of the ones he pitched for professionally. Except for Tampa — that's where he and his brother and co-founder Phil are from, hence their affinity for heavy citrus flavors in their IPA. As Chris says, Homefront combines "our military heroes, baseball and beer. It doesn't get much more American than that." (7% ABV | 65 IBUs)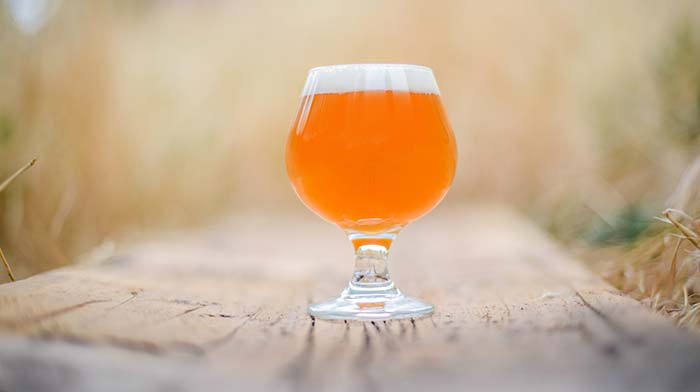 More Moro Blood Orange IPA | Funky Buddha Brewery | Oakland Park, FL
Moro blood oranges, originally from Sicily, are a juicy treat that's both bitter and sweet. To emphasize this unique crimson-colored fruit, the flavor-sorcerers at Funky Buddha built a foundation on caramel malts, piled on grapefruit-leaning hops, and then topped it off with the juice of these sanguineous oranges. Starting in April, you can forego the Creamsicle off the ice-cream truck and cool off with a bottle of More Moro instead. (7% ABV |80 IBUs)
Lorenzini Blood Orange Double IPA | Maui Brewing Co. | Kihei, HI
Not to be outdone, this blood orange bomb is built on a double IPA. The hop bill of Azacca, El Dorado and Sorachi Ace provides plenty of tropical flavors reminiscent of POG, a passionfruit-orange-guava fruit juice blend popular in Hawaii. While no actual POG was used in the brewing process, loads of real blood oranges and some local cane sugar make this bodacious beer as picturesque and enjoyable as a Maui sunset. (7.6% ABV | 80 IBUs)
Glacier Citrus IPA | Glacier Brewhouse | Anchorage, AK
Alaska is bound to conjure up images of frozen tundra that make you ache for a boozy bone-warming barleywine, which is exactly what this brewpub on the last frontier once earned a gold medal for. But when the ice melts in Anchorage, nice weather calls for a kiss of the tropics. An IPA hopped with Simcoe and Amarillo might be fruity enough, but when head brewer Kevin Burton incorporates orange peel and some lemon, too, the result is tangy enough to satisfy nostalgic warm-weather pangs for an old-school Orange Julius. (7% ABV | 55 IBUs)
Scurvy IPA | Tyranena Brewing | Lake Mills, WI
The name, of course, is in jest, since no pirate who drinks enough "bottells" of this IPA—replete with vitamin C from both bitter and sweet orange peels—could be afflicted. The innate tangy flavors, complemented by tangerine-tastic Amarillo and Summit hops, result in a citrusy salad that still offers the earthy, piney goodness of a contemporary IPA. (6.5% ABV, 68 IBUs)
Grapefruit Harvest IPA | Abita Brewing | Abita Springs, LA
When other spring and summer citrus IPAs disappear, this one from the Gulf will blossom as Abita's winter harvest seasonal. The natural choice of Cascade hops paves the way for Louisiana-grown Ruby Red grapefruits. Augmenting the golden color from pilsner malts, these citrus gems don't merely play a balancing role, but are given center stage. (6% ABV | 40 IBUs)