It's no secret making beer requires a lot of energy and a lot of water, but increasing brewery sustainability is at the forefront of the minds of small and independent craft brewers who are constantly developing methods to increase efficiency and ecological responsibility. 
Reducing wastewater, excessive energy consumption, solid waste and harmful emissions without compromising the quality of beer continues to be an important battle for brewers of all sizes.
Here are six small and independent breweries who have recently increased their environmental efforts and sustainability practices.
New Belgium Brewing Co. | Fort Collins, CO
Sustainability is a number one priority at New Belgium. Even before they sold their first bottle, the brewery set in place a core value and belief "to be environmental stewards" and have continually remained dedicated to that core value.
Most recently, New Belgium has received a certification of the highest level from U.S. Zero Waste Business Council (USZWBC) for their efficiency in reducing, reusing and recycling waste. New Belgium was recognized for phasing out paperboard dividers from all bottled beer packages (reducing paperboard use by more than 460 tons annually), carrying out waste audits of over 500 waste collection points, advancements in recycling for product packaging, donating time to zero waste actions, and diverting 99.9 percent of all brewery waste from landfills.
Sierra Nevada Brewing Co. | Mills River, NC
Throughout the years Sierra Nevada has used the Leadership in Energy and Environmental Design (LEED) guidelines as a resource towards sustainability when expanding their Chico, California, brewery. While their Chico brewery does not hold an official LEED certification, the company used the opportunity of building their second brewery in Mills River, North Carolina, as a way to start from the ground up. The Mills River location is now complete, and the brewery has been awarded for their sustainability efforts with an LEED Platinum certification — the highest level awarded.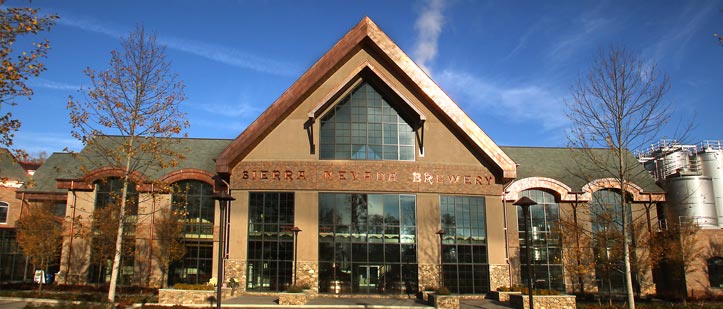 "Every day, we look at all that we do and we try to find something to improve — no matter how small." explains founder Ken Grossman. "Little-by-little they add up to something that we can be very proud of."
The new brewery will divert 81 percent of total waste away from landfills and reduced water consumption to a mere 3.5 barrels of water for every one barrel of beer, a near-historic low in the brewing industry. At the heart of the Mills River brewery design is an elaborate series of cisterns, underground storage, sunken gardens and bioswales leading to a system of plunge pools to further clear the water reenters the river. The brewery also uses 2,200 photovoltaic solar panels and Capstone Microturbine technology to produce an average of one megawatt of AC power on sight.
"Our design and construction innovations helped with LEED certification, but most of them were things we would have done anyway simply because they were the right things to do," explains Sierra Nevada sustainability manager Cheri Chastain. "Earning this LEED Platinum certification reinforces those decisions and validates the time our team put into this project, but the real reward is a more sustainable brewery for generations to come."
(MORE: These Indie Breweries Know How to Rock Facebook)
Brewery Vivant | Grand Rapids, MI
In 2012, Brewery Vivant was the first production brewery in the United States ever to receive a LEED certification (LEED Silver). But like most breweries who lay claim to a similar award, it isn't all about the certification; it's about doing the right thing by the environment.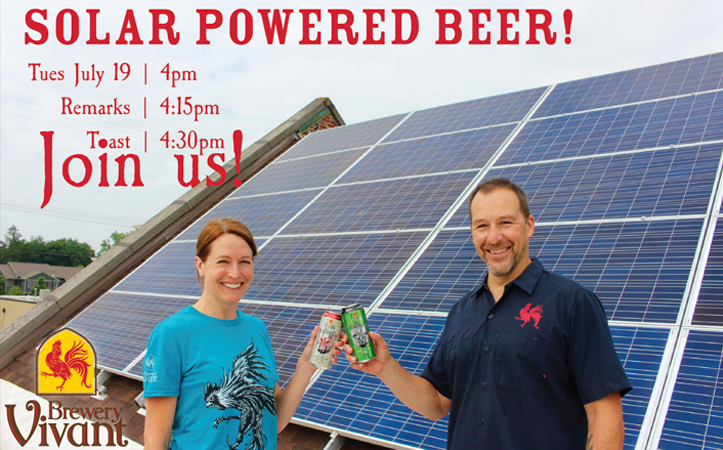 Earlier this summer, Brewery Vivant took their sustainability another step further by installing a 192 solar panel array atop their production brewery and adjoining pub. The new panels provide 20 percent of their energy needs on site and came with an additional expansion of three new 60­ barrel fermentation tanks increasing its annual production capacity from 5,000 barrels to 9,000.
"It's been a process," says owner and sustainability director Kris Spaulding. "With this most recent expansion, we felt ready and more able to invest in solar. We want to make a positive impact on our community. Investing in our collective future with sustainable energy is one way we can do this."
Jester King Brewery | Austin, TX
Being a farmhouse brewery, Jester King Brewery has a reputation of doing things a little different than most commercial breweries, and the same can be said for their sustainability efforts.
This summer, Jester King announced they started farming the surrounding 58 acres of land they had preserved earlier this year with what the brewery describes as "fairly modest" efforts. Beginning with one acre, the brewery is growing peach trees, plum trees, blackberry bushes and a melon patch. In addition to the acre of fruit, the brewery has a test pilot of wheat and some wild rye.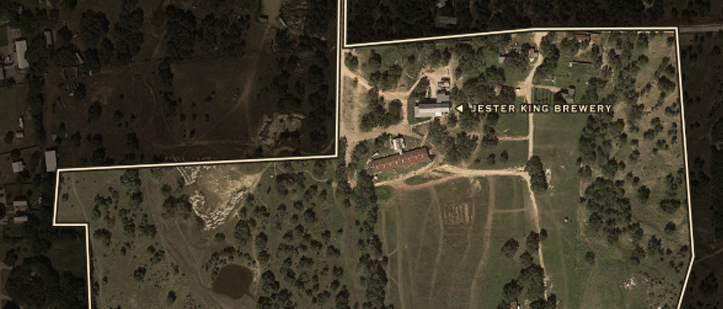 Farming on-site brings a wide array of benefits to both the brewery and the environment. Not only does it help Jester King produce the truest farmhouse ales possible, but the brewery says it will allow them to use their brewing byproducts as fertilizer, eliminate fossil fuel consumption, and apply ethical and safe growing techniques such as pruning and harvesting by hand, a strict avoidance of unnatural fertilizers, pesticides, or herbicides, and traditional livestock rotation through growing spaces.
As with most sustainability efforts, Jester King says each small change from the on-site farming will combine to "establish a healthy and balanced system that is largely self-sustaining." The brewery plans to introduce more nitrogen-fixing crops to help fertilize the soil in the fall, grapes in the spring and plant eight additional acres in the next few years.
SweetWater Brewing Co. | Atlanta, GA
By now you understand how important water is for beer and the entire brewing process. So for breweries like SweetWater, cleaning and protecting waterways is a very real and present issue. As the brewery says, "You can't make good beer without good water."
For these reasons, a decade ago, SweetWater began an annual summer campaign "Save Our Water," a multifaceted fundraising effort for Waterkeeper® Alliance that supports more than 40 Waterkeeper® communities in cities where SweetWater beer is distributed.
This summer, SweetWater celebrates the 10 year anniversary of the Save Our Water campaign. The brewery will donate $100,000 to five organizations dedicated to clean water initiatives: Building Conservation Trust, Ducks Unlimited, Surfrider Foundation, Trout Unlimited and Waterkeeper Alliance. The brewery is also promoting a matching funds effort with the goal of raising a total of $200,000 to help protect waterways.
(MORE: 5 of America's Beeriest Lake Towns)
Arcadia Brewing Co. | Kalamazoo, MI
Over the years, Arcadia Brewing Co.'s sustainability efforts have included implementing biofuel production, spent grain reallocation to local farmers, water conservation, installing a car charging station at their Kalamazoo location, and taking part in the Sustainable Brewing Program, the nation's first higher education program in sustainable brewing.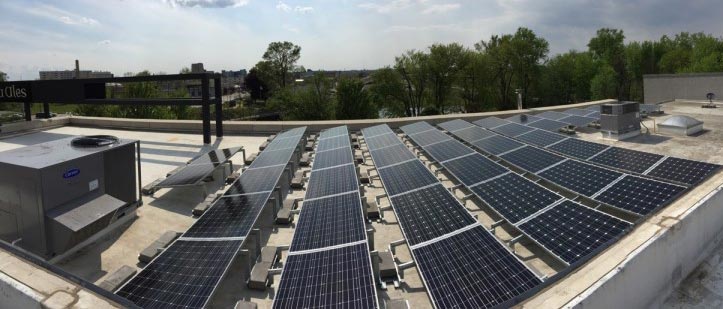 This summer, Arcadia continued its efforts in sustainability with the addition of solar panels to the Kalamazoo brewery and pub. The 536 solar panels are expected to produce 185,000 kWh of energy annually, which is roughly equivalent to 25 percent of the brewery and tavern's total consumption. Electricity and Renewable Energy Credits produced by the system will be sold by Consumers Energy under the EARP program for a 12 year period. Through the program, they expect to allocate approximately 275 kW for residential customers each month and 750kW for non-residential consumers every other month.
CraftBeer.com is fully dedicated to small and independent U.S. breweries. We are published by the Brewers Association, the not-for-profit trade group dedicated to promoting and protecting America's small and independent craft brewers. Stories and opinions shared on CraftBeer.com do not imply endorsement by or positions taken by the Brewers Association or its members.