Since it makes up about 90 percent of our favorite beverage, it's probably appropriate that we love to be surrounded by water when drinking beer. Cruising in a boat, floating down a river, fishing a trout stream, lounging on the beach – all these scenarios call for a foamy, fermented beverage from one of America's small and independent brewers.
In 2014 CraftBeer.com launched a new summer feature, America's Beeriest Beach Towns, and the response from our readers that year, and again in 2015, was huge. People dig the combination of beaches and brews, and the tremendous growth of craft beer has spread to our coastlines, making for some really fun summer vacations.
(BEERCATION DESTINATIONS: San Diego | Charleston | Nashville)
This year we decided to head inland, and explore the small and independent brewery scene around some of America's coolest lake towns. It wasn't easy finalizing the list. When it comes to fresh-water locales, there are no obvious beer meccas like San Diego. There are, however, some amazing lake towns across our land that sport the craft beer culture. We chose five top-notch summer lake towns and where to find the kind of quality brews to make your getaway a splash this summer.
Lake Norman | Cornelius, NC
Tourism surrounding Lake Norman, which provides electricity to the Piedmont region of the Carolinas, is now being fueled by craft beer as well as boating on North Carolina's largest man-made lake.
Located 30 minutes north of Charlotte, the lake towns of Cornelius, Davidson and Huntersville have expanded the momentum of the Queen City's recent craft beer boom. The Lake Norman community now boasts four breweries and several craft-focused bottle shops and pubs. There's also the North Carolina Brewers & Music Festival in May, which this year drew more than 30 breweries, and one local motel, Comfort Suites Huntersville, even offers "A Room with a Brew" package.
Following the success of five-year-old Ass Clown Brewing in Cornelius came the opening of several more breweries, including the fast-growing D9 Brewing Co.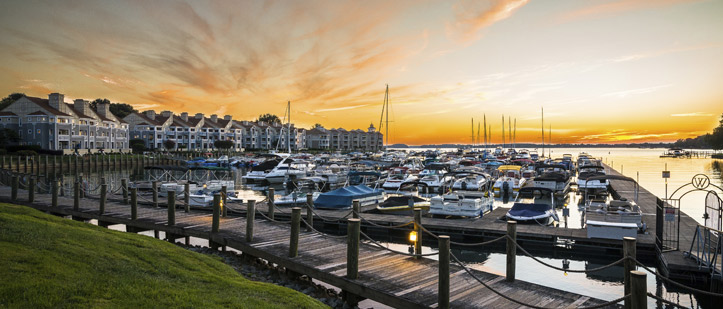 Old Town Public House in Cornelius and Davidson Beverage Co. each offers a great selection of local and regional brews on draft or to-go.
Of course, folks from Charlotte and beyond have been enjoying life on the lake long before the arrival of IPAs and wheat beers. While boating, jet skiing and fishing remain staple activities on Norman, which offers 520 miles of shoreline, visitors can enjoy a bike ride or hike at a nature preserve, swimming at a public-access beach (including the newly opened Ramsey Creek Park), kayaking and paddle boarding through My Aloha Paddle & Surf, or a meal at a waterfront restaurant.
For a unique place to enjoy a beer with beautiful lake views, look further than The Cabin in Davidson. Arrive by car — or boat!
Lake Michigan | Grand Haven, MI
Michigan certainly isn't lacking in awesome lake beach towns, and Grand Haven may be the gem of them all. The state also isn't short on craft beer, and you'll find plenty of it here – or at least within a short drive.
In Grand Haven itself is the wildly popular Odd Side Ales, a fun place with a vast array of quality brews. In nearby Spring Lake you'll find Dutch Girl Brewery and the more established Old Boys' Brewhouse on the waterfront of Spring Lake, with one of the finest views around.
(TRAVEL: Your Guide to Michigan's Independent Breweries and Beer)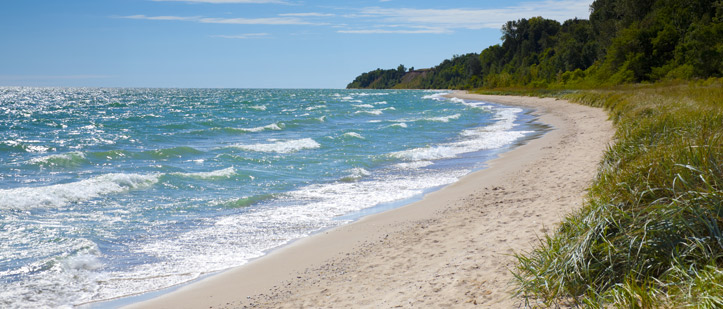 If you're ok with heading a bit inland for a beer excursion, the bubbling scene in Grand Rapids – a.k.a. Beer City USA – is only 45 minutes away, while Holland, home of New Holland Brewing Co., is about 30 minutes to the south.
For lots of beach and beer all in one place, don't miss the annual Burning Foot Beer Festival in nearby Muskegon – dubbed Michigan's only beer festival on the beach. Tickets went on sale June 25.
Also don't miss the spectacular sunsets at Grand Haven State Park Beach, where the hub of activity takes place around Grand Haven. Take a trolley to the beach from downtown, or stroll the boardwalk out to the lighthouse and drink in the scenery. You can also do that at the tiki bar in Jack's Waterfront Bistro & Bar.
Jenny/String/Jackson Lakes | Jackson, WY
How did Wyoming get on a list related to best lake beach towns in America? Let me explain.
Not that Jackson itself is exactly a beach town, but the region referred to as Jackson Hole includes neighboring Grand Teton National Park. It's home to some of the most strikingly gorgeous lakes in the country, set amid the Teton mountains that soar dramatically above the valley floor.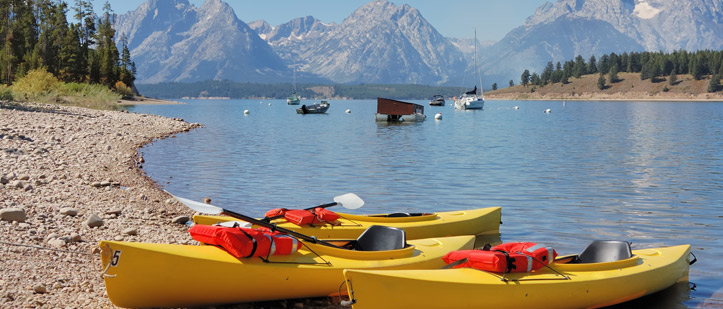 The most well-known among them, by far, is Jenny Lake – the center of activity within the park. Besides boating and swimming – the water is cold! – Jenny Lake's shores offer great hiking, and a ferry service crosses the lake all day for access to the Hidden falls/Inspiration Point hike, perhaps the most popular in the park.
For a little more solitude, fun can also be had at nearby String Lake with swimming, kayaking and hiking available there, too.
Oh yeah, the beer.
Jackson is home to the one of the country's most unique and acclaimed breweries, Melvin Brewing. Thanks to numerous accolades – two-time Alpha King Competition winner, gold medals at World Beer Cup and GABF, Small Brewpub of the Year honors – what started out as a tiny operation inside a Thai restaurant in Jackson, Thai Me Up, led to the opening of a new production facility 35 miles away in Alpine, Wyoming, in late 2015.
Another must in Jackson for beer and a meal is the spacious and popular Snake River Brewing Co., which has won its share of GABF medals over the years as well.
Mirror Lake | Lake Placid, NY
It's the picturesque venue for one of the most revered Ironman Triathlon races in the world. It played host to the 1980 Winter Olympic Games, where the U.S. ice hockey team pulled off perhaps the greatest sports miracle of the 20th century with its unthinkable upset of the mighty Soviet Union. And it's a paradise for outdoor adventure, from skiing to kayaking to fishing.
Yeah, craft beer isn't exactly the first thing that comes to mind when thinking about Lake Placid in the beautiful Adirondack Mountains. However, a pair of longtime breweries in this town have been a staple for those who come here to vacation.
(READ: The New England Style IPA is the Anti-IPA)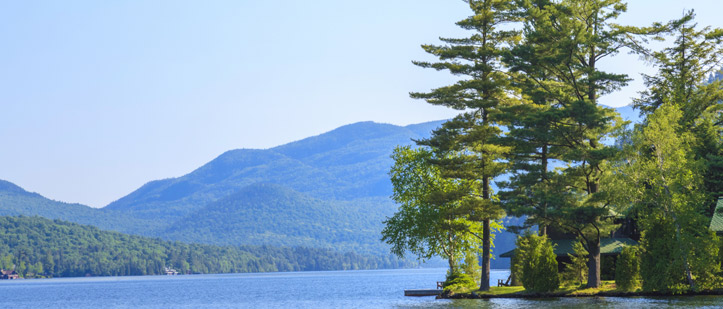 The 20-year-old Lake Placid Pub & Brewery is located just steps from the beach on gorgeous Mirror Lake, where mountains serve as the backdrop for the swim portion of the Ironman as well as for swimmers, boaters and paddlers the rest of the summer. Though there's plenty of lake activity, it's not a crazy party scene here. Mirror Lake's vibe is as serene as its setting.
The brewpub is most famous for its Ubu Ale, a 7 percent English-style strong ale, available on draft and in six packs. The company unveiled a second business this summer, Big Slide Brewery & Public House, where a wider array of unique brews will be produced.
Back in the heart of town on Main Street, The Great Adirondack Steak & Seafood Brewing Co. has been around for nearly 30 years, earning three World Beer Cup medals and seven Great American Beer Festival awards along the way.
Lake Tahoe | Lake Tahoe, CA/NV
Perhaps the granddaddy of all destination lakes in the U.S., Tahoe has it all: striking blue waters with mountains all around, beautiful beaches, plenty of outdoor and indoor (casinos!) recreation, and now, craft beer is starting to catch up with the rest of the scene here.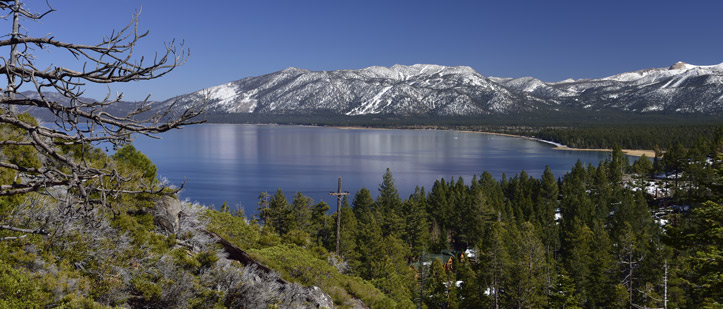 If you're looking for breweries in South Lake Tahoe, don't miss mainstays Brewery at Lake Tahoe and Stateline Brewery & Restaurant at Heavenly Ski Village. At the northeast edge of the lake, just over the Nevada line in Incline Village, you'll find Alibi Ale Works, a brewery that, since opening in late 2014, has found a way to be a local haven in tourist heaven. For craft beer bars, it's hard to beat the ever-popular Basecamp Pizza at Heavenly Village, with a superb selection of rotating California brews.
"Craft beer around here is going crazy," said Moses Abdulnour, general manager of King's Beverage Co. & Cigars and sister store Dart Beverage Center. Abdulnour runs the go-to beer stores in the area, with a huge selection of craft brews that include barrel-aged offerings from the highly rated FiftyFifty Brewing Co. in nearby Truckee. The 6,000 square-foot Dart is located on the Nevada side of the lake near Edgewood Tahoe Golf Course, while the smaller King's is near Tahoe Keys Marina.
The beer tastes that much better when visiting Tahoe, the second-deepest lake in the U.S. behind Crater Lake and one of the clearest lakes in the world. The colors are magnificent, framed by the majestic Sierra Nevada Mountains on all sides. For some relaxation on the sand, don't miss Pope Beach. Just beware that the water is cold!
CraftBeer.com is fully dedicated to small and independent U.S. breweries. We are published by the Brewers Association, the not-for-profit trade group dedicated to promoting and protecting America's small and independent craft brewers. Stories and opinions shared on CraftBeer.com do not imply endorsement by or positions taken by the Brewers Association or its members.