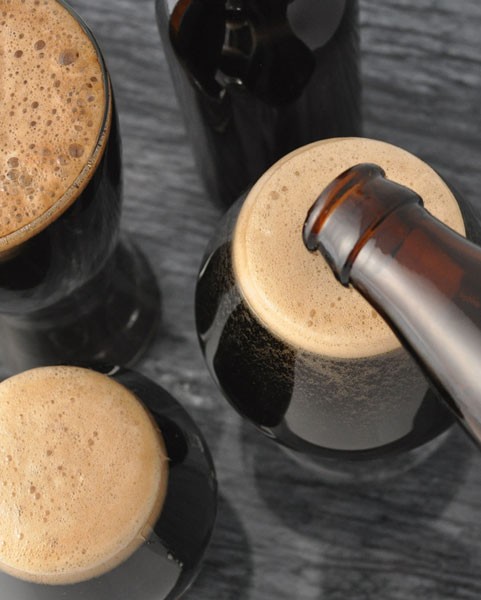 15 Coffee Beers You're Gonna Wanna Try
I once heard somewhere that "it takes an awful lot of good beer to make wine."
If that's true, I'll add that it takes a heck of a lot of coffee to brew great beer, or in my case, write about it. A strong cup of joe is a prerequisite to starting the day, but I could probably drink coffee all day if I didn't think it would screw up my sleep pattern.
The good news for my fellow coffee and beer fans is that American small and independent craft brewers are also fond of coffee—not just to keep them going, but to complement their creations. As beer pundits argue over the merits of the current cloudy, fruit IPA trend, I take pleasure in seeing more and more breweries coming out with a variety of coffee beers this year. Coffee and beer need not occupy separate spaces, and I am not the only one excited for the increased variety.
(VISIT: Find a U.S. Craft Brewery)
Coffee beers are nothing new. Even before we were lucky enough to have Brian Yeager write about breweries teaming up with roasters and coffee shops, the java stout was a popular treat to find on a tap room menu.
Coffee and stout share common tastes and flavor characteristics that make them perfect compliments. Roasted coffee beans are most similar to roasted barley—an important malt variety that makes a stout a stout—which has a similar chocolate, espresso trait. If you ever have the opportunity to try some roasted barley, you will immediately think, "Hey, this tastes exactly like coffee beans smell."
Of course, small brewers never seem content to rest on their laurels, and many find that coffee is a great addition to other styles of beer as well. The most interesting of which may be coffee IPAs, which I first experienced at Boulder's Fate Brewing Co. Brewer Jeff Griffith used the sturdy bitterness of the two beverages to temper each other—the effect being a refreshing beer with an amazingly fresh and bright mocha flavor.
(LEARN: 75+ Popular Craft Beer Styles)
If you love your hops as much as your beans, coffee IPA is a style to seek out, but the dark roasty beers, the likes of brown ales, porters and stouts, will always offer brewers an opportunity to create the quintessential beer experience for craft and café lovers alike.

Cold Brew
Much like the strides craft brewers have made in brewing over the years, coffee, too, has benefitted from a renaissance of sorts, with aficionados as particular as those who love craft beer, placing emphasis on prized ingredients and a whole host of processes and resulting styles.
The ability to cold-steep beans allows brewers the time to taste test the beer to dial in the exact amount of coffee character they desire while avoiding the risk of extracting tannins, which could give one the perception of acrid, burnt coffee left over heat for too long. The final result is a balance of the best parts of coffee and beer, creating a unique beverage experience.
(RECIPES: Hundreds of Ways to Cook with Craft Beer)
Icon Blue
One process that has garnered favor with craft brewers is cold-brewed coffee with a beer twist. St. Arnold Brewing Co. in Houston, Texas, recently released Icon Blue, a coffee porter.
"We add freshly roasted, coarsely ground coffee beans to the fermenter after the beer has finished fermenting and is cold crashed," says Eddie Gutierrez of St. Arnold. "After this, we taste it every few hours until it has reached the desired coffee character."
Icon Blue uses 45 pounds of espresso beans, which contribute to the beer's balance of chocolate, roast and coffee flavors, and its pleasant roast aroma with a mix of chocolate, coffee and mocha.
While this is Saint Arnold's first publicly released beer using Java Pura Coffee Roasters beans, this isn't the first time the two companies have collaborated. Java Pura uses recycled oak barrels from Saint Arnold's Bishop's Barrel Series to age green coffee beans before roasting. The idea led to the creation of Java Pura's own Barrel Aged Series of coffee beans.
Hard Wired Coffee Porter Nitro
In Colorado, Left Hand Brewing Co. is no stranger to the "dark malts." Renowned for their Milk Stout, they've only recently started to package their Hard Wired Coffee Porter Nitro.
Matt Thrall, Left Hand's director of brewing, explains they are "making a cold brew with the coffee, but in place of water, we are using the beer. The cold brew process takes us about 24 hours and is made in another fermenter and then added back to the main tank holding the bulk of the beer. We perform this operation (pulling beer out and steeping it with coarsely ground coffee for 24 hours) five different times over the course of a week to prepare the beer for packaging."
The addition of nitrogen to the mix lends an even creamier mouthfeel, reminiscent of a mocha shake. Hard Wired builds a pillowy, toffee-sweet head while flavors of caramelized sugar, cacao and hints of blueberry lead to a light, smoky finish in this 6 percent ABV porter. Hard Wired is the fourth nitro installation for the brewers of America's original nitro bottle. Hard Wired Nitro was distributed throughout Left Hand's 35 state footprint in February, and will be available in limited quantities this spring.
(READ: The Evolving Role of Women's Contributions to Beer)
To Your Health
While plenty will protest that coffee, or anything else for that matter, need not be added to beer, fans are always appreciative of craft brewers' desire to push flavors and showcase new ingredients. And when it comes down to it, coffee may even have a practical use for beer drinking besides just an enjoyable treat—researchers believe that coffee may help to protect the liver from the effects of alcohol.
Coffee Beers You're Gonna Wanna Try
Stouts and Porters
IPAs and Pales
Kolsch and Blonde Ales
CraftBeer.com is fully dedicated to small and independent U.S. breweries. We are published by the Brewers Association, the not-for-profit trade group dedicated to promoting and protecting America's small and independent craft brewers. Stories and opinions shared on CraftBeer.com do not imply endorsement by or positions taken by the Brewers Association or its members.